New | $499 inc
133 m from Fish Market Light Rail
Furnished room with own bathroom
✅ONE ROOM AVAILABLE, STUNNING VIEWS, WELL LIT AND QUIET ✅ALL BILLS INCLUDED 📍 1 minute from light train, 10 min walk to Darling Harbour, 15 min walk to Town Hall. Pyrmont does not get better than this. A large, airy spacious 3 bedroom flat with large sized balcony and expansive garden view in Pyrmont. This is one of the most beautiful and well maintained apartment complex and closer to the city and all amenities including bus top, fish markets, darling harbour, universities, TAFE, Pyrmont business district and very central. Twin room with two large single beds is available for rent with all furnishings including, balcony access, high speed internet, fully equipped kitchen, gym, pool, sauna, spa. The room has its own built in wardrobe. Furnished with top end furnitures. UNLIMITED HIGH SPEED WIFI. Please apply knowing that this is an apartment for professionals and always needs to be kept clean and in a very good order for everyone's enjoyable living experience. This is not a place for parties or loud noise. * NO SMOKING; NO EXCESSIVE NOISE. NO PARTIES *
Updated | $265 inc
133 m from Fish Market Light Rail
Furnished room with ensuite in a flatshare
-WANTED: ONE FEMALE in Master twin shared room (Share room WITH only ONE other friendly female) DESCRIPTION: 3 bedrooms, 2 bathrooms, living room, fully equipped kitchen, dining area, laundry room. UNIT IS FULLY FURNISHED AND EQUIPPED: Modern Massive 50 inches TV, Fridges, Pots/Pans, Cutlery, Microwave, Toaster, Kettle, FRONT LOADER washing machine, unlimited FREE WI-FI ROOM: Two single beds with bed linen, two bedside tables with lamps, built in wardrobes and en-suite bathroom LOCATION: MILLER STREET PYRMONT 7 minutes walking distance to Fish Market 8 minutes walking distance to Pyrmont Bay Park 11 minutes walking distance to Casino Wharf 13 minutes walking distance to Darling Harbour Walking distance to most International Schools and Colleges Nearest SUPERMARKET: COLES 5 minutes walking distance NEAREST BUS STATION: Miller St At Jones St 1 minute walking distance Bus Number 501 (18 minutes) to USYD and 501 (11 minutes) to UTS NEAREST TRAIN STATION: Town Hall Train Station ~ 20 min walk ( 12 minutes to Bondi Junction, 23 minutes to Airport) HIGHLIGHTS: - UNLIMITED FREE WI-FI - FRIENDLY FLATMATES - DATE AVAILABLE: Available NOW - SECURITY- you will receive a LEGAL contract with well-established share house accommodation agency - CLEANEST UNITS IN SYDNEY - WITH GREAT FACILITIES ACCESS : Swimming Pool, Spa, BBQ Sauna and Gym PLEASE NOTE: We prefer Minimum 6-month Agreement. *Shorter stay negotiable for a higher price and subject to the building by-laws * *4 weeks rent as a bond is required and 2 weeks rent in advance. And one off $55 booking fee applies**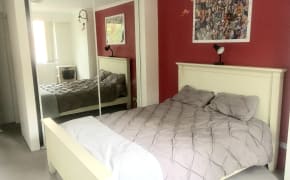 $475 inc
133 m from Fish Market Light Rail
Furnished room with ensuite in a flatshare
-walk-to-everywhere address handy to the CBD, The Star, restaurants and darling harbour - Balcony for alfresco living and entertaining - Two bedrooms with built-ins, master bedroom with ensuite -lift and intercom entry - Internal laundry, full main bathroom - Enjoy the use of an indoor pool, two gyms, spa and sauna - Immediate access to transport and all major arterial roads - 24 hour concierge Features include: Air conditioning,Ensuite,Indoor Spa,Gym,Intercom,Built in wardrobes,Internal Laundry,Gas,Bath,Dishwasher,Secure Parking,Balcony / Deck,Swimming Pool
Updated | $500 inc
133 m from Fish Market Light Rail
Student accommodation
This property is close to Darling Harbour and many other Sydney attractions. We are very well located and close to the city and many other attractions
$390 inc
133 m from Fish Market Light Rail
Furnished room with own bathroom
Urgently! I am going overseas for 3 weeks, looking for a person to move into my room on the period fom 6th of July to 28 July ( 3 weeks ). Have being living in that apartment for over 6 months ans absolutely love it! There are everything you will need: apartment is fully furnished, we have dishwasher, washing machine, TV, free WiFi. You will have a nice bedroom with king-size bed, build-in wardrobe and your own bathroom. There are a shared balcony with an a nice view on the water. Complex has a swimming pool, sauna, jacuzzi and gym. Location is close to the city( 20 mins walk), 5 mins to the Fish market, 5 mins to Coles and Star casino. Text me!!
Updated | $197 inc
133 m from Fish Market Light Rail
Furnished room with ensuite in a flatshare
-SPECIAL WINTER PROMOTION FOR 2 MONTHS STAY Hot 9 days' sale Crazy end of financial year deal, normally $265 per week down to $197 per week – - No lock in contracts. - Bond required. - Call only if you can move in now. Limited number of spots, until sold out. - Admin fee one off WANTED: ONE FEMALE in Master twin shared room (Share room WITH only ONE other friendly Female) DESCRIPTION: 2 bedrooms, 2 bathrooms, living room, fully equipped kitchen, dining area, laundry room. UNIT IS FULLY FURNISHED AND EQUIPPED: Modern Massive 50TV, Fridges, Pots/Pans, Cutlery, Microwave, Toaster, Kettle, FRONT LOADER washing machine, unlimited FREE WI-FI ROOM: Two single beds with bed linen, two bedside tables with lamps, built in wardrobes and en-suite bathroom. LOCATION: MILLER STREET PYRMONT 7 minutes walking distance to Fish Market 8 minutes walking distance to Pyrmont Bay Park 11 minutes walking distance to Casino Wharf 13 minutes walking distance to Darling Harbour Walking distance to most International Schools and Colleges Nearest SUPERMARKET: COLES 5 minutes walking distance NEAREST BUS STATION: Miller St At Jones St 1 minute walking distance Bus Number 501 (18 minutes) to USYD and 501 (11 minutes) to UTS NEAREST TRAIN STATION: Town Hall Train Station ~ 20 min walk ( 12 minutes to Bondi Junction, 23 minutes to Airport) HIGHLIGHTS: - UNLIMITED FREE WI-FI - FRIENDLY FLATMATES - DATE AVAILABLE: Available NOW - SECURITY- you will receive a LEGAL contract with well-established share house accommodation agency - CLEANEST UNITS IN SYDNEY - WITH GREAT FACILITIES ACCESS : Swimming Pool, Spa, Gym BBQ and Sauna PLEASE NOTE: We prefer Minimum 2-month Agreement. *Shorter stay negotiable for a higher price and subject to the building by-laws * *4 weeks rent as a bond is required and 2 weeks rent in advance. And one off $55 booking fee applies **
Updated | $160 inc
138 m from Fish Market Light Rail
Furnished room in a share house
Large Triple Bedroom Looking for 2 female to move in from 13/7, 15/7 Double bedroom looking for 1 male to move in from 8/7 It's a NEW spacious Terrace house.  it's a Clean Large bedroom with single bed(no bunkbed) and your own closet and your own Balcony.  There are lounge set (sofa) in the living room for you to relax and fully equipped modern kitchen and dinning table. We will provide;  -All bills included  -Unlimited ADSL2+ Wi-Fi internet  -Fully Furnished  and etc... Just a moment from Sydney CBD, UTS, TAFE, China Town, Market City, Darling Harbour, shopping centers, restaurants and public transports (Town hall station and bus stops) 2 months minimum stay and 2 weeks rent payment in advance.  Please let me know your name and nationality and your preferred moving date and I will get back to you as soon as I can.
Updated | $210 inc
141 m from Fish Market Light Rail
Furnished room in a share house
-AMAZING TWIN SHARED ROOM FOR ONE MALE ROOMIE TO SHARE WANTED: TWO FRIENDS/COUPLE-$210 PER PERSON (Maximum two persons in each Twin Shared Room) DESCRIPTION: 3 bedrooms, 1 bathroom fully equipped and extra toilet, kitchen, living room, dining area, laundry room UNIT IS FULLY FURNISHED AND EQUIPPED: Modern Massive 50TV, Fridge, Pots/Pans, Cutlery, Microwave, Toaster, Kettle, FRONT LOADER washing machine, FREE WI-FI ROOM: Two single beds with linen, two bedside tables with bedside lamps, wardrobes. LOCATION: LITTLE MOUNT STREET PYRMONT 4 minutes walking distance to Fish Market 5 minutes walking distance to STAR Casino 15 minutes walking distance to Darling Harbour Walking distance to most International Schools and Colleges Nearest SUPERMARKET: 6 minutes walking distance in IGA X-press Pyrmont NEAREST BUS STATION: Harris St at Pyrmont Bridge Rd, 2 minutes walking distance Bus 501 (17 minutes) to USYD and (8 minutes) to UTS NEAREST TRAIN STATION: Town Hall Train Station ~ 20 min walks (12 minutes by train to Bondi junction, 26 minutes by train to Airport) HIGHLIGHTS: - UNLIMITED FREE WI-FI - FRIENDLY FLATMATES - DATE AVAILABLE: Available NOW - SECURITY- you will receive a LEGAL contract with well-established share house accommodation agency - CLEANEST UNITS IN SYDNEY PLEASE NOTE: We prefer Minimum 6-month Agreement. *Shorter stay negotiable for a higher price and subject to the building by-laws * *4 weeks rent as a bond is required and 2 weeks rent in advance. And one off $55 booking fee applies **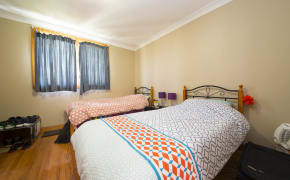 Updated | $210 inc
141 m from Fish Market Light Rail
Furnished room in a share house
TWO FRIENDS/COUPLE NEEDED IN A NICE HOUSE SHARE IN PYRMONT WANTED: TWO FRIENDS/COUPLE-$210 PER PERSON (Maximum two persons in each Twin Shared Room) DESCRIPTION: 3 bedrooms, 1 bathroom fully equipped and extra toilet, kitchen, living room, dining area, laundry room UNIT IS FULLY FURNISHED AND EQUIPPED: Modern Massive 50TV, Fridge, Pots/Pans, Cutlery, Microwave, Toaster, Kettle, FRONT LOADER washing machine, FREE WI-FI ROOM: Two single beds with linen, two bedside tables with bedside lamps, wardrobes. LOCATION: LITTLE MOUNT STREET PYRMONT 4 minutes walking distance to Fish Market 5 minutes walking distance to STAR Casino 15 minutes walking distance to Darling Harbour Walking distance to most International Schools and Colleges Nearest SUPERMARKET: 6 minutes walking distance in IGA X-press Pyrmont NEAREST BUS STATION: Harris St at Pyrmont Bridge Rd, 2 minutes walking distance Bus 501 (17 minutes) to USYD and (8 minutes) to UTS NEAREST TRAIN STATION: Town Hall Train Station ~ 20 min walks (12 minutes by train to Bondi Junction, 26 minutes by train to Airport) HIGHLIGHTS: - UNLIMITED FREE WI-FI - FRIENDLY FLATMATES - DATE AVAILABLE: Available NOW - SECURITY- you will receive a LEGAL contract with well-established share house accommodation agency - CLEANEST UNITS IN SYDNEY PLEASE NOTE: We prefer Minimum 6-month Agreement *Shorter stay negotiable for a higher price and subject to the building by-laws * *4 weeks rent as a bond is required and 2 weeks rent in advance. And one off $55 booking fee applies**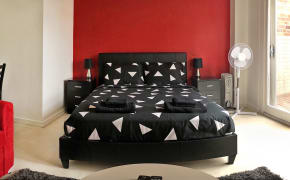 Updated | $610 inc
151 m from Fish Market Light Rail
Whole property with 1 room for rent
-BEAUTIFUL STUDIO UNIT NEAR DARLING HARBOUR PRICE:$610 PER WEEK ALL BILLS INCLUDED This Property is one relaxing studio bedroom and has clean bathroom. living room, fully equipped kitchen, dining area, laundry room and Free access to wi-fi .Smoking is allowed outside only. This unit is fully furnished and equipped with Modern Massive 50TV, Fridge, Pots/Pans, Cutlery, Microwave, Toaster, Kettle, FRONT LOADER washing machine and dryer This Amazing room includes Queen size bed with bed linen, bathroom with shower and toilet, bedside table with lamps, 2 wardrobes and sofa LOCATED IN HARRIS STREET PYRMONT 3 minutes walking distance to Fish Market 9 minutes walking distance to STAR Casino 14 minutes walking distance to Darling Harbour Walking distance to most International Schools and Colleges Nearest SUPERMARKET: COLES 3 minutes walking distance NEAREST BUS STATION: Miller St Before Harris St 2 minutes walking distance Bus Number: 501 (21 minutes) to USYD and (12 minutes) to UTS NEAREST TRAIN STATION: Town Hall Train Station ~ 19 min walk (12 minutes by train to Bondi Junction, 23 minutes by train to Airport) HIGHLIGHTS: - UNLIMITED FREE WI-FI - DATE AVAILABLE: Available NOW - SECURITY- you will receive a LEGAL contract with well-established share house accommodation agency - CLEANEST UNITS IN SYDNEY PLEASE NOTE: We prefer Minimum 1 month Agreement *$500 bond is required. And one off $55 booking fee applies*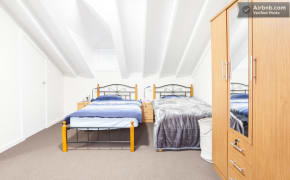 Updated | $210 inc
151 m from Fish Market Light Rail
Furnished room with ensuite in a share house
-WANTED: TWO FRIENDS/COUPLE-$210 PER PERSON SPECIAL WINTER PROMOTION FOR 2 MONTHS STAY (Maximum two persons in each Twin Shared Room) SPECIAL WINTER PROMOTION FOR 2 MONTHS STAY DESCRIPTION: 3 bedrooms, 3 bathrooms, living room, 2 fully equipped kitchen, dining area, laundry room. UNIT IS FULLY FURNISHED AND EQUIPPED: Modern Massive 50TV, Fridge, Pots/Pans, Cutlery, Microwave, Toaster, Kettle, FRONT LOADER washing machine, unlimited FREE WI-FI ROOM: 2 single beds with bed linen, bathroom with shower and toilet, 2 bedside tables with lamps, 2 wardrobes , sofa , 39 inches LCD TV and en-suite bathroom LOCATION: HARRIS STREET PYRMONT 3 minutes walking distance to Fish Market 9 minutes walking distance to STAR Casino 14 minutes walking distance to Darling Harbour Walking distance to most International Schools and Colleges Nearest SUPERMARKET: COLES 3 minutes walking distance NEAREST BUS STATION: Miller St Before Harris St 2 minutes walking distance Bus Number: 501 (21 minutes) to USYD and (12 minutes) to UTS NEAREST TRAIN STATION: Town Hall Train Station ~ 19 min walk (12 minutes by train to Bondi Junction, 23 minutes by train to Airport) HIGHLIGHTS: - UNLIMITED FREE WI-FI - FRIENDLY FLATMATES - DATE AVAILABLE: Available NOW - SECURITY- you will receive a LEGAL contract with well-established share house accommodation agency - CLEANEST UNITS IN SYDNEY *PLEASE NOTE: We prefer Minimum 2-month Agreement. *Shorter stay negotiable for a higher price and subject to the building by-laws *4 weeks rent as a bond is required and 2 weeks rent in advance. And one off $55 booking fee applies**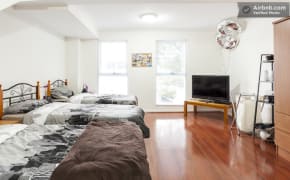 Updated | $150 inc
153 m from Fish Market Light Rail
Furnished room in a share house
-ONE MALE ROOMIE IN A NICE HOUSE SHARE IN PYRMONT SPECIAL WINTER PROMOTION FOR 2 MONTHS STAY WANTED: ONE MALE in Triple shared room (Share room WITH only TWO other friendly males) DESCRIPTION: 3 bedrooms, 3 bathrooms, 2 fully equipped kitchen, living room, dining area, laundry room. UNIT IS FULLY FURNISHED AND EQUIPPED: Modern Massive 50TV, Fridge, Pots/Pans, Cutlery, Microwave, Toaster, Kettle, FRONT LOADER washing machine, unlimited FREE WI-FI ROOM: Three single beds with linen, bedside tables with lamps, wardrobes LOCATION: HARRIS STREET PYRMONT 3 minutes walking distance to Fish Market 9 minutes walking distance to Casino Wharf 14 minutes walking distance to Darling Harbour Nearest SUPERMARKET: COLES 3 minutes walking distance Walking distance to most International Schools and Colleges NEAREST BUS STATION: Miller St before Harris St 2 minutes walking distance Bus Number: 501 (19 minutes) to USYD and (10 minutes) to UTS NEAREST TRAIN STATION: Town Hall Train Station ~ 20 min walk (12 minutes by train to Bondi junction, 21 minutes by train to Airport) HIGHLIGHTS: - UNLIMITED FREE WI-FI - FRIENDLY FLATMATES - DATE AVAILABLE: Available NOW - SECURITY- you will receive a LEGAL contract with well-established share house accommodation agency - CLEANEST UNITS IN SYDNEY PLEASE NOTE: We prefer Minimum 2-month Agreement. *Shorter stay negotiable for a higher price and subject to the building by-laws * *4 weeks rent as a bond is required and 2 weeks rent in advance. And one off $55 booking fee applies**