$600
Amy & Jacob
1.47 km from North Warrandyte
Couple of inner city Melbourne mates looking to make the move to leafy Eltham or thereabouts to get away from the traffic noise and flashing lights of the local Kebab WorX. Amy is a musician and community artist... I work from home and will host the occasional respectful rehearsal at the house and am always down to jam. I eat vegan where I can but happy to live with anyone as long as we all look out for each other! I play gigs regularly and work in the city so will be in and out of town but am hoping to spend a fair chunk of my time working from home and gazing at gum trees. Jacob, who's originally from Adelaide is a Thermal Performance Assessor, whatever that means. He is also a creative guy who loves getting up in nature's face and wrestling canines. He eats everything except dried fruit and loves a debate, preferably by an open fire. We've been friends for many years. Jacob calls me his 'best' friend, but I just call him a friend.. it's a little awkward but we're getting on with it... We're hoping to link up with some other like minded folk who dig the idea of a vibrant and peaceful creative haven out where the air is a little clearer and where the trees grow a little taller. Very open to sharing our space with dogs but no cats sadly. Realistically we're looking to pay between $130-$180 each p/week (but thats really pushing our budget). And happy to share with up to 3 others. Hit us up if you think you might be up for a move out beyond the 86 tram line... x Amy ~ and Jacob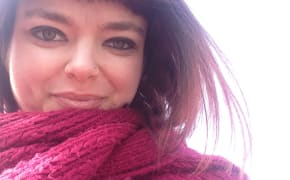 $180
Loz
1.47 km from North Warrandyte
I am a friendly, but initially shy 28yr old with a love of the performing arts, a Pilates studio receptionist and temp worker and also studying natural therapies. I really enjoy running and hiking and love going on day trips with my pack on. I enjoy a community atmosphere and wish to interact with housemates and become friends, not just merely live with people you don't know. Would love to lived with those that share. Share food, share music, share stories, share experiences. I prefer a household without a TV, or at least not have it on all the time blaring nonsense. More than happy to enjoy some documentaries or some movies or Netflicks from time to time though! We can make our own entertainment! I used to live in the hills but moved into Thornbury to be closer to uni, but now wish to move back out again. I need the fresher air, the space, the trees and a calmer way of being. I'm looking for people who can think critically, are creative and expressive, incorporate spiritual practice into their lives and homes and are gentle souls. I like housemates to be considerate of others by cleaning up after themselves, not continually slamming doors and heavy stomping etc. Ask others if they would like anything from the shops if you are going, or offer to do someones dishes if they are running late. I am a vegetarian, but don't mind what other people's preferences are. It tends to be easier for people to look after their own shopping, but more than happy to chip in for veggie boxes in people do that, and definitely up for sharing dinners and baking experiments!! I don't have any pets, but am more than happy to move in somewhere that does have an animal or two! Any questions, ask away!! Thanks, Loz New | $200
Danika
1.47 km from North Warrandyte
Hello! My name is Danika and I am looking to relocate from the city suburbs to get some quiet time to myself with my darling pooch Fela. I am a stained glass artist and busy musician, playing in several projects including 30/70 (10 piece jazz/nu-soul band), Tomgirl ( a five piece all-ladies desert rock band), Allysha Joy, and my own project of folk-soul sounds! very busy with creativity! I am realising that the pace of living alone is much more suited to my character. I need space to feel free and focused without the temptation of people and so many amazing things to do in the city. i've grown up living in fairly isolated locations, and i would like to return to the serenity of the bush for a little while. My dog fela is an angel. He is a 15 month old German shorthaired pointer, a very sweet and goofy nature, a relaxed energy, a peoples dog, and a dogs dog. He gets along with everything and every one. he loves adventure but doesn't run away! if you have a self-contained separate dwelling that a sweet creative and her dog could occupy, get in touch!
$250
Wayne
3.81 km from North Warrandyte
I'm 65, I currently live in Doreen but I have to move because the landlord has decided to put his parents into the property. I've been back in Melb for 12mths since returning from Adelaide after 14yrs. I've seen and done a lot of things in my life but I still can't think of myself as a 65yr old although taking a selfie still has me thinking I have it set to the wrong camera. I have 2 cats that I've been minding for the last 5 yrs. 1 female &1 male both Desexed with shy natures. I'm willing to pay above the asking price if you're prepared to take them as well. As I have the cats it's much easier if you contact me rather than me contacting you as I've seen all the reasons both true and false on why rooms are no longer available. I'm willing to relocate to a Country town as I am retired.
New | $450
Kate & Matt
3.81 km from North Warrandyte
We are a professional and creative vegetarian couple with a lovely 18 month old son and a 4 year olf 'first son' - Teddy cat. We like a glass of wine and a 'jam'. We are looking to live in a home with a sustainable and community atmosphere. We grow veggies and ride bikes. We catch PT and shop at Aldi. We could write a song about how awesome we are if you like. ;-)
New | $240
Cho
3.81 km from North Warrandyte
I am quite easy going and enjoy little chat here and there but not overly sociable. I respect personal space and privacy. Don't like schedule cleaning. What make me great to live with... haha I don't know. I definitely pay bills in time. I don't make a mess of the house but do clean up after myself. I have my own furniture such as double mattress, washing machine, dining table etc...and a car too. So that I need a lot of space. $300
Wayne
3.81 km from North Warrandyte
male in my 50s working full time, my favrite thing to do is gardener[ing and come with a few pot plants so if theres a gardening I would turn it into a nice place to be, like going for walks or riding my bike and like to cook, easy going and friendly
$200
Nilanjan
5.25 km from North Warrandyte
Hello, I am 40 years old Indian male from New Zealand. I work in a medical software company in Southbank. I am relatively new in Melbourne so learning about the city and making new friends. I am very clean and tidy and looking for a tidy quite place to call home. Also, I have a notice period with my current landlord of 4 weeks. Thanks Nilanjan $250
Bruno
5.25 km from North Warrandyte
Easy going laid back and clean
$180
Loren
5.25 km from North Warrandyte
I'm a 23 year old hairdresser looking for a nice place to live within 30 minutes from my work in eltham.