$300
David
I'm a graduate student from Nuremberg, Germany and I currently work for the Siemens AG in Nuremberg as a working student. I will be transferred to Siemens Australia in Melbourne in June where I'm going to work for five months. During that time I'm also planning to write my master thesis in order to finish my masters degree at my hometown university in Nuremberg. Besides Germany, I have also lived in South Africa and the U.S. for several years in the past. Why am I great to live with? I can adapt well to new circumstances, meaning that whatever type of person you are, I'm sure that we'll get along great! I'm not looking for a specific type of flatmate. If you are looking for someone considerate, clean, and quiet, then I'm absolutely your guy! If you are outgoing and appreciate having someone laid back living with you, then I'm also your guy! Some basics about my hobbies: In my spare time I love doing outdoor sports (running, rowing, mountainbiking, skiing), and I'm always open to join / create new groups to do these together! Besides that I love traveling and I'm excited about getting to know people from all over the world. So, if we get the chance to live together in the future, I'm sure that we will have a great time!
$250
Alex
I am electrical engineer. I find a full time job at office in melbourne. so i am moving from sydney to here. i have a car so i need private room with own bathroom and own kitchen( prefer studio or 1 bedroom flat or quiet room) my office is in mount waverely. Right now i am in melbourne and looking property.i will be happy to give me a suggestion. cheers
$225
Ashleigh Beames
Hey, my name is Ash and I am 20 years old. I have never lived on my own before and am looking for somewhere to stay with a great vibe. I am very reserved and like my personal space but I also love to have a sneaky bevy from time to time. I am up to date with the best stuff on Netflix and i also love to go to the movies and watch trash TV. I am very clean and considerate of others and starting in July I will be studying Film and TV at Deakin University. Because I moving from Adelaide I do not have a job as yet but I'm hoping to find something quickly. My length of stay is flexible but something long term would be suitable. I can't really afford to spend more then $250 inc bills pw. I also have my own furniture so I'm happy to furnish my own room rather then having it be already furnished. My moving date is flexible as I will ned to let my current job know when I'm leaving and when the room is available :)
$180
Redner
I am a generally quiet and a very introverted person but still enjoys the occasional chat. I am a bit of a freak and OC when it comes to cleanliness and would usually go on a cleaning spree, sometimes in the middle of the night (I find it therapeutic hehe). I am also considerate so I won't go on a cleaning spree at night if you're home and trying get some sleep( you have my word) and understand that life gets busy sometimes. I value and respect privacy and hoping for mine to be treated the same. Also looking for an LGBT friendly home. I have asthma and although it's well controlled, a smoke free environment is still preferred. I do not drink alcohol (Asian Flush Syndrome) but I do not mind people drinking around me. I am Filipino and have been living in Australia for few years now. I am a nurse and I work early shifts during the week. I work in a busy environment and so if you do not see me at all when I am at home (I'm okay :), I am just in my room, having a downtime. If you have a room to offer, please drop me a message. Thanks!
$200
Sakshi
Hey,I am a 20 year old Indian student and I will be joining Deakin university for my Masters of Business sports management for July intake (T2) 2018. I will also be working Part time during my course. I love playing sports and play Basketball professionally for my country. Friendly, fun loving and social in nature, my other hobbies are playing (guitar to be specific) & listening to music open to having pets around and always up for a chill scene! :D For more info feel free to contact! :)
$200
Shrutik
I'm from India. I love photography, reading, traveling and obviously, hangout with friends.
$180
Jose
I am looking for a large size room in a share accommodation, 1BR flat or S/C Granny flat. I work full time for NBN Co., usually 10hrs a day, which means I come home only to spend the night, excluding weekends. I am 60 years old, non smoker, easy going, I like to respect someone else's space and I expect the same treatment towards me, keep to myself, clean, organised and do not like partying. If you have accommodation as per above, please feel free to contact me via this site. Thanks.
$200
Musa Fasih
Currently pursuing a postgrad at Deakin university, I would like to live in a house with people from diverse backgrounds. Interested in backpacking, hiking and road trips.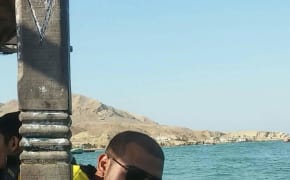 $100
Imran
My name is Imran,28 years old.I am student at Deakin University. I am from Pakistan and I am looking for a room in Melbourne.
$230
Anniken Hoias
I'm a International business management student from Coventry, England, but are originally from Oslo, Norway. Looking for a place to stay for my semester in Melbourne. I don't really have any preferences in types of house. Want to live with other people and get to know different cultures and learn new things. Been staying in a accommodation with 7 other people in Coventry and I loved it! Really like living with others. otherwise I love traveling and see different parts of the world. one a daily basis I like going to the gym and be active, but I also love a day on the sofa with Netflix. I see myself as a person its easy to talk to and get along with all kinds of people. I'm a person who likes to have it tidy around me, so I will most likely clean the rooms I'm using all the time.
$185
Damian
I am a sociable person but at the same time i respect other people's space. I like to be clean and respectful and look for that quality in other flatmates.
$200
Muhammad Aqib
I love to cook when I'm free and that means food is on me for the day. I am clean and easy going. Love to talk to people instead of engaging with the gadgets. Neat and clean adhere by the rules. And expect others to be the same.