New | $250
Masudah
Hi there! I am an international student from Singapore. I start school at UTS (Communications) this coming February. I'm looking for a place to stay for 6 months. Many of my friends tell me that I'm very responsible and caring. I'll make sure that I keep my living space organised and clean too. I'm down for almost everything. If you wanna grab breakfast/lunch/dinner or go out, I'd be happy to. Housemates are friends. Saying that, I believe in alone time too. Let's respect each other and give each other space when needed. Thanks for reading. Can't wait to meet you! Mas
New | $300
Madeline
My name is Madeline. I am a 20 year old college student from the United States looking for a place to stay while I study abroad at the University of Sydney this semester. I would consider myself a very good housemate. I'm neat and tidy, and always clean up after myself. I will be going to university full time while in Sydney, and will also be working part-time, so I will likely be out of the house most of the time. However, when I am home, I love to cook and perhaps share a bottle of wine with my fellow housemates :) An avid coffee/tea drinker, amateur yogi, and animal-lover. Please feel free to message me if you have any questions. Thanks!
New | $500
Reem
Outgoing. Love to meet new ppl. Love doing activities. I'm a photographer. Enjoy laughing.
Updated | $300
Katy
Friendly. Organised. Clean and Tidy (very). Considerate. Pay Bills on time. Easy Going. Relaxed. Quiet. I come from Cornwall in England ** can cook you a mean Pasty and Cream Tea On a working holiday visa, returning to Sydney and cannot wait !! It is where I started my adventure in this beautiful country. I have lived in many house shares before. 6 people being the biggest share. I like a peaceful, chilled place but somewhere to socialise / hang out at times. (No longer a party animal) Looking for: Double / Queen Private Room 10 mins max walking distance to Train or Bus. 10 mins max walking distance to a shop. All inclusive payment (ideally) 3 - 9 months stay I'm a huge animal lover so if you have any pets I'll be super happy. If you think I am a suitable fit, I'd love to hear from you. Cheers :)
New | $200
Aman
hi, i am looking for a room mate who is gay friendly and who keeps the room clean and tidy
Updated | $220
Melina
I'm 24 years old and in Sydney for a six months internship. I'm working three days a week and the other days I spend hanging out with existing friends, making new friends and retreating from all the buzz by closing my room door behind me. I've lived in shared flats for more than five years now, so I do have heaps of experience with all sorts of people. At the moment I live in Darlington, but my contract ends soon and that's why I'm looking for a new place to stay. I'm happy to move as of today and I need a place until somewhen July-ish. I really got to love Darlington and so staying somewhere close would be ideal for me. I'm very flexible in terms of living conditions: If you're rather quiet and reserved I can adjust to that and work around you, if you're more of the party type I'm happy to discover some unknown places in the neighbourhood together, it's really up to you. I'm familiar with sponges and dishwashing liquid, I also know how to use a vacuum cleaner. So if you're looking for an adaptable, respectful flat mate and don't mind an occasional sarcastic comment: here I am.
New | $400
Léa
Hey ! I'm Léa and I'm a 22yo French Student who is coming for 6 months of Intership in Sydney ! I'll work in North Syndey. I already had experience as a roomates and I never had complains haha I'm clean, respectfull of privacy and quiet and i'm sociable; I would love to have a flatshares where we can share dinners, chat, and a bottle of wine ! I'll be calm during weekday but totally for going out during week end and meet people ! And I planned to go to the gym ( it's months i'm saying that but i see Syndey as a new start for my body ! ) If you have any questions, please contact me ! I'll answer with pleasure
New | $300
Rollin
Originally from Brisbane, I'm moving to Sydney this year to work full-time with the orchestra. I'll also be continuing postgraduate studies whilst I'm working and will occasionally be back and forth between Brisbane. I'm quiet, easy-going, but sociable and keen to chat and chill from time to time. An occasional gamer, I'm a big fan of Age of Empires and try to play very badly online. I also enjoy a good hike. In the past, I've always cooked my meals but can be flexible with this and am always tidy in the kitchen. As a professional violinist I need to be able to practise regularly, however - but if you're a fan of classical violin music, then jackpot. We violinists have ways to keep things quiet if need be. I promise I won't keep you up at night. :) I'm Australian-born but my background is Chinese and I can speak Mandarin.
Updated | $250
Laura
Hey! I'm currently a student in England, studying Global Development and Sustainability. In February I will be coming over to Sydney to study at the University of Technology for a semester. I love listening to/playing music, travelling, eating/cooking, playing board games, poetry, interesting people etc, and consider myself to be responsible, clean, and caring. I am looking for some lovely people to live with for about 5 months :) I have done quite a bit of solo travelling, including two months in Sydney, and have also lived in student accommodation and shared houses, so I am very used to living with new people.
New | $300
Jessica
A bit about me, I'm 24 and work full time in the city and taking night classes at USYD. I try to go to the gym regularly and I love to sit and binge watch tv shows too. I like to cook quick and easy meals during the week. I'm clean, house-trained and like to make sure the bathroom, kitchen and common spaces are neat and tidy. I'm friendly and up for the occasional chat but generally on the quiet side. I would like a place within 10min walk to USYD. Something around Camperdown, Ultimo or around Haymarket and be public transport friendly. I'm looking for a private room in a place with one or two other females whom are relatively quiet, easy going and have a similar level of cleanliness.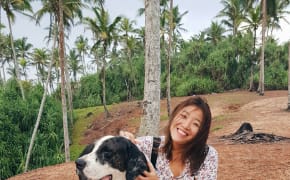 Updated | $330
Jit Tan
Hey guys, I'm beginning my Masters in Clin Psych at USyd this March so I'm hoping for a place around the campus. I've spent the last four years living in America, but I'm originally from Singapore. I'm an avid traveler, love hiking, exploring, working out, etc :) I'm pretty easy going (or so I hope) and sociable, but I respect that everyone wants their own space at home too. I've shared apartments with friends for the last few years, so am familiar with all the etiquette of house sharing! Always up for chill night outs or in :)
New | $300
Kiarni
Hi there! I am an eighteen year old female from rural NSW, of whom has always longed for a city life. Moving from my little town to Sydney is a big jump, so I'd love to meet some new friends who could help me get to know the city, or get to know it with me! I am friendly, neat, organised and trustworthy. I could spend an entire day in a bookstore and eat my weight in mashed potato. I am a vegan, but don't let that put you off :) I am set to begin studying anthropology (and something else that I haven't decided just yet) at the University of Sydney. I love to eat and be healthy, but balance that out with Netflix and pizza, from time to time (all the time). Living with me, I am quiet, clean and organised, and would mainly be focused on my study. I consider myself to be a peacemaker, liking to avoid conflict wherever I can. Though I'm majorly introverted, I do love to get out every now and then, and would not be opposed to brunch or a night out on the town. Really, I'm looking for some fun, friendly, preferably students like me, to live with, have a laugh with and whom I would hopefully become good friends. Thanks for considering me! :)))