$250
Kait
13 km from Laceys Creek
I require a lot of quiet time in my home as it is my sanctuary and my inner chambers of my life. I require a beautiful place because when beauty is at the centre of our lives, all else is magnified in beauty and peace. I am searching for a beautiful bedroom to sleep in, and I am really calling in an exclusive courtyard where I can write ( I am currently being gifted the process of channelling a book) and meditate. I am so hoping for a separate house entry or easy access to this room/courtyard too. I have my own business, on the weekends I run workshops or retreats and several nights per week I run classes too. So when I come into this bedroom space I want it to be an inner sanctuary for my own inner work and my own replenishment. I work with people all day and need a lot of time to meditate and write. I am extremely quiet in my space to re-energise and go and do all the things I need to go and do to be the multi-faceted and multidimensional person I am becoming more and more of each day! When you meet me you will see the side of me that 100% enjoys eating meals with someone each night or often. You will experience that part of me that loves story telling - I have great stories from all my travels (spent 10 years going to over 55 countries) and engaging with you and your stories and life. Spirituality is not something that I'm into - it is who I am and what defines my whole life. I eat really well and take care of myself. I am a 'bad vegan' at best and otherwise a vegetarian. I speak French, Spanish and some Chinese... and some light languages too... I am relocating back to Brisbane (grew up in The Gap) since I left it in 2007. Looking to make the move into a really special house on really special, held land, with a really special 30-something woman who is really dedicated to her own self improvement and self development and is a highly spiritual person too. I do not drink alcohol, smoke or eat meat/animal products. I eat organic and local where possible. I burn sage and incense every day. I have spiritual practice that keeps me quiet most mornings and sends me to bed early at night, but it always depends.
$250
Zac
20.1 km from Laceys Creek
Interesting, outgoing, adventurous. I work Monday to Friday generally 6/6:30 till 2/2:30. Hobbies includes climbing paraglider, slacklinner, surfer, skating, traveling. Spend most weekends out and about enjoying my hobbies.
$250
Shannon
20.7 km from Laceys Creek
Hi, I'm looking for somewhere for me and my dog. Can pay all my bills ok and will be working casual I'm social around the house, like to have something going on in the garden, cook heaps, hang out in the lounge and love a drink or few Hygienic and clean. My dog is sociable and friendly. Like to have good conversations or live with people who are around the house to hang out with Contact me for a chat to see if things would work out. Looking for honest and trustworthy people. Males and females ok... As long as your of decent character :)
$100
Mike
21.3 km from Laceys Creek
Very quiet, very neat and tidy, don't make a mess and keep shared areas clean, non smoker, non drinker, don't take drugs, don't play loud music or TV, fitness orientated. Keen mountain biker. Recently returned from 9 years living working overseas. Single, not into pubs or clubs, just value peace and quiet and freedom to get out on either my mountain bike or road bike. When indoors I like to browse Facebook or YouTube, mostly use headphones. I'm very conscientious of not invading other people's space as I like my own. I don't like noisy environments so therefore I myself am very quiet. I've worked very, very hard the past 3 decades, currently taking a bit of a break and reassessing my next chapter, my main focus being on quality of life and focusing on my health and fitness. I'm not much of a cook though, so I live off healthy wraps, juices and fresh foods lol. I have a pretty quick witted sense of humour when I do engage in conversation. I've mostly always only ever had my own place, my current circumstances simply don't allow that due to closing up my business in a very corrupt 3rd world country and having my assets tied up overseas. That said, when I stay with someone I treat being a guest in their place or sharing a place with utmost respect, cleanliness and friendliness is the best environment. Although not a deal breaker, would be a bonus to share with fellow mountain bikers to help motivate me get out more on the trails. Also keen to share with social road riders although aside from Mt Cootha laps, I prefer sticking to the bike path networks. My ideal location would be close to Mt Cootha, eg. Toowong, Bardon, Auchenflower, Milton etc. I do need a parking spot for my car. Not bothered if it's off street or on street.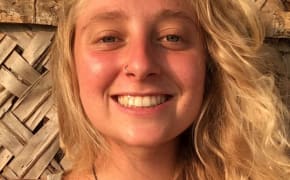 $180
Helena
21.3 km from Laceys Creek
Hello! I just moved back to Brisbane after travelling in India for four months and I'm looking for a new home. I'm 24, I work and study as a yoga instructor and also part-time at a café. I will be going back to Uni in 2nd semester studying Anthropology, Spanish and Development. I practice yoga and meditation, love to travel, spend my time writing poetry & reading, dancing, hiking, nature and beach time and drink lots of tea. I'm super friendly, reliable and organised, considerate of personal space and quiet alone time when needed, though I love to have a good chat, share a meal and a wine and a movie together as well. Would love to meet to see if we fit together! $260
Shonnie
23.2 km from Laceys Creek
Im a friendly bubbly person who loves to laugh and enjoy the company of others but i am also very respectful of personal space and privacy
$250
Mitchell
23.2 km from Laceys Creek
I'm 22 working full time as a comercial plasterer, I leave early and get home late. I'm an easy going and respectful guy Normally pretty quiet I enjoy riding my dirtbike, fishing, camping and a couple of cold ones of an arvo
$250
Elise
23.2 km from Laceys Creek
Hi there! I am a tidy, trustworthy, friendly and fun person who is currently looking at moving out. I tend to be easy to get along with due to my bubbly personality and am fairly relaxed in my personality! I work full time for an insurance company and have a very active social life :) Ideally an ensuite would be great - although it is not a dealbreaker! Feel free to message me for a chat to find out more.
$200
Erin
23.2 km from Laceys Creek
I'm outgoing, clean & tidy and easy to get along with! I'm originally from a small town (Esk, QLD), I've grown up riding horses & living on acreage. I do a lot in my spare time, like visit family, go see my horse (on agistment) or go to my boyfriends etc etc!
$250
Noveena
23.2 km from Laceys Creek
Im a bubbly 31 year old hospitality worker (crazy shifts) who is super friendly, can cook and maybe a little OCD on the clean side.. Love to socialise, but respect privacy. Punctual and reliable and always good for a laugh