$220
Tamara
1.05 km from Q Supercentre
Hi there! Firstly I apologize if this is a lot to read but if you read this then at least you know exactly what you are getting if you contact me or I contact you! :) I am open to either joining an existing share house or finding one or two people to get a rental with. I have had a bit of experience in real estate and have a few friends who still work in it so that could also make it easier to find a place! I have rented two previous places before and personally have good rental history. I am not looking to share a room with anyone. I am looking for a reasonably modern place. Doesn't have to be perfect or brand new but nothing old and broken. Happy to sign a lease between 6 - 12 months :) I work two jobs as a bartender. Both places are open 7 days a week so that makes room for me to take up lots of shifts. I'm a super easy going, reliable, clean, respectful, friendly and open minded person. Im totally fine with my roommates or I having people over for a chill movie night with some drinks or even on occasion I would be fine with people having reasonable pre drinks before you leave to go out for the night. I am not a big party person but I can understand this if it is done respectfully and of course i would expect the same both ways :) In my spare time I just like chilling at the beach or pool, shopping, watching movies, seeing friends. Anyways thanks for reading and hopefully talk soon :)
$275
Dylan
1.05 km from Q Supercentre
Helloooo. Basically, I'm looking for a place for the next 3 months that has people around my age preferably female (I find it easier to get along with easier than guys). I'm super chilled and I'm happy to lock myself in my room for days on end playing video games but also I'm super social and love a good house party. I pay rent monthly in advance so no need to stress about stuff and if I have to leave for work there is plenty of time to replace me as a housemate if need be. I'd prefer not to sign any leases as to why I pay in advance. If the shoe fits and we get along well I'll probably ask to stay on longer. Hit me up if this could work.
$300
Daniel
1.38 km from Q Supercentre
Really easy going, i work full time VERY CLEAN love the gym, love out doors love a good laugh respectfull $200
Terry
1.38 km from Q Supercentre
Clean neat tidy respectful and honest I pay bill in time respect others privacy
$200
Sam
1.38 km from Q Supercentre
Fairly chilled personal trainer who is trying to get into the police force.
$300
Renaye & Jordan
1.38 km from Q Supercentre
Hey there! This is a bit of a read so buckle up! We are a friendly couple looking to find a place to call home! We want to live in a home where we feel comfortable with the people we live with. We are really open-minded and are happy with everyone from all walks of life! You won't get any judgment from us! We love to hang out, have friends over, watch movies, go on adventures etc. We want a place that is close-ish to the beach if possible, doesn't have to be super modern but definitely well maintained. A nice view would be the cherry on the cake. So although we are a super team, here is a break-down of us as individuals; My name is Renaye pronounced exactly how it's spelled, my parents are from QLD so they like to keep it Bogan aye ;) non of this 'Renee' business, and I'm 23. I'm a qualified Ballet teacher and a retail sales assistant to get that mula! I'm quite quirky and outgoing (Jordan calls me a weirdo 70% of the time). I love socializing and meeting all kinds of different humans. I love the beach and everything that comes with it. I love exploring new places and going on day adventures or get away from life adventures (camping/glamping). I also love binge watching tv shows while eating sugary goodness. I'm originally from Rockhampton (Rocky), moved to Melbourne when i was 17 to full-time dance for 2 years and then moved back to Rocky to study my Ballet teaching qualification. After i completed the 2 year course i moved to Brissy to 'get out of Rocky', lived there for a year and then moved to GC In October 2017. And that's when I met this handsome devil>> Partner in crime, lover, sprinter/runner, uni student, Jordan and he is 24. He is a little bit more sensible than me and is the brains behind the team. He is a kind, funny, social creature who treats everybody he meets with respect. Jordan is very motivated to achieve his goals. His life story started in Adelaide, growing up with 4 other brothers. His love for running was passed down from his mum. Jordan is an amazing runner and trains super hard. He felt Adelaide wasn't pushing him to where he needed to be with his running so he moved to GC. His running career has improved since living here and he has achieved a lot. When he's not training, he is at Uni studying engineering, socializing, watching movies, playing computer games with his Adelaide friends or coming on some adventure with me. (I'm writing this on behalf of Jordan because he is at work and we need to find people asap) I hope this information was helpful. If you feel like we would be good to live with, swing me a message!! xx We actually found a super awesome place in Broadbeach Waters, 4 good sized bedrooms, 1 bedroom has a walk in robe and excess to a shared bathroom through the robe and the master has a long built in robe with an ensuite. its waterfront, with a pool, 2 living areas, 2 seperate outdoor areas and 3 fully equipped bathrooms. If your keen i can message you some photos and we can apply for it together!
$250
Georgie
1.38 km from Q Supercentre
I am in my early 30's. I am a happy and positive type of person. I work pretty much full time as I run 2 x online business and make a steady and consistent income. In my spare time I love to do yoga, walk, play guitar, listen to music, clean, pamper, read, write and heaps more depending on what's happening at the time. I am very easy going when it comes to others and there lives and will respect your privacy and space at all times. I am not judgmental in any way so what you do, think or believe is none of my business and I expect that to a degree in return. I am originally from the country so i love being outdoors but equally as much as i love and appreciate the ocean. I am currently living in the Brisbane area, but my lease will be up in the next few weeks. The only reason I can not sign again is because the owner/Landlord is moving in permanently. So, I am very much wanting to find a place asap and someone/s to share with. I could afford to rent on my own but it would make my life more difficult and financially limited. I am very clean and tidy and cant wait to get into my new daily routine again but in a new area. I am great at budgeting and saving money and always contribute at least 50% if not more when sharing. I do not generally tend to have many visitors and/or drop ins, but that doesn't mean I have anything against it what so ever. In considering me to share accommodation with you though, there is one very important thing that comes with me as a package......My dog Isla. Isla is more like my baby more than anything as i do not have my own children. Isla is an American Bull Terrier and she is very special to me. Isla is very unique, which is an understatement. Isla is very well trained. She is full of love and very clean. Isla barely leaves my side and I really need her to be with me without a question. I would sleep on the streets before leaving her behind. Isla is very protective when need be and well trained. Her and I spend a lot of one on one time together. She is loyal and very friendly to children, adults and other animals. She is my best friend, so to find a place and flat mate/s that caters for her and accepts her as well would be such a relief and very much appreciated.
$180
Rory
1.38 km from Q Supercentre
I'm just looking for a quiet place to live with nice people. I work at a primary school in the area and am looking to move closer to work. I work and go to uni during the week and enjoy a drink on the weekends
$350
James & Franzi
1.38 km from Q Supercentre
Hi guys, we're an english/ german couple met each other in Australia whilst backpacking in 2015. Together since and lived in the UK for the past two years but now going back to Aus start of 2019. Love exploring national parks and going for a hike, always up for a drink (or two) in the pub and very much looking forward to enjoy 300 days/ year of sunshine. Last but not least we are very keen to finally learn surfing :-) Easy going, social, fun and excited to meet new people and make friends on the Gold Coast. Happy to share with individuals and/or couples. Very happy to team up to find a place together, just give us a shout.
$180
Maddie
1.38 km from Q Supercentre
Hi, Im 22, I'm tidy and respectful, I work full time 5 days a week and go out on the weekends and not home very much. I like to socialise with the people I live with but also respect space! To be sharing with one other person who also works or studies and keeps the living spaces clean would be ideal. Look forward to hearing from you! :)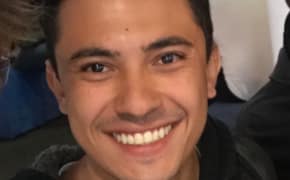 $250
Rafael
1.38 km from Q Supercentre
Hi, My name is Rafael, you can just call me Raf. I am 28 yo, Brazilian, full time masters student at Bond University. Currently living in mermaid beach, but I would like to live near the uni. Long-term places and off-street parking are preferred, but not essential. Very friendly, not a party guy but I do enjoy good company and a beer every once in a while. I am addicted to sports in general, I try to maintain a healthy lifestyle. I love traveling and eating good food. Also, I am very clean, and I do not like living in the mess. I like pets too. Any questions, I'll be happy to explain. Cheers, Raf
$205
Janae
1.38 km from Q Supercentre
PLEASE READ : I HAVE ONE SMALL DOG THAT IS A JACK RUSSELL X PUG Easy going gal with a strong work ethic, I have one small pupper named Ellie who will of course be your bestie if given the chance. I work 25 hours a week and sometimes more, I am studying veterinary nursing ( so a big animal lover - hate birds tho sorry). I am a bit of a granny but can light up a room. Will happily keep to myself or lend a friendly ear if needed. Easy going and will tidy up after myself and my doggo