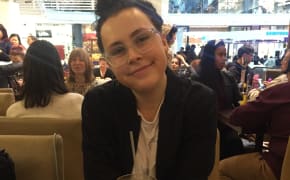 $150
Hannah
1.18 km from Selby
Looking for a place to live while I finish my degree!! I enjoy staying active and hanging out with friends. I'm a regular volunteer at the Brotherhood of St Laurence so I get amazing discounts on furniture and bric-a-brac if you're interested. While I would ultimately love to become mates with my new roomies I fully understand that everyone needs their own space - so do I! I'm currently studying at La Trobe but I want to stay to the east to be near the family. I have two dogs but they are fully vaccinated, well behaved, and mostly sleep all day!!
$180
Lindel
1.18 km from Selby
Hi, My name is Lindel and I am a first year Health Sciences Student through Deakin University, majoring in Psychology, and Disability and Inclusion. I am great with animals, keeping my environment tidy and cleaning up after myself. I also love to bake and cook, so there will always be something yummy around to eat! :) I am really pleasant and easy to get along with. Feel free to message me on here or give me a call, thankyou!, I am more than okay if a place already has a cat or a dog - I have a huge animal person.) Just message me if we may be able to come to an agreement on a place you are offering, Thankyou! Lindel
$250
Josh
1.18 km from Selby
Hello! Im a 25 year old male Software Engineer. I have been share renting with a group of friends for the last 3 years now. Looking for a change of atmosphere. Im quite an introverted guy but open to new experiences. I am very respectful of other's property. I have taken on the roll of house bookkeeper and can appreciate the need for mutual responsibility. I travel to the city for work; working 9 to 7. A little bit eairler if I visit the gym. I have a motobike that is not that loud (250 cc honda) - I would need to be able to park behind a locked gate or preferably within a garage. I also have a furry feline friend who's name is Toby - He can be quite affectionate but unfourtunatlly does not play well with other animals - especially dogs. When I have free time - it is usually spend reading, motobike riding or possibly playing a game on the PS4. Lately i have taken an interest in scuba diving and i plan on turning into a more prelevnant hobbie. Smoker specifed as I use an electroic ciggerate - happy to not use inside.
$230
Will
1.18 km from Selby
Easy to get along with, well spoken, respectful, have lots of training in communication. US citizen, here on working holiday. Very passionate about my job, which has brought me to this beautiful part of the world. I'm here trying to work toward my goals and I love hearing about other folks' dreams/goals. Time away from work is spent exploring nature, resting, reading, trying new foods, working out, visiting friends. I get up early and go to bed early. Also not a serial killer.
$250
Donna
1.18 km from Selby
Hello, I am looking for a new home in a lovely tree area with lots of natural light. Preferably 1-2 bedrooms and not too small if a 1 bedroom place. OR a share house with the right person, and I am interested to find a house together if our interests and living ways match up. I love to garden, grow my own veggies and herbs, live healthy, recycle and have minimal waste. Dance, yoga and walking in nature are some of my interests. Sewing, creating, healing and playing a medicine drum are also my enjoyed pursuits. I am working a few jobs and starting a healing business, which is my ultimate passion. I am a considerate and respectful person, happy to talk and work out anything that needs to be discussed. Let me know if you resonate with me and would like to look for a place together or have my new home for me. Thank you for your time.
$200
Nicole
1.18 km from Selby
Live a healthy lifestyle. When I am not at work (Mon-Fri - I work at a University) you will find me at Yoga, painting, seeing friends and exploring nature. I am looking for a home that is really peaceful yet fun. somewhere I can create a home. I am respectful, house proud and tidy. I am happy to have a chat and cuppa whilst spending time on my own and chilling.
$250
Tim
1.18 km from Selby
Greetings and/or salutations. I'm Tim. I am a relatively quiet and conscientious person who enjoys the simple things in life. I work in forensic pathology, which often means long and stupid hours, so you may not see me for days on end. I enjoy a beer and can be social, but often like to have quiet time. I have two beautiful daughters, aged 5 and 7, who reside with their mum, but I would like for them to be able to visit. I am easy to get along with. I have a good sense of humour. I'm not religious, nor am I overtly political. Ideally, I like to live a drama-free life and make the most of each day. I love being outdoors and am a neat and respectful person indoors.
$190
James
1.18 km from Selby
Extremely easy going, up for a laugh anytime. Im currently in officer but due to unforseen circumstances, i have to move. I work with animals, so im very compasshsionate and understanding,have a great sense of humour, very clean, respectful and reliable, and also very passionate about my job. 🐎🐐🐃🐖🐪
$110
Tania & Gareth
1.18 km from Selby
We are INTERESTING humans :) We need a place with/closer to the trees, birds and running waters where we can nurture ourselves and feed our creativity in creation :) Gareth and I,Tania, are kind gentle loving and caring human beings who have passion for free and self sustainable communal life style. I work already for myself and Gareth is about to do the same. We are mindful about wellness of the environment (humans, nature, animals) and we like to share space with same kind of TRIBE. We like to take only what we need and share the rest :) WE OFFER to work and help you manage the property as a trade if you are interested :) We are gonna have a YURT to live in on your property as an option too, if thats convenient :) We are working on a project of creating a shared communal property for living and retreats. This move is a step in the line of our purpose. We make a GREAT TEAM with our complementary skills in area of life experience, social, cultural differences, counselling, project management, organisation, teaching, natural therapy and healing, cooking, making music, handy jobs and gardening. Oh, we have parenting skills too :) cause we have a SON named Callum every two weeks, who is 6 years old and has a gentle soul and is ready to explore the new life style.
$200
Dobrusia
1.18 km from Selby
Hi I'm Dobrusia, 35 years old female , originally form Poland, lived in Australia for past 11 years ( oh wow!). I'm scientist and I'm just beginning my new career as a naturopath. I am looking for a clean and beautiful home, ideally with a healing/ treatment room that I could use. About my personality: Emotionally mature and intelligent, very respectful, quiet, tidy (but not fanatical) , organized ( Virgo), super emphatic, like a bandage to a wound. I also have a great sense of humor and I'm very direct. What I do at home : cook, clean, work and sleep . Unfortunately due to a nature of my work I need to spend long hours on self study, having said that I do engage in very friendly manner, but I just don't have much time at the moment for a social activities. One thing that I'd like to do is gardening if there is a possibility. What else ? I'm ok with clean cats at home or very small quiet dog. eneting else we could chat further.