Updated | $260
Zoe
I am an extremely bubbly and enthusiastic person. I have just moved to the Gold Coast this year to experience life on the coast and to study at Griffith University. I am super excited to make new friends and believe that I would not have a problem getting along with my roommates. Although I am only 20 I am often told I am quite mature for my age and I am a very determined person. I have 3 jobs so I work a lot and also have training on Saturdays, I am quite active and would love to find people that are compatible
Updated | $200
Carly
hey! I currently live in Coolangatta but due to my jobs I want to find a place to live in Burleigh so I'm closer to work. I'm work a lot at a cafe and at a bar/restaurant right close to Burleigh beach. I'm relaxed, clean and I like to spend my spare time at the beach, in the waves or having a few drinks to the sunset! I Want to find the perfect place with awesome housemates that don't mind a few drinks here and there and going on adventures! Also don't mind a night in or relaxing on my own! I'm a veggo and I love to cook and make my own home made hummus, I don't mind sharing :) I would prefer a place in Burleigh, but would consider miami, Tally or Currumbin. Looking forward to hearing from you!
New | $200
Iveta
Tidy, easy going student, never saying no to a nice conversation, but never jumping to the face to communicate,especially early in the morning. Not the best cook, but definitely trying my best not to starve to death or live surrounding myself with take away boxes, from time to time I could make my not-so-popular-but-not-terrible american pancakes and I am for sure willing to share them with somebody. I am looking for somebody tidy, not awkward to be around person to share a flat together.
New | $300
Danika & Corey
Social, upbeat, friendly couple looking for a place to rent with our 5yo rag doll cat :) We have just moved back to Gold Coast after working on super yachts overseas. On our time off we enjoy going on road trips, exploring and being outdoors. Looking to live with like minded people so let us know if we sound like you! Cheers :)
New | $225
Michelle
My name is Michelle, I'm 25 andI just moved to the Gold Coast on a working holiday visa. I'm easy going and tidy. I keep to myself quite a bit but I also enjoy socializing. I am not looking for a party house just some good company. I enjoy eating healthy and staying active and getting outdoors when I can.
Updated | $210
Oceana
I'm into health and fitness, value private time, self motivated, focused. My ideal housemate values their own space yet appreciate regular family meals (perhaps once a week when time permits), appreciate that I love to be useful around the house and include me in decisions that affect our home environment and have strong home ethics in having each other's backs. House needs to be my home to not just be treated as a tenant. Rent $180 - $230 depending on inclusions. "To share with one person only or granny flat." What you want to know about my lifestyle * Early riser (with the birds, because I love to connect to nature) * Mornings; martial arts exercises, morning time on beach when time permits. * Not chatty in mornings because it's private time between me and my day. * Breakfast, prepare for work; often on computer. * Head off to work * When home I prepare healthy meals that would include juices and smoothies, therefore friendly sharing of kitchen space and great attitude is essential. * I do great deal of research on internet in health and personal development (and incorporate updated results where required into my life to test them out) therefore personal space is essential and attitude of tolerance to some changes in my schedule. * Many people are rather entrenched in their habits (therefore your willingness to embrace changes in my daily routine is essential. "I'm like a child who is constantly growing, not a rigid adult stuck in their ways" * If you want same old same old from me - this would not work. (However, "I'm happy for you to be predictable in your habits if that is your preference.".) * (no drugs, alcohol or smoking although "I don't mind if you have a few drinks a few times a week" provided it's not the first thing you reach for when you get home [not interested in living with an alcoholic] * I remain curious about life and enjoy adventure and exploring best of opportunities in nature and healthy friendships especially in a place that is to be my home. About the house; Best if you own the property or have long lease and good relations with landlord so we are not constantly having inspections and to have freedom to negotiate (between us) our preferences as well as long term security in having a stable home. Drama-free environment essential. ============================================== "Why I am taking this approach!!!" ***so I'm not running around for chats only with people who have nothing better to do (life's too precious to waste). More about me - so you know how to share about you before we meet. PHOTO IS OF MY BEDROOM (insert is of dining table) so you can see how I love to live. I'm into (not just interested in, but really doing all I have listed below - not just empty talk of interests that never get explored) - Martial arts trained in Aikido and Aikido Ki principals Philosophy and application - Personal development - Cooking - Well Traveled - Culture including spiritual culture - Love Indigenous cultures - have participated in their spirit connection rituals. - Worked on million Dollar Projects and treat each encounter as invaluably as any million dollar project. Never take any moment for granted. Many people are very dismissive of each other (sadly missing every moment of being present) - Respect and Regard Business Principals - Studied Classical Piano at Music Academy & backed performers - Dance - Have my own relationship coaching business, therefore I live what I teach. - Appreciate entrepreneurial spirit in people. - Love generous attitude to life. - I'm focused on maintaining momentum and completing things that need to be done therefore I need a safe place to do that. Creating healthy home Healthy communication, healthy emotional and living environment are essential. Generous attitude towards life, professional and cooperative attitude, friendly home environment, internet. Preferred FEATURES; # Share in Large home or a granny flat. - Generous attitude towards life essential. - Professional and cooperative attitude - Easy Friendly Atmosphere - Internet essential - Clean Spacious Bedroom (with en-suite or own bathroom) - Generous wardrobe. - WI-Fi essential - Space for my things in Kitchen (top of the range juicer and blenders) as I prepare fresh food daily - no frozen, pre-packaged food. - OR SPACE FOR EXTRA CUPBOARD IN LIVING ROOM TO HOUSE MY THINGS. - I have some furniture and fridge for my fresh produce, and I love my books. These are essential for my health and wellness particularly since I'll be going into my own place in 12months time. Some things that have been in storage I'd love to unpack so I feel I really belong - A real home long term, not just a place to crash. - I have a car, car space is essential. - prefer an en-suite (or own bathroom) and I could use my own juicer, blender as I eat mainly fresh food. I am comfortable being in my own space, enjoy occasional socializing and am seeking to share with easy-going person who loves their life and works full-time. To begin communication If you love your life as I do mine, I shall send you a video of my lifestyle and work environment, followed by a meeting. These things you would ask me when we meet, remember it takes a lot of my personal time to run around meeting people who are happy to just talk - the talk that can often be a total waste of time for me. For this reason I put together a video of how I live and work. and I'll send it to you when I know you genuinely like what you have read. BE SURE TO LEAVE your PHONE NUMBER
New | $600
Nigel
I'm a working parent of a 14 year old boy and we have been renting an apartment in Broadbeach Waters for several years and its time to move on. I'm looking for either someone with a large home with space for us both to help share the costs or someone in a similar situation wanting to move in and share the cost of a large house anywhere within biking distance to Merrimac State High School in Mermaid Waters. Rental and employment references available :)
New | $220
Tess
About myself.. My name is Tess, Im 24 years old and looking for a place to move into ASAP. I just returned from spending the summer over in Europe so am currently staying at a friends in Nobbys until I find something permanent with some chill people. I'd like to live as close to the beach as possible near a good surf break (burleigh would be IDEAL) or anything along that stretch. I work full time in sports but my hours flucuate from days to nights (depending on what events are on). When im not working im usually at the beach, catching up for a coffee with friends or finding some sort of outdoors activity around so I tend to come and go. I am easy going, clean and respectful of others but also don't mind socialising with a few beers. I look forward to meeting you future roooomies!
Updated | $225
Elliot
easy going kiwi boy recently moved over, have a job in surfers so looking for a place nearby, preferably furnished.
New | $200
Kiah
I'm quiet and keep to myself. Tidy and not into partying. Just want a healthy safe enviroment to live in.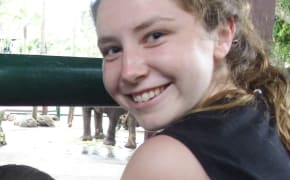 New | $250
Sierra
I am very easy to get along with and enjoy the little things in life. I am very active and love animals. It's not often that I have a day off but when I do I like to relax.
New | $200
Celine
Looking for a place no more than 200 p/w including bills. Looking for somewhere not too far out from the centre of Gold Coast City. I am 21 years old and have taken a break from studying nursing in New Zealand. I am currently working as a PCW. I am friendly, tidy and enjoy meeting new people. If you think you have a place suitable for me let me know!