New | $550 inc
Furnished room in a flatshare
**STUNNING FUULY FURNISHED APARTMENT IN A GARDEN COMPLEX** ** VERY CLOSE TO THE CITY AND DARLING HARBOUR** Ready to lease now. Ideal for a working professional, a couple or for two friends to share. Fully furnished an amenities include: - All furniture including beds and fully equipped kitchen - All appliances and fully functional laundry - Unlimited high speed internet - Rooftop Pool Large En-suite room with built in wardrobe, in a well maintained, gorgeous apartment with private balcony $550 Also available is a large queen room with built in wardrobe $530 Double room with built in wardrobe $500 Can also do the whole apartment for $1500 to a friendly, clean, responsible group. -two minutes from local bus and tram stops. -5 mins from casino -7 mins from darling harbour -Central Pyrmont location.
Free to Message
New | $430
Furnished room in a flatshare
* RIGHT IN THE HEART OF PYRMONT AND CLOSE TO CBD** A fully furnished large double room has become available in a very modern Pyrmont apartment. Available for lease by a working professional or couples. Apartment was recently renovated and painted brand new. Facilities include: - huge garden courtyard - unlimited high speed internet - fully furnished with all furniture, kitchen, laundry, tv, appliances and anything else that is needed. - pool, gym. sauna and spa - great house mates and fun place to live in. If this is your kind of place and if you believe in living clean and tidy, please feel free to say and organise inspections. Ps - This is a no smoking, no party, no noise place. While you can have the best time of your life we believe that should not entail being noisy or messy.
Free to Message
New | $499
Furnished room in a flatshare
** STUNNING PENTHOUSE COUPLE ROOM WITH 360 WATERVIEW AND BRIDGEVIEW BY DARLING HARBOUR** ** ALSO IDEAL FOR A SINGLE PROFESSIONAL OR TWO FRIENDS** room with water views in a penthouse apartment. Amazing water views across to blackwattle bay and stunning views out of your window from a large room with wardrobes in one of the best Pyrmont buildings. The apartment is bright, has Views to die for and comes fully furnished with quality furniture and all appliances. - gym, swimming pool, two spas and sauna - fully furnished with unlimited high speed internet - modern furnishings, tv, washer and dryer - large garden courtyard and bbq area - 24/7 security concierge Room - 500/week plus bills Fully secured with three tier security and 24 hour monitoring system this building is really safe, well managed and one of the most coveted living spot in all of Sydney. This large room has massive wardrobes and plenty of space and great views of wattle Bay out of your windows. - close to darling harbour and 10 minutes walk to the city - steps from casino, supermarket in front, bus stops and views to beautiful sandstone walk - Close to Sydney uni, UTS and train stations *NO SMOKING, NO EXCESSIVE NOISE* Fully executive style furnished unlimited internet laundry, dishwasher and dryer all appliances and fully equipped kitchen
Free to Message
New | $430
Furnished room in a flatshare
**TWIN BED, STUNNING VIEWS, WELL LIT AND QUIET** ** IDEAL FOR TWO FRIENDS OR A WORKING PROFESSIONAL ** ** modern and completely furnished with beautiful appointments** Pyrmont does not get better than this. A large, airy spacious 3 bedroom flat with large sized balcony and expansive garden view in Pyrmont. This is one of the most beautiful and well maintained apartment complex and closer to the city and all amenities including bus top, fish markets, darling harbour, universities, TAFE, Pyrmont business district and very central. Twin room with two large single beds is available for rent with all furnishings including - high speed internet, fully equipped kitchen, gym, pool, sauna, spa. The room has its own built in wardrobe. Furnished with top end furnitures. UNLIMITED HIGH SPEED WIFI. Twin room 430 per week. Bills can be included for $30 on top of weekly rent Please apply knowing that this is an apartment for professionals and always needs to be kept clean and in a very good order for everyone's enjoyable living experience. This is not a place for parties or loud noise. * NO SMOKING; NO EXCESSIVE NOISE. NO PARTIES *
Free to Message
Updated | $200 inc
Furnished room in a share house
WANTED: ONE MALE in twin shared room (Share room WITH only ONE other friendly male) DESCRIPTION: 5 bedrooms, 2 bathrooms fully equipped kitchen, living room, dining area, laundry room UNIT IS FULLY FURNISHED AND EQUIPPED: Modern Massive 50TV, Fridges, Pots/Pans, Cutlery, Microwave, Toaster, Kettle, FRONT LOADER washing machine, FREE WI-FI ROOM: Two single beds with linen, two bedside tables with bedside lamps, wardrobes. LOCATION: LITTLE MOUNT STREET PYRMONT 4 minutes walking distance to Fish Market 14 minutes walking distance to Darling Harbour 10 minutes walking distance to STAR Casino Walking distance to most International Schools and Colleges Nearest SUPERMARKET: 6 minutes walking distance in IGA X-press Pyrmont NEAREST BUS STATION: Harris St At Pyrmont Bridge Rd, 2 minutes walking distance Bus 501 (17 minutes) to USYD and (8 minutes) to UTS NEAREST TRAIN STATION: Town Hall Train Station ~ 20 min walk (12 minutes by train to Bondi junction, 26 minutes by train to Airport) HIGHLIGHTS: - UNLIMITED FREE WI-FI - FRIENDLY FLATMATES - DATE AVAILABLE: Available NOW - SECURITY- you will receive a LEGAL contract with well-established share house accommodation agency - CLEANEST UNITS IN SYDNEY PLEASE NOTE: We prefer Minimum 4-month Agreement. *Shorter stay negotiable for a higher price and subject to the building by-laws ** 4 weeks rent as a bond is required and 2 weeks rent in advance. And one off $55 booking fee applies * *
Free to Message
Updated | $215 inc
Furnished room in a share house
WANTED: ONE MALE in twin shared room (Share room WITH only ONE other friendly male) DESCRIPTION: 3 bedrooms, 1 bathroom fully equipped and extra toilet, kitchen, living room, dining area, laundry room UNIT IS FULLY FURNISHED AND EQUIPPED: Modern Massive 50TV, Fridges, Pots/Pans, Cutlery, Microwave, Toaster, Kettle, FRONT LOADER washing machine, FREE WI-FI ROOM: Two single beds with linen, two bedside tables with bedside lamps, wardrobes. LOCATION: LITTLE MOUNT STREET PYRMONT 4 minutes walking distance to Fish Market 5 minutes walking distance to STAR Casino 15 minutes walking distance to Darling Harbour Walking distance to most International Schools and Colleges Nearest SUPERMARKET: 6 minutes walking distance in IGA X-press Pyrmont NEAREST BUS STATION: Harris St at Pyrmont Bridge Rd, 2 minutes walking distance Bus 501 (17 minutes) to USYD and (8 minutes) to UTS NEAREST TRAIN STATION: Town Hall Train Station ~ 20 min walks (12 minutes by train to Bondi junction, 26 minutes by train to Airport) HIGHLIGHTS: - UNLIMITED FREE WI-FI - FRIENDLY FLATMATES - DATE AVAILABLE: Available NOW - SECURITY- you will receive a LEGAL contract with well-established share house accommodation agency - CLEANEST UNITS IN SYDNEY PLEASE NOTE: We prefer Minimum 4-month Agreement. *Shorter stay negotiable for a higher price and subject to the building by-laws * *4 weeks rent as a bond is required and 2 weeks rent in advance. And one off $55 booking fee applies * *
Free to Message
Updated | $205 inc
Furnished room in a share house
WANTED: ONE MALE in twin shared room (Share room WITH only ONE other friendly male) DESCRIPTION: 3 bedrooms, 1 bathroom fully equipped and extra toilet, kitchen, living room, dining area, laundry room UNIT IS FULLY FURNISHED AND EQUIPPED: Modern Massive 50TV, Fridges, Pots/Pans, Cutlery, Microwave, Toaster, Kettle, FRONT LOADER washing machine, FREE WI-FI ROOM: Two single beds with linen, two bedside tables with bedside lamps, wardrobes. LOCATION: LITTLE MOUNT STREET PYRMONT 4 minutes walking distance to Fish Market 5 minutes walking distance to STAR Casino 15 minutes walking distance to Darling Harbour Walking distance to most International Schools and Colleges Nearest SUPERMARKET: 6 minutes walking distance in IGA X-press Pyrmont NEAREST BUS STATION: Harris St At Pyrmont Bridge Rd, 2 minutes walking distance Bus 501 (17 minutes) to USYD and (8 minutes) to UTS NEAREST TRAIN STATION: Town Hall Train Station ~ 20 min walk (12 minutes by train to Bondi junction, 26 minutes by train to Airport) HIGHLIGHTS: - UNLIMITED FREE WI-FI - FRIENDLY FLATMATES - DATE AVAILABLE: Available NOW - SECURITY- you will receive a LEGAL contract with well-established share house accommodation agency - CLEANEST UNITS IN SYDNEY PLEASE NOTE: We prefer Minimum 4-month Agreement. *Shorter stay negotiable for a higher price and subject to the building by-laws * *4 weeks rent as a bond is required and 2 weeks rent in advance. And one off $55 booking fee applies * *
Free to Message
Updated | $240 inc
Furnished room in a flatshare
WANTED: ONE MALE in twin shared room (Share room WITH only ONE other friendly male) DESCRIPTION: 2 bedrooms, 2 bathrooms fully equipped kitchen, living room, dining area, laundry room. UNIT IS FULLY FURNISHED AND EQUIPPED: Modern Massive 50TV, Fridges, Pots/Pans, Cutlery, Microwave, Toaster, Kettle, FRONT LOADER washing machine, unlimited FREE WI-FI ROOM: Two single beds with linen, 2 bedside tables with lamps and wardobes . LOCATION: PYRMONT STREET PYRMONT 9 minutes walking distance to Fish Market 11 minutes walking distance to Casino Wharf 13 minutes walking distance to Darling Harbour Walking distance to most International Schools and Colleges Nearest SUPERMARKET: COLES 5 minutes walking distance NEAREST BUS STATION: Harris St at Allen St 2 minutes walking distance Bus Number: 501 (15 minutes) to USYD and (6 minutes) to UTS Nearest Train Stations: Town Hall Train Station ~ 20 min walk (12 minutes by train to Bondi junction, 26 minutes by train to Airport) HIGHLIGHTS: - UNLIMITED FREE WI-FI - FRIENDLY FLATMATES - DATE AVAILABLE: NOW - SECURITY- you will receive a LEGAL contract with well-established share house accommodation agency - CLEANEST UNITS IN SYDNEY - WITH GREAT FACILITIES ACCESS : Swimming Pool and Gym PLEASE NOTE: We prefer Minimum 4-month Agreement. *Shorter stay negotiable for a higher price and subject to the building by-laws * *4 weeks rent as a bond is required and 2 weeks rent in advance. And one off $55 booking fee applies * *
Free to Message
Updated | $250 inc
Furnished room with ensuite in a flatshare
WANTED: ONE MALE in Master twin shared room (Share room WITH only ONE other friendly male) DESCRIPTION: 2 bedrooms, 2 bath rooms fully equipped kitchen, living room, dining area, laundry room. UNIT IS FULLY FURNISHED AND EQUIPPED: Modern Massive 50TV, Fridges, Pots/Pans, Cutlery, Microwave, Toaster, Kettle, FRONT LOADER washing machine, unlimited FREE WI-FI ROOM: Two single beds with linen, 2 bedside tables with lamps, built-in wardrobes, 39" inches LCD TV and en-suite bathroom. LOCATION: PYRMONT STREET PYRMONT 9 minutes walking distance to Fish Market 11 minutes walking distance to Casino Wharf 13 minutes walking distance to Darling Harbour Walking distance to most International Schools and Colleges Nearest SUPERMARKET: COLES 5 minutes walking distance NEAREST BUS STATION: Harris St at Allen St 2 minutes walking distance Bus Number: 501 (15 minutes) to USYD and (6 minutes) to UTS Nearest Train Stations: Town Hall Train Station ~ 20 min walk (12 minutes by train to Bondi junction, 26 minutes by train to Airport) HIGHLIGHTS: - UNLIMITED FREE WI-FI - FRIENDLY FLATMATES - DATE AVAILABLE: Available NOW - SECURITY- you will receive a LEGAL contract with well-established share house accommodation agency - CLEANEST UNITS IN SYDNEY - WITH GREAT FACILITIES ACCESS : Swimming Pool and Gym PLEASE NOTE: We prefer Minimum 4-month Agreement. *Shorter stay negotiable for a higher price and subject to the building by-laws * *4 weeks rent as a bond is required and 2 weeks rent in advance. And one off $55 booking fee applies * *
Free to Message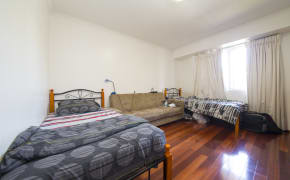 Updated | $250 inc
Furnished room with ensuite in a flatshare
WANTED: ONE MALE in Master twin shared room (Share room WITH only ONE other friendly male) DESCRIPTION: 3 bedrooms, 2 bathrooms, living room, fully equipped kitchen, dining area, laundry room. UNIT IS FULLY FURNISHED AND EQUIPPED: Modern Massive 50 inches TV, Fridges, Pots/Pans, Cutlery, Microwave, Toaster, Kettle, FRONT LOADER washing machine, unlimited FREE WI-FI ROOM: Two single beds with bed linen, two bedside tables with lamps, built in wardrobes, 39" inches LCD TV and en-suite bathroom. LOCATION: HARRIS STREET PYRMONT 6 minutes walking distance to Fish Market 7 minutes walking distance to Star Casino 15 minutes walking distance to Darling Harbour Walking distance to most International Schools and Colleges Nearest SUPERMARKET: COLES 5 minutes walking distance NEAREST BUS STATION: Harris St At Allen St 1 minute walking distance Bus Number: 501 (16 minutes) to USYD and (7 minutes) to UTS NEAREST TRAIN STATION: Town Hall Train Station ~ 20 min walk ( 12 minutes to Bondi junction, 23 minutes to Airport) HIGHLIGHTS: - UNLIMITED FREE WI-FI - FRIENDLY FLATMATES - DATE AVAILABLE: Available NOW - SECURITY- you will receive a LEGAL contract with well-established share house accommodation agency - CLEANEST UNITS IN SYDNEY - WITH GREAT FACILITIES ACCESS : Swimming Pool, Spa, Gym BBQ and Sauna PLEASE NOTE: We prefer Minimum 4-month Agreement. *Shorter stay negotiable for a higher price and subject to the building by-laws * *4 weeks rent as a bond is required and 2 weeks rent in advance. And one off $55 booking fee applies * *
Free to Message
Updated | $255 inc
Furnished room in a flatshare
WANTED: TWO FRIENDS/COUPLE-$255 PER PERSON (Maximum two persons in each Twin Shared Room) DESCRIPTION: 2 bedrooms, 2 bathrooms, living room, fully equipped kitchen, dining area, laundry room. UNIT IS FULLY FURNISHED AND EQUIPPED: Modern Massive 50 inches TV, Fridges, Pots/Pans, Cutlery, Microwave, Toaster, Kettle, FRONT LOADER washing machine, unlimited FREE WI-FI ROOM: Two single beds with bed linen, two bedside tables with lamps, built in wardrobes LOCATION: HARRIS STREET PYRMONT 6 minutes walking distance to Fish Market 7 minutes walking distance to Star Casino 15 minutes walking distance to Darling Harbour Walking distance to most International Schools and Colleges Nearest SUPERMARKET: COLES 5 minutes walking distance NEAREST BUS STATION: Harris St At Allen St 1 minute walking distance Bus Number: 501 (16 minutes) to USYD and (7 minutes) to UTS NEAREST TRAIN STATION: Town Hall Train Station ~ 20 min walk ( 12 minutes to Bondi junction, 23 minutes to Airport) HIGHLIGHTS: - UNLIMITED FREE WI-FI - FRIENDLY FLATMATES - DATE AVAILABLE: Available NOW - SECURITY- you will receive a LEGAL contract with well-established share house accommodation agency - CLEANEST UNITS IN SYDNEY - WITH GREAT FACILITIES ACCESS : Swimming Pool, Spa, Gym BBQ and Sauna PLEASE NOTE: We prefer Minimum 4-month Agreement. *Shorter stay negotiable for a higher price and subject to the building by-laws * *4 weeks rent as a bond is required and 2 weeks rent in advance. And one off $55 booking fee applies * *
Free to Message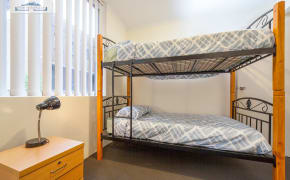 Updated | $220 inc
Furnished room in a flatshare
WINTER SPECIAL - ONE WEEK FOR FREE WANTED: TWO FRIENDS/COUPLE-$220 PER PERSON (Maximum two persons in each Shared Room) DESCRIPTION: 3 bedrooms, 2 bathrooms, living room, fully equipped kitchen, dining area, laundry room. UNIT IS FULLY FURNISHED AND EQUIPPED: Modern Massive 50 inches TV, Fridges, Pots/Pans, Cutlery, Microwave, Toaster, Kettle, FRONT LOADER washing machine, unlimited FREE WI-FI ROOM: One bunked bed with bed linen, two bedside tables with lamps, wardrobes. LOCATION: HARRIS STREET PYRMONT 6 minutes walking distance to Fish Market 7 minutes walking distance to Star Casino 15 minutes walking distance to Darling Harbour Walking distance to most International Schools and Colleges Nearest SUPERMARKET: COLES 5 minutes walking distance NEAREST BUS STATION: Harris St At Allen St 1 minute walking distance Bus Number: 501 (16 minutes) to USYD and (7 minutes) to UTS NEAREST TRAIN STATION: Town Hall Train Station ~ 20 min walk ( 12 minutes to Bondi junction, 23 minutes to Airport) HIGHLIGHTS: - UNLIMITED FREE WI-FI - FRIENDLY FLATMATES - DATE AVAILABLE: Available NOW - SECURITY- you will receive a LEGAL contract with well-established share house accommodation agency - CLEANEST UNITS IN SYDNEY - WITH GREAT FACILITIES ACCESS : Swimming Pool, Spa, Gym BBQ and Sauna PLEASE NOTE: We prefer Minimum 4-month Agreement. *Shorter stay negotiable for a higher price and subject to the building by-laws * *4 weeks rent as a bond is required and 2 weeks rent in advance. And one off $55 booking fee applies * *
Free to Message