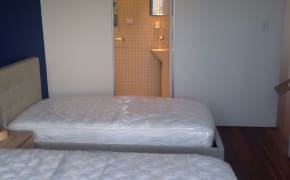 New | $200 inc
Furnished room in a flatshare
Hi Guys, I'm looking for male and female flatmates to rent my apartment. Inc all bills. Internet unlimited Please contact me if you are interested.
Free to Message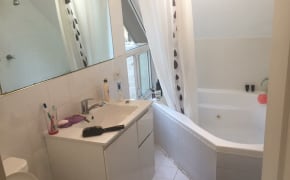 New | $200 inc
Furnished room in a share house
CITY LUXURY HOUSE BEDROOM FOR SHARE CITY SHARED ROOM, CITY COUPLE ROOM Fantastic apartment on Harris Street. All this just a stroll from the CBD, Ian Thorpe Aquatic Centre and attached to Darling Harbour by a covered walkway. Tram station, 10 minutes walk to Pyrmont coles, fish market, Star city and 15 minutes walk to Town hall, Central station. Right behind Convention Center Darling harbor. 3 bedrooms and 2 bathrooms only 3~5people live there. - Fully Furnished: Two single bed, 2 Study desk and chairs, TV and DVD in the living room - Two people $250/ Couple $500 - Available 15/Jan/2017 - Looking for short and long term - Water gas and electricity bills included
Free to Message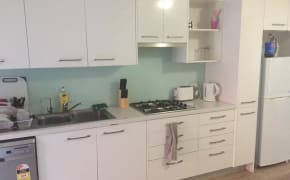 New | $225 inc
Furnished room with own bathroom
Hi Guys, I'm looking for new flatmates to share the apartment with us The rent is 225$ two people in the room. . It's available now. Rent inc all bills and there is internet unlimited. Own bathroom. You will share the apartment with three other students. Please contact me if you are interested to move in.
Free to Message
New | $280 inc
Room in a flatshare
Heart of Pyrmont close to fish market, star city & darling harbour. Shops, cafe and restaurants, bus, light rail, etc. everything you need in life is within walking distance. Very clean apartment and I'm very clean, friendly, considerate and quiet person. Would like my Flatmates the same. Can register to city of Sydney council for street parking. Can rent carpark from residents here for $60 a week if you need indoor parking.
Early bird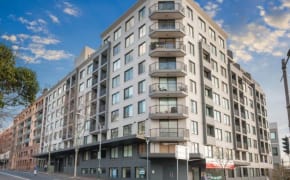 New | $160-170
Furnished room in a flatshare
***SHARED ROOM (Not single room) *** ***ALL BILLS & FREE INTERNET *** NEW APPLIANCES / OWN KEY / NOBODY IN THE LIVING ROOM. We are looking for an easy going, tidy and clean room mate. Welcoming both boys and girls, backpackers, & International students! ***Bill includes unlimited fast WiFi ADSL2+ internet, big LED TV, water, gas, laundry, electricity*** Very clean and excellent condition bathroom, laundry, & spacious and clean kitchen/dining area Enjoy local cafes, restaurants, and bars with a short walk to Central Station trains/buses. Bond is 3 weeks of rent. Available from 1st May. Please message me privately if you are interested.
Early bird
Updated | $215 inc
Furnished room in a share house
~FULLY FURNISHED 5 BEDROOMS 2 BATHROOMS WANTED: ONE FEMALE in twin shared room ( Share room WITH only ONE other friendly female) (PRICE IS $ 215 PER WEEK PER PERSON) LOCATION: LITTLE MOUNT STREET PYRMONT Plenty of Cafes and Restaurants around:The Dunkirk Hotel, Edition Bookbar - Bookshop And Bar, Takumi Cafe and ; Japanese Cuisine, Quarrymans Hotel, Pyrmont , Domino's Pizza Pyrmont and Crust Gourmet Pizza Bar NEAREST BUS STATION: Harris St At Pyrmont Bridge Rd, Bridge Rd,us Number: 501 , (22minutes) to USYD and (11minutes) to UTS NEAREST TRAIN STATION: Town Hall Train Station ~ 20 min walk ( 4 minutes to City, 12 minutes to Bondi junction, 23 minutes to Airport) DESCRIPTION: 5 bedrooms, 2 bathrooms fully equipped kitchen, dining area, laundry room UNIT IS FULLY FURNISHED AND EQUIPPED: Apartment is MODERN with living area (modern Massive 50TV), Fridges, Pots/Pans, Cutlery, Microwave, Toaster, Kettle, FRONT LOADER washing machine, unlimited FREE WI-FI ROOM: Two single beds, two bedside tables with lamps, built in wardrobes. HIGHLIGHTS: - UNLIMITED FREE WI-FI - FRIENDLY FLATMATES - DATE AVAILABLE: Available NOW - SECURITY- you will receive a LEGAL contract with well-established share house accommodation agency - CLEANEST UNITS IN SYDNEY PLEASE NOTE: We prefer Minimum 4-month Agreement. *Shorter stay negotiable for a higher price and subject to the building by-laws * *4 weeks rent as a bond is required and 2 weeks rent in advance and One off $55 booking fee applies **
Free to Message
Updated | $240 inc
Furnished room in a share house
FULLY FURNISHED 3 BEDROOMS 3 BATHROOMS WANTED: TWO FRIENDS OR COUPLE (PRICE IS $240 PER WEEK PER PERSON) LOCATION: HARRIS STREET PYRMONT 5 minutes wal to Star Casino 8 minutes walk to Pyrmont Bridge 10 minutes walk to Darling Harbour Walking distance to most International Schools and Colleges NEAREST BUS STATION: Miller St Before Harris St- Bus Number: 501 , (23 minutes) to USYD and (12 minutes) to UTS Nearest Train Stations: Town Hall Train Station ~ 20 min walk ( 12 minutes to Bondi junction, 23 minutes to Airport) DESCRIPTION: 3 bedrooms, 3 bathrooms 2 fully equipped kitchens, living area, dining area, laundry room and large balcony. UNIT IS FULLY FURNISHED AND EQUIPPED: Apartment is MODERN with living area (modern Massive 50TV), Fridges, Pots/Pans, Cutlery, Microwave, Toaster, Kettle, FRONT LOADER washing machine, unlimited FREE WI-FI ROOM: Two single beds with bed linen, two bedside tables with lamps, Sofa, TV, 2 wardrobes. HIGHLIGHTS: - UNLIMITED FREE WI-FI - FRIENDLY FLATMATES - DATE AVAILABLE: Available NOW - SECURITY- you will receive a LEGAL contract with well-established share house accommodation agency - CLEANEST UNITS IN SYDNEY PLEASE NOTE: We prefer Minimum 4-month Agreement. *Shorter stay negotiable for a higher price and subject to the building by-laws *4 weeks rent as a bond is required and 2 weeks rent in advance. and One off $55 booking fee applies
Free to Message
Updated | $265 inc
Furnished room in a flatshare
FULLY FURNISHED 2 BEDROOMS 2 BATHROOMS WANTED: ONE MALE in twin shared room ( Share room WITH only ONE other friendly male) LOCATION: BULWARA ROAD PYRMONT Plenty of Cafes and Restaurants around: The Dunkirk Hotel, Edition Bookbar - Bookshop And Bar, Takumi Cafe & Japanese Cuisine, Domino's Pizza Pyrmont, Crust Gourmet Pizza Bar and Quarrymans Hotel, Pyrmont NEAREST BUS STATION: Harris St At Pyrmont Bridge Rd, Bus Number: 501 , (22minutes) to USYD and (11minutes) to UTS NEAREST TRAIN STATION: Town Hall Train Station ~ 20 min walk (12 minutes to Bondi junction, 23 minutes to Airport) DESCRIPTION: 2 bedrooms, 2 bathrooms fully equipped kitchen, dining area, laundry room UNIT IS FULLY FURNISHED AND EQUIPPED: Apartment is MODERN with living area (modern Massive 50TV), Fridges, Pots/Pans, Cutlery, Microwave, Toaster, Kettle, FRONT LOADER washing machine, unlimited FREE WI-FI ROOM: Two single beds, two bedside tables with lamps, built in wardrobes. HIGHLIGHTS: - UNLIMITED FREE WI-FI - FRIENDLY FLATMATES - DATE AVAILABLE: Available NOW - SECURITY- you will receive a LEGAL contract with well-established share house accommodation agency - CLEANEST UNITS IN SYDNEY - WITH GREAT FACILITIES ACCESS : Swimming Pool, Spa and Gym PLEASE NOTE: We prefer Minimum 4-month Agreement. *Shorter stay negotiable for a higher price and subject to the building by-laws * *4 weeks rent as a bond is required and 2 weeks rent in advance. and One off $55 booking fee applies-
Free to Message
Updated | $255 inc
Furnished room in a flatshare
#FULLY FURNISHED 3 BEDROOMS 2 BATHROOMS WANTED: ONE MALE in twin shared room ( Share room WITH only ONE other friendly male) LOCATION: BULWARA ROAD PYRMONT Plenty of Cafes and Restaurants around: The Dunkirk Hotel , Edition Book Bar , Crust Gourmet Pizza Bar, Dkstation Vietnamese Street Eats, Domino's Pizza Pyrmont AND Takumi Cafe & Japanese Cuisine NEAREST BUS STATION: Harris St At Pyrmont Bridge Rd Bus Number: 501 , (22minutes) to USYD and (11minutes) to UTS NEAREST TRAIN STATION: Town Hall Train Station ~ 20 min walk ( 4 minutes to City, 12 minutes to Bondi junction, 23 minutes to Airport) DESCRIPTION: 3 bedrooms, 2 bathrooms plus additional separate toilet, fully equipped kitchen, dining area, laundry room UNIT IS FULLY FURNISHED AND EQUIPPED: Apartment is MODERN with living area (modern Massive 50TV), Fridges, Pots/Pans, Cutlery, Microwave, Toaster, Kettle, FRONT LOADER washing machine, unlimited FREE WI-FI ROOM: Two single beds, two bedside tables with lamps, built in wardrobes. HIGHLIGHTS: - UNLIMITED FREE WI-FI - FRIENDLY FLATMATES - DATE AVAILABLE: Available NOW - SECURITY- you will receive a LEGAL contract with well-established share house accommodation agency - CLEANEST UNITS IN SYDNEY - WITH GREAT FACILITIES ACCESS : Swimming Pool, Spa and Gym PLEASE NOTE: We prefer Minimum 4-month Agreement. *Shorter stay negotiable for a higher price and subject to the building by-laws * *4 weeks rent as a bond is required and 2 weeks rent in advance. and One off $55 booking fee applies ***
Free to Message
Updated | $250 inc
Furnished room in a flatshare
FULLY FURNISHED 3 BEDROOMS 2 BATHROOMS WANTED: TWO MALES (PRICE IS $250 PER WEEK PER PERSON) LOCATION: HARRIS STREET PYRMONT NEAREST BUS STATION: Harris St At Pyrmont Bridge Rd, Bus Number: 501 , (22minutes) to USYD and (11minutes) to UTS NEAREST TRAIN STATION: Town Hall Train Station ~ 20 min walk ( 4 minutes to City, 12 minutes to Bondi junction, 23 minutes to Airport) DESCRIPTION: 3 bedrooms, 2 bathrooms fully equipped kitchen, dining area, laundry room UNIT IS FULLY FURNISHED AND EQUIPPED: Apartment is MODERN with living area (modern Massive 50TV), Fridges, Pots/Pans, Cutlery, Microwave, Toaster, Kettle, FRONT LOADER washing machine, unlimited FREE WI-FI ROOM: Two single beds, two bedside tables with lamps, built in wardrobes. HIGHLIGHTS: - UNLIMITED FREE WI-FI - FRIENDLY FLATMATES - DATE AVAILABLE: Available 17TH OF APRIL 2017 - SECURITY- you will receive a LEGAL contract with well-established share house accommodation agency - CLEANEST UNITS IN SYDNEY - WITH GREAT GYM FACILITY ACCESS PLEASE NOTE: We prefer Minimum 6-month Agreement. *Shorter stay negotiable for a higher price and subject to the building by-laws * 4 weeks rent as a bond is required and 2 weeks rent in advance. and One off $55 booking fee applies
Free to Message
Updated | $350 inc
Furnished room in a share house
Your rent includes all bills! Features: - television - Unlimited WiFi - Fully furnished - Weekly cleaning service - Landline telephone - Fully equipped kitchen The house is located on Pyrmont St, and it is just a short walk to the beautiful Darling Harbour and the famous Casino. You are also located to a short stroll to supermarkets, bars, restaurants. $360 for single occupancy and $460 for double :)
Early bird
Updated | $356 inc
Furnished room in a flatshare
Your rent includes all bills! Features: - television - Unlimited WiFi - Fully furnished - Weekly cleaning service - Landline telephone - Fully equipped kitchen The house is located on Pyrmont St, and it is just a short walk to the beautiful Darling Harbour and the famous Casino. You are also located to a short stroll to supermarkets, bars, restaurants. $360 for single occupancy and $460 for double :)
Free to Message