Updated | $220 inc
Furnished room in a flatshare
FLAT SHARE WITH GREAT FACILITIES FOR TWO FRIENDS/COUPLE SPECIAL WINTER PROMOTION FOR 3 MONTHS STAY WANTED: TWO FRIENDS/COUPLE-$220 PER PERSON (Maximum two persons in each Twin Shared Room) DESCRIPTION: 2 bedrooms, 2 bathrooms, living room, fully equipped kitchen, dining area, laundry room. UNIT IS FULLY FURNISHED AND EQUIPPED: Modern Massive 50TV, Fridge, Pots/Pans, Cutlery, Microwave, Toaster, Kettle, FRONT LOADER washing machine, unlimited FREE WI-FI ROOM: Two single beds with bed linen, two bedside tables with lamps, built in wardrobes EXCELLENT LOCATION: BULWARA ROAD PYRMONT 7 minutes walking distance to Fish Market 12 minutes walking distance to Casino Wharf 16 minutes walking distance to Darling Harbour Walking distance to most International Schools and Colleges Nearest SUPERMARKET: COLES 7 minutes walking distance NEAREST BUS STATION: Harris St At Pyrmont Bridge Rd 4 minutes walking distance Bus Number: 501 , (22minutes) to USYD and (11minutes) to UTS NEAREST TRAIN STATION: Town Hall Train Station ~ 20 min walk ( 12 minutes to Bondi Junction, 23 minutes to Airport) HIGHLIGHTS: - UNLIMITED FREE WI-FI - FRIENDLY FLATMATES - DATE AVAILABLE: Available NOW - SECURITY- you will receive a LEGAL contract with well-established share house accommodation agency - CLEANEST UNITS IN SYDNEY - WITH GREAT FACILITIES ACCESS : Swimming Pool, Spa and Gym PLEASE NOTE: We prefer Minimum 3-month Agreement *Shorter stay negotiable for a higher price and subject to the building by-laws * *4 weeks rent as a bond is required and 2 weeks rent in advance. And one off $55 booking fee applies **
Updated | $210
Furnished room in a flatshare
SPECIAL WINTER PROMOTION FOR 3 MONTHS STAY WANTED: ONE MALE in twin shared room (Share room WITH only ONE other friendly male) DESCRIPTION: Three bedrooms, two bathrooms, living room, fully equipped kitchen, dining area and laundry room. UNIT IS FULLY FURNISHED AND EQUIPPED: Modern Massive 50 inches TV, Fridge, Pots/Pans, Cutlery, Microwave, Toaster, Kettle, FRONT LOADER washing machine and unlimited FREE WI-FI ROOM: Two single beds with bed linen, two bedside tables with lamps, built in wardrobes LOCATION: BULWARA ROAD PYRMONT 7 minutes walking distance to Fish Market 12 minutes walking distance to Casino Wharf 16 minutes walking distance to Darling Harbour Walking distance to most International Schools and Colleges Nearest SUPERMARKET: COLES 7 minutes walking distance NEAREST BUS STATION: Harris St At Pyrmont Bridge Rd 4 minutes walking distance Bus Number: 501 , (22minutes) to USYD and (11minutes) to UTS NEAREST TRAIN STATION: Town Hall Train Station ~ 20 min walk ( 12 minutes to Bondi Junction, 23 minutes to Airport) HIGHLIGHTS: - UNLIMITED FREE WI-FI - FRIENDLY FLATMATES - DATE AVAILABLE: Available NOW - SECURITY- you will receive a LEGAL contract with well-established share house accommodation agency - CLEANEST UNITS IN SYDNEY - WITH GREAT FACILITIES ACCESS : Swimming Pool, Spa and Gym PLEASE NOTE: We prefer Minimum 3-month Agreement. *Shorter stay negotiable for a higher price and subject to the building by-laws * *4 weeks rent as a bond is required and 2 weeks rent in advance. And one off $55 booking fee applies *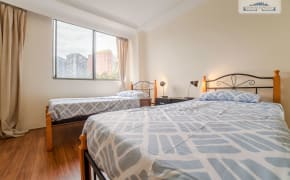 Updated | $250 inc
Furnished room in a flatshare
LOVELY ROOM SHARE FOR ONE MALE ROOMMATE WANTED: ONE MALE in twin shared room (Share room WITH only ONE other friendly male) PRICE: $250 per week per person DESCRIPTION: 3 bedrooms, 2 bathrooms, living room, fully equipped kitchen, dining area, laundry room. UNIT IS FULLY FURNISHED AND EQUIPPED: Modern Massive 50TV, Fridge, Pots/Pans, Cutlery, Microwave, Toaster, Kettle, FRONT LOADER washing machine, unlimited FREE WI-FI ROOM: Two single beds with bed linen, two bedside tables with lamps, built in wardrobes EXCELLENT LOCATION: MILLER STREET PYRMONT 7 minutes walking distance to Fish Market 8 minutes walking distance to Pyrmont Bay Park 11 minutes walking distance to Casino Wharf 13 minutes walking distance to Darling Harbour Walking distance to most International Schools and Colleges Nearest SUPERMARKET: COLES 5 minutes walking distance NEAREST BUS STATION: Miller St At Jones St 1 minute walking distance Bus Number 501 (18 minutes) to USYD and 501 (11 minutes) to UTS NEAREST TRAIN STATION: Town Hall Train Station ~ 20 min walk ( 12 minutes to Bondi junction, 23 minutes to Airport) HIGHLIGHTS: - UNLIMITED FREE WI-FI - FRIENDLY FLATMATES - DATE AVAILABLE: Available NOW - SECURITY- you will receive a LEGAL contract with well-established share house accommodation agency - CLEANEST UNITS IN SYDNEY - WITH GREAT FACILITIES ACCESS : Swimming Pool, Spa, Gym BBQ and Sauna PLEASE NOTE: We prefer Minimum 6-month Agreement *Shorter stay negotiable for a higher price and subject to the building by-laws * *4 weeks rent as a bond is required and 2 weeks rent in advance. And one off $55 booking fee applies*
Updated | $265 inc
Furnished room with ensuite in a flatshare
WANTED: ONE FEMALE in Master twin shared room (Share room WITH only ONE other friendly female) DESCRIPTION: 3 bedrooms, 2 bathrooms, living room, fully equipped kitchen, dining area, laundry room. UNIT IS FULLY FURNISHED AND EQUIPPED: Modern Massive 50 inches TV, Fridges, Pots/Pans, Cutlery, Microwave, Toaster, Kettle, FRONT LOADER washing machine, unlimited FREE WI-FI ROOM: Two single beds with bed linen, two bedside tables with lamps, built in wardrobes and en-suite bathroom LOCATION: MILLER STREET PYRMONT 7 minutes walking distance to Fish Market 8 minutes walking distance to Pyrmont Bay Park 11 minutes walking distance to Casino Wharf 13 minutes walking distance to Darling Harbour Walking distance to most International Schools and Colleges Nearest SUPERMARKET: COLES 5 minutes walking distance NEAREST BUS STATION: Miller St At Jones St 1 minute walking distance Bus Number 501 (18 minutes) to USYD and 501 (11 minutes) to UTS NEAREST TRAIN STATION: Town Hall Train Station ~ 20 min walk ( 12 minutes to Bondi Junction, 23 minutes to Airport) HIGHLIGHTS: - UNLIMITED FREE WI-FI - FRIENDLY FLATMATES - DATE AVAILABLE: Available 15TH OF JULY 2018 - SECURITY- you will receive a LEGAL contract with well-established share house accommodation agency - CLEANEST UNITS IN SYDNEY - WITH GREAT FACILITIES ACCESS : Swimming Pool, Spa, BBQ Sauna and Gym PLEASE NOTE: We prefer Minimum 6-month Agreement. *Shorter stay negotiable for a higher price and subject to the building by-laws * *4 weeks rent as a bond is required and 2 weeks rent in advance. And one off $55 booking fee applies*
Updated | $230 inc
Furnished room in a flatshare
STUNNING ROOM SHARE FOR ONE FRIENDLY MALE ROOMIE SPECIAL WINTER PROMOTION FOR 3 MONTHS STAY WANTED: ONE MALE in twin shared room (Share room WITH only ONE other friendly male) DESCRIPTION: 2 bedrooms, 2 bathrooms, living room, fully equipped kitchen, dining area, laundry room. UNIT IS FULLY FURNISHED AND EQUIPPED: Modern Massive 50TV, Fridge, Pots/Pans, Cutlery, Microwave, Toaster, Kettle, FRONT LOADER washing machine, unlimited FREE WI-FI ROOM: Two single beds with bed linen, two bedside tables with lamps, built in wardrobes. LOCATION: MILLER STREET PYRMONT 7 minutes walking distance to Fish Market 8 minutes walking distance to Pyrmont Bay Park 11 minutes walking distance to Casino Wharf 13 minutes walking distance to Darling Harbour Walking distance to most International Schools and Colleges Nearest SUPERMARKET: COLES 5 minutes walking distance NEAREST BUS STATION: Miller St At Jones St 1 minute walking distance Bus Number 501 (18 minutes) to USYD and 501 (11 minutes) to UTS NEAREST TRAIN STATION: Town Hall Train Station ~ 20 min walk ( 12 minutes to Bondi Junction, 23 minutes to Airport) HIGHLIGHTS: - UNLIMITED FREE WI-FI - FRIENDLY FLATMATES - DATE AVAILABLE: Available NOW - SECURITY- you will receive a LEGAL contract with well-established share house accommodation agency - CLEANEST UNITS IN SYDNEY - WITH GREAT FACILITIES ACCESS : Swimming Pool, Spa, Gym BBQ and Sauna PLEASE NOTE: We prefer Minimum 3-month Agreement. *Shorter stay negotiable for a higher price and subject to the building by-laws *4 weeks rent as a bond is required and 2 weeks rent in advance. And one off $55 booking fee applies **
Updated | $245 inc
Furnished room with ensuite in a flatshare
AMAZING ROOM SHARE IN PYRMONT FOR ONE FEMALE ROOMIE SPECIAL WINTER PROMOTION FOR 3 MONTHS STAY WANTED: ONE FEMALE in Master twin shared room (Share room WITH only ONE other friendly Female) DESCRIPTION: 2 bedrooms, 2 bathrooms, living room, fully equipped kitchen, dining area, laundry room. UNIT IS FULLY FURNISHED AND EQUIPPED: Modern Massive 50TV, Fridges, Pots/Pans, Cutlery, Microwave, Toaster, Kettle, FRONT LOADER washing machine, unlimited FREE WI-FI ROOM: Two single beds with bed linen, two bedside tables with lamps, built in wardrobes and en-suite bathroom. LOCATION: MILLER STREET PYRMONT 7 minutes walking distance to Fish Market 8 minutes walking distance to Pyrmont Bay Park 11 minutes walking distance to Casino Wharf 13 minutes walking distance to Darling Harbour Walking distance to most International Schools and Colleges Nearest SUPERMARKET: COLES 5 minutes walking distance NEAREST BUS STATION: Miller St At Jones St 1 minute walking distance Bus Number 501 (18 minutes) to USYD and 501 (11 minutes) to UTS NEAREST TRAIN STATION: Town Hall Train Station ~ 20 min walk ( 12 minutes to Bondi Junction, 23 minutes to Airport) HIGHLIGHTS: - UNLIMITED FREE WI-FI - FRIENDLY FLATMATES - DATE AVAILABLE: Available NOW - SECURITY- you will receive a LEGAL contract with well-established share house accommodation agency - CLEANEST UNITS IN SYDNEY - WITH GREAT FACILITIES ACCESS : Swimming Pool, Spa, Gym BBQ and Sauna PLEASE NOTE: We prefer Minimum 3-month Agreement. *Shorter stay negotiable for a higher price and subject to the building by-laws * *4 weeks rent as a bond is required and 2 weeks rent in advance. And one off $55 booking fee applies **
Updated | $240 inc
Furnished room in a flatshare
AMAZING FLAT SHARE FOR TWO FRIENDS IN PYRMONT SPECIAL WINTER PROMOTION FOR 3 MONTHS STAY WANTED: TWO FRIENDS/COUPLE-$240 PER PERSON (Maximum two persons in each Twin Shared Room) DESCRIPTION: 3 bedrooms, 2 bathrooms, living room, fully equipped kitchen, dining area, laundry room. UNIT IS FULLY FURNISHED AND EQUIPPED: Modern Massive 50TV, Fridge, Pots/Pans, Cutlery, Microwave, Toaster, Kettle, FRONT LOADER washing machine, unlimited FREE WI-FI ROOM: Two single beds with bed linen, two bedside tables with lamps, built in wardrobes LOCATION: MILLER STREET PYRMONT 7 minutes walking distance to Fish Market 8 minutes walking distance to Pyrmont Bay Park 11 minutes walking distance to Casino Wharf 13 minutes walking distance to Darling Harbour Walking distance to most International Schools and Colleges Nearest SUPERMARKET: COLES 5 minutes walking distance NEAREST BUS STATION: Miller St At Jones St 1 minute walking distance Bus Number 501 (18 minutes) to USYD and 501 (11 minutes) to UTS NEAREST TRAIN STATION: Town Hall Train Station ~ 20 min walk ( 12 minutes to Bondi Junction, 23 minutes to Airport) HIGHLIGHTS: - UNLIMITED FREE WI-FI - FRIENDLY FLATMATES - DATE AVAILABLE: Available NOW - SECURITY- you will receive a LEGAL contract with well-established share house accommodation agency - CLEANEST UNITS IN SYDNEY - WITH GREAT FACILITIES ACCESS : Swimming Pool, Spa, Gym BBQ and Sauna PLEASE NOTE: We prefer Minimum 6-month Agreement. *Shorter stay negotiable for a higher price and subject to the building by-laws * *4 weeks rent as a bond is required and 2 weeks rent in advance. And one off $55 booking fee applies **
Updated | $240 inc
Furnished room in a flatshare
SPECIAL WINTER PROMOTION FOR 3 MONTHS STAY WANTED: ONE FEMALE in twin shared room (Share room WITH only ONE other friendly female) DESCRIPTION: 3 bedrooms, 2 bathrooms, living room, fully equipped kitchen, dining area, laundry room UNIT IS FULLY FURNISHED AND EQUIPPED: Modern Massive 50TV, Fridge, Pots/Pans, Cutlery, Microwave, Toaster, Kettle, FRONT LOADER washing machine, unlimited FREE WI-FI ROOM: Two single beds with bed linen, two bedside tables with lamps, built in wardrobes LOCATION: MILLER STREET PYRMONT 7 minutes walking distance to Fish Market 8 minutes walking distance to Pyrmont Bay Park 11 minutes walking distance to Casino Wharf 13 minutes walking distance to Darling Harbour Walking distance to most International Schools and Colleges Nearest SUPERMARKET: COLES 5 minutes walking distance NEAREST BUS STATION: Miller St At Jones St 1 minute walking distance Bus Number 501 (18 minutes) to USYD and 501 (11 minutes) to UTS NEAREST TRAIN STATION: Town Hall Train Station ~ 20 min walk ( 12 minutes to Bondi Junction, 23 minutes to Airport) HIGHLIGHTS: - UNLIMITED FREE WI-FI - FRIENDLY FLATMATES - DATE AVAILABLE: NOW - SECURITY- you will receive a LEGAL contract with well-established share house accommodation agency - CLEANEST UNITS IN SYDNEY - WITH GREAT FACILITIES ACCESS : Swimming Pool, Spa, Gym BBQ and Sauna - PLEASE NOTE: We prefer Minimum 3-month Agreement.* *Shorter stay negotiable for a higher price and subject to the building by-laws * *4 weeks rent as a bond is required and 2 weeks rent in advance. And one off $55 booking fee applies**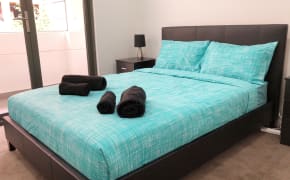 Updated | $997 inc
Whole property with 1 room for rent
FULLY FURNISHED ONE BEDROM UNIT PRICE : $997 per week DESCRIPTION: 1 bedroom, 1 bathroom, living room, fully equipped kitchen, dining area, laundry room UNIT IS FULLY FURNISHED AND EQUIPPED: Modern Massive 50 inches TV, Fridge, Pots/Pans, Cutlery, Microwave, Toaster, Kettle, FRONT LOADER washing machine, unlimited FREE WI-FI. ROOM: 1 Queen size bed with bed linen, bathroom with shower and toilet, bedside table with lamps, 2 wardrobes, sofa LOCATION:PYRMONT STREET PYRMONT 5 minutes' walk to Star Casino 8 minutes' walk to Pyrmont Bridge 10 minutes' walk to Darling Harbour Walking distance to most International Schools and Colleges NEAREST BUS STATION: Harris St At Pyrmont Bridge Rd Bus Number: 501, (22minutes) to USYD and (11minutes) to UTS NEAREST TRAIN STATION: Town Hall 19 min walks (12 minutes to Bondi Junction, 21 minutes to Airport) HIGHLIGHTS: - UNLIMITED FREE WI-FI - DATE AVAILABLE: Available NOW - SECURITY- you will receive a LEGAL contract with well-established share house accommodation agency - CLEANEST UNITS IN SYDNEY *PLEASE NOTE: We prefer Minimum 1-month Agreement. * *$500 bond is required. And one off $55 booking fee applies*
New | $240 inc
Furnished room in a flatshare
This is SHARE ROOM for 2 people $240/each person. This apartment has a great facility such a swimming pool, gym etc.in great location , close to cbd, close to fish market, and close to uts and tafe.looking for clean , tidy, friendly, pay rent on time and responsible , respectfull, no party non smoker flatmate.
Updated | $240 inc
Furnished room in a flatshare
Quarry Master Drive, Pyrmont, Sydney; SUPERB AND QUIET THREE BEDROOM APARTMENT CONVENIENTLY LOCATED IN THE HEART OF SYDNEY'S PYRMONT AREA CLOSE TO THE CITY Roof top pool, gymnasium & sauna with roof top terraces with substantial city & district view. Ensuite(s), Air conditioning, Intercom, Built in wardrobes. Internal Laundry, Bath, Gas. Dishwasher, Dryer, Washing Machine, very large Balconies, Alarm System, microwave, fridge, TV, Sofas etc. This beautiful spacious three bedroom apartment is positioned in the Venetian in one of Pyrmont's premier streets close to Darling Harbour, Casino, Sydney CBD, great cafes, restaurants and supermarket. Split level with very large lounge & dining space downstairs leads on to a private & lengthy balcony; Three full size bedrooms all with built-in wardrobes - Abundant storage throughout; Modern spacious bathrooms upstairs and downstairs; Modern kitchen with stainless steel appliances & granite bench top; Internal laundry; Close to restaurants, cafes, transport and schools; Natural light & ventilation throughout; Large timber stair case going up stairs; Central location close to the City within minutes walk to the famous Sydney Fish Market, shops, a light stroll to light rail & bus stop; Live in the heart of Sydney's Pyrmont area - clean, quiet and tidy home. This is a great place to relax, live in peace, enjoy a good night sleep and maintain an active life style. This location is definitely the place to live and love your stay in Sydney. Walk to many of the Sydney attractions that Sydney City can offer are within walking distance. Heaps of clubs, pubs, cafes, casual eateries, restaurants, supermarkets -everything is nearby; this is absolutely one of the most sought-after location in Pyrmont and close to the city. A single bed in a double room/large triple room with built-in wardrobes - $240 Private room with built-in wardrobe for 1 person - $400 Private room with built-in wardrobe for 2 persons - $440-$480 Bond: 1 week rent. All rooms are fully furnished and all rooms come with large wardrobes; The rent includes all bills including water, electricity, gas, internet (WIFI). All rooms have large windows, plenty of natural sun light and fresh air and peaceful residential home in the heart of Sydney's Pyrmont area close to the City. It is not a party house however parties from time to time is not a bad idea.
Updated | $165 inc
Furnished room in a share house
FANTASTIC TRIPLE ROOM IN A NICE HOUSE SHARE FOR TWO MALES SPOT SPECIAL WINTER PROMOTION FOR 3 MONTHS STAY WANTED: TWO MALES in Triple shared room (Share room WITH one other friendly male) PRICE:$165 PER WEEK PER PERSON DESCRIPTION: 3 bedrooms, 1 bathroom and extra toilet, fully equipped kitchen, living room, dining area, laundry room. UNIT IS FULLY FURNISHED AND EQUIPPED: Modern Massive 50TV, Fridge, Pots/Pans, Cutlery, Microwave, Toaster, Kettle, FRONT LOADER washing machine, unlimited FREE WI-FI ROOM: Three single beds with linen, bedside tables with lamps and wardrobes. LOCATION: UNION STREET PYRMONT 4 minutes walking distance to Fish Market 6 minutes walking distance to Casino Wharf 12 minutes walking distance to Darling Harbour Walking distance to most International Schools and Colleges Nearest SUPERMARKET: COLES 2 minutes walking distance NEAREST BUS STATION: Harris St Opp Union Square 1 minute walking distance Bus Number: 501 (24 minutes) to USYD and (16 minutes) to UTS Nearest Train Stations: Pyrmont Bay Train Station ~ 4 min walk ( minutes by train to Bondi Junction, 33 minutes by train to Airport) HIGHLIGHTS: - UNLIMITED FREE WI-FI - FRIENDLY FLATMATES - DATE AVAILABLE: Available NOW - SECURITY- you will receive a LEGAL contract with well-established share house accommodation agency - CLEANEST UNITS IN SYDNEY PLEASE NOTE: We prefer Minimum 3-month Agreement. *Shorter stay negotiable for a higher price and subject to the building by-laws * *4 weeks rent as a bond is required and 2 weeks rent in advance. And one off $55 booking fee applies *