New | $220 inc
Furnished room in a flatshare
Double room available in a spacious and furnished 2 bedroom apartment in Ultimo. Top floor with balcony, built-in wardrobe, internal laundry, carpeted room, bathroom with separate bath + shower, separate toilet. This building offers access to the pool and gym, big barbeque area and internal courtyard. Perfectly located in a quite street close to transport and shops. 5 mins walk to Central Station and Darling Harbour.
Early bird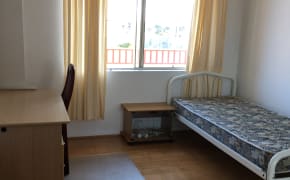 New | $295 inc
Furnished room in a flatshare
Girls only in this apartment Private room for one girl $295per week if two friends come together $180 per week each, it is available now, fully furnished, all bills included, free unlimited wifi internet, free washing, cooking. Near Darling Harbour, 10 minutes walk to Town Hall Station Quiet, secure and clean place for girls only.
Free to Message
Updated | $120 inc
Furnished room with ensuite in a share house
Ultimo Shared Triple Rooms Come see our awesome, quiet, easy-location Ultimo house! Situated in a friendly community. SHARED Triple BEDROOMS LOOKING for: ► SHARED TRIPLE ROOM: 1 MALE LEFT: $120pw AVAILABLE NOW Features: ✔ Balcony ✔ 43" TV ✔ Big living room ✔ Fully furnished kitchen ✔ Wardrobe ✔ Microwave ✔ Generous size bedrooms ✔ Washing machine ✔ Clothes Dryer Machine ✔ Unlimited WIFI internet ✔ Fully furnished Location is CLOSE TO: ✔ Bus stop (60 meters, 2 mins) ✔ Broadway Shopping Centre (Coles, Post Office, Aldi, Food Courts) (50 metres, 1 mins) ✔ Central Train Station (1000 meters, 10 mins) ✔ Sydney CBD City/Haymarket (1200 meters, 15 mins) This house is perfect for people who want to live in a quiet environment. PLEASE NOTE: looking for quiet people who don't party and don't smoke. 🚫 Parties are not allowed 🚫 No smoking ALL BILLS INCLUDED IN RENT
Free to Message
Updated | $350 inc
Furnished room in a flatshare
Two bed room flat located in Ultimo within secured building, 10 min walking distance to china town, central, darling harbour,UTS and door step cafes and restaurant. Very clean unit, fully furnished with new and good quality furniture, brand new kitchen and appliances. Spacious balcony with Bbq and indoor swimming pool in the building. You will have your own bedroom furnished with queen bed, study desk, chair and wordrobe. You will share the whole apartment and the bathroom with only one flatmate! The rent include all bills (electricity, gas and unlimited high speed internet)
Early bird
New | $500
Furnished room with ensuite in a flatshare
Master room is available for rent from 3rd of July . Convenient location: Mountain Street, Ultimo 10 minutes walk to UTS, Sydney Uni, CBD 5 minutes walk to Darling Harbour & China Town. The room is furnished with 2 beds: bunked frame bed and queen size bed, and super big wardrobe, and long table. Total 4 people in the house including you. Australian working and studying. Very quiet place. Looking for someone clean, tidy and stay long time. Rent is $500/week for one person or $550/week for 2 person, the whole master room with unsuited bathroom, own room not sharing with anyone. Free ADSL2 internet super-fast wifi Feel free to contact me :)
Free to Message
Updated | $240 inc
Furnished room in a flatshare
WANTED: FOR 2 FRIENDS/COUPLE-$240 PER PERSON (Maximum two persons in each Twin Shared Room) DESCRIPTION: 3 bedrooms, 2 bathrooms, living room, fully equipped kitchen, dining area, laundry room. UNIT IS FULLY FURNISHED AND EQUIPPED: Modern Massive 50 inches TV, Fridges, Pots/Pans, Cutlery, Microwave, Toaster, Kettle, FRONT LOADER washing machine, unlimited FREE WI-FI ROOM: Two single beds with bed linen, two bedside tables with lamps, built in wardrobes LOCATION: MARY ANN STREET ULTIMO 11 minutes' walk to Darling Harbour 4 minutes to Power House Museum 7 minutes to Ian Thorpe Swimming Pool and GYM 7 minute walk to UTS and 19-minute by bus to USYD (Camperdown Campus) NEAREST BUS STATION: Harris St at Mary Ann St 1 minute walk Nearest Train Stations: CENTRAL TRAIN STATION ~ 11 min walks (12 minutes to Bondi Junction, 18 minutes to Airport) HIGHLIGHTS: - UNLIMITED FREE WI-FI - FRIENDLY FLATMATES - DATE AVAILABLE: Available NOW - SECURITY- you will receive a LEGAL contract with well-established share house accommodation agency - CLEANEST UNITS IN SYDNEY - WITH GREAT FACILITIES ACCESS: Swimming Pool, Spa, Gym and Sauna PLEASE NOTE: We prefer Minimum 6-month Agreement.* *4 weeks rent as a bond is required and 2 weeks rent in advance. And one off $55 booking fee applies *
Free to Message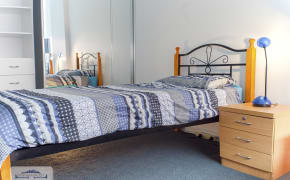 Updated | $250 inc
Furnished room in a flatshare
WANTED: ONE FEMALE in twin shared room (Share room WITH only ONE other friendly female) DESCRIPTION: 3 bedrooms, 2 bathrooms, living room, fully equipped kitchen, dining area, laundry room. UNIT IS FULLY FURNISHED AND EQUIPPED: Modern Massive 50 inches TV, Fridges, Pots/Pans, Cutlery, Microwave, Toaster, Kettle, FRONT LOADER washing machine, unlimited FREE WI-FI ROOM: Two single beds with bed linen, two bedside tables with lamps, built in wardrobes LOCATION: JONES STREET ULTIMO 4 minutes to Ian Thorpe Swimming Pool and GYM 6 minutes to Power House Museum 9 minute walk to UTS and 18 minute to USYD (Camperdown Campus) 12 minute walk to Darling Harbour NEAREST BUS STATION: Harris St Opp Powerhouse Museum 4 minutes walking distance NEAREST TRAIN STATION: CENTRAL ST (15 minutes to Bondi junction, 15 minutes to Airport) HIGHLIGHTS: - UNLIMITED FREE WI-FI - FRIENDLY FLATMATES - DATE AVAILABLE: Available NOW - SECURITY- you will receive a LEGAL contract with well-established share house accommodation agency - CLEANEST UNITS IN SYDNEY - WITH GREAT FACILITIES ACCESS : Swimming Pool, and Sauna PLEASE NOTE: We prefer Minimum 4-month Agreement. *Shorter stay negotiable for a higher price and subject to the building by-laws * *4 weeks rent as a bond is required and 2 weeks rent in advance. And one off $55 booking fee applies *
Free to Message
Updated | $220 inc
Furnished room in a flatshare
WANTED: ONE MALE in BUNK BED ROOM SHARE (Share room WITH only ONE other friendly male) DESCRIPTION: 3 bedrooms, 2 bathrooms, fully equipped kitchen, living room, dining area, laundry room UNIT IS FULLY FURNISHED AND EQUIPPED: Modern Massive 50TV, Fridges, Pots/Pans, Cutlery, Microwave, Toaster, Kettle, FRONT LOADER washing machine, unlimited FREE WI-FI ROOM: ONE BUNK BED with linen and side table with lamp, wardrobes. LOCATION: JONES STREET ULTIMO 3 minutes to Ian Thorpe Swimming Pool and GYM 6 minutes to Power House Museum 9-minute walk to UTS and 18 -minute walk to USYD (Camperdown Campus) 12-minute walk to Darling Harbour Walking Distance to Most International Colleges and Language Schools NEAREST SUPERMARKET: Woolworths 10 MINUTES walk NEAREST BUS STATION: Harris St near Quarry St ~ 5 min walks NEAREST TRAIN STATION: CENTRAL ST ~ 18 min walk (13 minutes by train to Bondi junction, 8 minutes by train to Airport) HIGHLIGHTS: - UNLIMITED FREE WI-FI - FRIENDLY FLATMATES - DATE AVAILABLE: Available NOW - SECURITY- you will receive a LEGAL contract with well-established share house accommodation agency - CLEANEST UNITS IN SYDNEY - WITH GREAT FACILITIES ACCESS: Swimming Pool, Spa, Gym and Sauna PLEASE NOTE: We prefer Minimum 4-month Agreement. *Shorter stay negotiable for a higher price and subject to the building by-laws * *4 weeks rent as a bond is required and 2 weeks rent in advance. And one off $55 booking fee applies *
Free to Message
Updated | $230 inc
Furnished room in a flatshare
WANTED: ONE MALE in twin shared room (Share room WITH only ONE other friendly male) DESCRIPTION: 2 bedrooms, 1 bathroom, living room, fully equipped kitchen, dining area, laundry room. UNIT IS FULLY FURNISHED AND EQUIPPED: Modern Massive 50 inches TV, Fridges, Pots/Pans, Cutlery, Microwave, Toaster, Kettle, FRONT LOADER washing machine, unlimited FREE WI-FI ROOM: Two single beds with bed linen, two bedside tables with lamps, two wardrobes LOCATION: JONE STREET ULTIMO 4 minutes to Ian Thorpe Swimming Pool and GYM 5 minutes to Power House Museum 8 minute walk to UTS and 18-minute walk to USYD (Camperdown Campus) 11 minute walk to Darling Harbour Walking Distance to Most International Colleges and Language Schools NEAREST BUS STATION: Harris St after Fig St~ 3 min walks Bus Number: 501, (20 minutes) to USYD and (9 minutes) to UTS NEAREST TRAIN STATION: Town Hall Train Station ~ 18 min walks (23 mins to City, 10 minutes to Bondi junction, 30 minutes to Airport) HIGHLIGHTS: - UNLIMITED FREE WI-FI - FRIENDLY FLATMATES - DATE AVAILABLE: Available NOW - SECURITY- you will receive a LEGAL contract with well-established share house accommodation agency - CLEANEST UNITS IN SYDNEY PLEASE NOTE: We prefer Minimum 4-month Agreement. *Shorter stay negotiable for a higher price and subject to the building by-laws * *4 weeks rent as a bond is required and 2 weeks rent in advance. And one off $55 booking fee applies *
Free to Message
Updated | $230 inc
Furnished room in a flatshare
WANTED: ONE FEMALE in twin shared room (Share room WITH only ONE other friendly female) DESCRIPTION: 2 bedrooms, 1 bathroom, living room, fully equipped kitchen, dining area, laundry room. UNIT IS FULLY FURNISHED AND EQUIPPED: Modern Massive 50 inches TV, Fridges, Pots/Pans, Cutlery, Microwave, Toaster, Kettle, FRONT LOADER washing machine, unlimited FREE WI-FI ROOM: Two single beds with bed linen, two bedside tables with lamps, wardrobes LOCATION: JONES STREET ULTIMO 4 minutes to Ian Thorpe Swimming Pool and GYM 5 minutes to Power House Museum 8 minute walk to UTS and 18-minute walk to USYD (Camperdown Campus) 10 minute walk to CBD 11 minute walk to Darling Harbour Walking Distance to Most International Colleges and Language Schools NEAREST BUS STATION: Harris St after Fig St~ 3 min walks Bus Number: 501, (20 minutes) to USYD and (9 minutes) to UTS NEAREST TRAIN STATION: Town Hall Train Station ~ 18 min walks (10 minutes to Bondi junction, 30 minutes to Airport) HIGHLIGHTS: - UNLIMITED FREE WI-FI - FRIENDLY FLATMATES - DATE AVAILABLE: Available NOW - SECURITY- you will receive a LEGAL contract with well-established share house accommodation agency - CLEANEST UNITS IN SYDNEY PLEASE NOTE: We prefer Minimum 4-month Agreement. *Shorter stay negotiable for a higher price and subject to the building by-laws * *4 weeks rent as a bond is required and 2 weeks rent in advance. And one off $55 booking fee applies *
Free to Message
Updated | $180 inc
Furnished room in a share house
WANTED: ONE MALE in twin shared room (Share room WITH only ONE other friendly male) DESCRIPTION: 4 bedrooms, 1 bathroom, living room, fully equipped kitchen, dining area, laundry room. UNIT IS FULLY FURNISHED AND EQUIPPED: Modern Massive 50 inches TV, Fridges, Pots/Pans, Cutlery, Microwave, Toaster, Kettle, FRONT LOADER washing machine, unlimited FREE WI-FI ROOM: Two single beds with bed linen, two bedside tables with lamps, 2 wardrobes. LOCATION: WILLIAM HENRY STREET ULTIMO 2 minutes to Ian Thorpe Swimming Pool and GYM 6 minutes to Power House Museum 10-minute walk to Darling Harbour 10-minute walk to UTS and 18-minute walk to USYD (Camperdown Campus) Walking Distance to Most International Colleges and Language Schools NEAREST SHOPPING CENTER: Broadway Shopping Centre 11 minutes walking distance NEAREST BUS STATION: Harris St Near William Henry St 2 minutes away NEAREST TRAIN STATION: Town Hall 8 min walk and Central Train Station 6 min walk ( 12 minutes to Bondi junction, 23 minutes to Airport) HIGHLIGHTS: - UNLIMITED FREE WI-FI - FRIENDLY FLATMATES - DATE AVAILABLE: Available NOW - SECURITY- you will receive a LEGAL contract with well-established share house accommodation agency - CLEANEST UNITS IN SYDNEY PLEASE NOTE: We prefer Minimum 4-month Agreement. *Shorter stay negotiable for a higher price and subject to the building by-laws * *4 weeks rent as a bond is required and 2 weeks rent in advance. And one off $55 booking fee applies *
Free to Message
New | $180 inc
Furnished room in a share house
WANTED: ONE MALE in BUNKED BED SHARED ROOM (Share room WITH only ONE other friendly male) DESCRIPTION: 4 bedrooms, 1 bathroom, living room, fully equipped kitchen, dining area, laundry room. UNIT IS FULLY FURNISHED AND EQUIPPED: Modern Massive 50 inches TV, Fridges, Pots/Pans, Cutlery, Microwave, Toaster, Kettle, FRONT LOADER washing machine, unlimited FREE WI-FI ROOM: One bunked bed with bed linen, two bedside tables with lamps, 2 wardrobes. LOCATION: WILLIAM HENRY STREET ULTIMO 2 minutes to Ian Thorpe Swimming Pool and GYM 6 minutes to Power House Museum 10-minute walk to Darling Harbour 10-minute walk to UTS and 18-minute walk to USYD (Camperdown Campus) Walking Distance to Most International Colleges and Language Schools NEAREST SHOPPING CENTER: Broadway Shopping Centre 11 minutes walking distance NEAREST BUS STATION: Harris St Near William Henry St 2 minutes away NEAREST TRAIN STATION: Town Hall 8 min walk and Central Train Station 6 min walk ( 12 minutes to Bondi junction, 23 minutes to Airport) HIGHLIGHTS: - UNLIMITED FREE WI-FI - FRIENDLY FLATMATES - DATE AVAILABLE: Available NOW - SECURITY- you will receive a LEGAL contract with well-established share house accommodation agency - CLEANEST UNITS IN SYDNEY PLEASE NOTE: We prefer Minimum 4-month Agreement. *Shorter stay negotiable for a higher price and subject to the building by-laws * *4 weeks rent as a bond is required and 2 weeks rent in advance. And one off $55 booking fee applies *
Free to Message