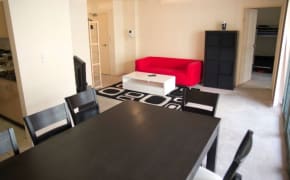 New | $170 inc
Furnished room with ensuite in a flatshare
This is a new very beautiful apartment in Heart of Sydney CBD :-) close to everything. great place to learn english and enjoy your Sydney life:-) This apartment includes: minutes from shopping centre Big living room Large balcony Luxury kitchen Air conditioning FREE WIFI internet Unlimited use of dryer and washing machine Walk 5 min to Central and very close to buses/trains ALL BILLS INCLUDED - nothing extra to pay OWN key. NO ONE IN LIVING ROOM. This apartment is clean and tidy, you will LOVE it everyone is friendly and clean and quiet.....:) INternational Mix a Great way to Learn English and have a friendly environment to meet new people
Free to Message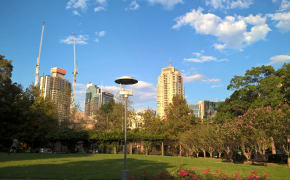 Updated | $200 inc
Furnished room in a flatshare
Ultimo twin-share room $200pw per person – ideal location, central yet quiet, stroll city, comfy living, big private breakfast balcony with panoramic views, heated indoor swimming pool Do you like to cook – save money with better/cheaper/healthy food ? We have fully equipped kitchen and dining facilities. Enjoy cooking and sharing meals together ! Share twin room - $200pw per person - 2 persons per bedroom - total 4 people No double-bunks! - furnished 2 bedroom unit Includes free gas/electricity/unlimited fastest fibre wifi. Bathroom with bath and separate shower. Private breakfast balcony with panoramic city views. Heated indoor pool is free - enjoy a dip even in the cooler months, then work on your suntan on the private balcony ! Stroll city centre - George St, Broadway, Central Park, World Square, supermarkets, shops, restaurants, free entertainment in Darling Harbour Stroll to buses/light rail/train – Central Station or Town Hall; parks, Ian Thorpe Aquatic Centre with olympic pool, gym, sauna and steam room a few minutes walk. Central yet quiet - not on a busy road yet a short stroll from everything ! Three months minimum - two weeks bond, two weeks rent in advance, $150 key deposit, two weeks notice. Quiet enjoyment – no loud noise and no parties ! No drugs or smokers please. No one sleeping in living area. Enjoy city life a short stroll from everything !
Free to Message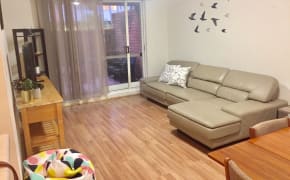 Updated | $175 inc
Furnished room in a flatshare
SHARED ROOM- 175 DOLLAR- TOP LOCATION :) 8 min walk from Central station, 5 min walk from UTS, 15 min walk from Darling Harbour, 8 min walk from Market st ... Clean and nice flatmates, swimming pool. More information private message please. ONLY 175 dollar a week EVERYTHING INCLUDED (unlimited internet, water, electricity).
Free to Message
Updated | $350
Furnished room in a share house
Close to: City Broadway Shopping Centre Wentworth Park Darling Harbour China town ADSL Broadband Study Area Balcony
Free to Message
New | $290
Furnished room in a share house
Close to: Broadway shopping centre Wentworth Park Darling harbour China town Ian Thorpe Aquatic Centre Balcony Study area ADSL Internet
Early bird
New | $300 inc
Furnished room in a share house
AWESOME ROOM COMING AVAILABLE ONLY MINUTES AWAY FROM CENTRAL STATION, DARLING HARBOUR AND THE CITY. ALL BILLS INCLUDED AND FULLY FURNISHED ROOM, JUST BRING YOURSELF!!! Features: -Fully furnished throughout, including fully equipped kitchen -FREE Wi-Fi Internet -Weekly cleaners for communal areas -Laundry facilities -Bed linen -Clean bathrooms The house is located on Harris Street, Ultimo and is minutes away from the City. You will find everything you need within a short walking distance, including pubs, restaurants, bars and supermarkets. 483HARR3
Free to Message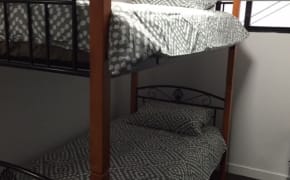 Updated | $220 inc
Furnished room in a flatshare
WANTED:TWO FRIENDS/COUPLE in BUNK BED ROOM SHARE-$220 PER PERSON (Maximum two persons in each Bunked bed Shared Room) DESCRIPTION: 3 bedrooms, 2 bathrooms, fully equipped kitchen, living room, dining area, laundry room UNIT IS FULLY FURNISHED AND EQUIPPED: Modern Massive 50 inches TV, Fridges, Pots/Pans, Cutlery, Microwave, Toaster, Kettle, FRONT LOADER washing machine, unlimited FREE WI-FI ROOM: One bunk bed with linens and side table with lamps, wardrobes LOCATION: JONES STREET ULTIMO 3 minutes to Ian Thorpe Swimming Pool and GYM 6 minutes to Power House Museum 9-minute walk to UTS and 18 -minute walk to USYD (Camperdown Campus) 12-minute walk to Darling Harbour Walking Distance to Most International Colleges and Language Schools NEAREST SUPERMARKET: Woolworths 10 MINUTES walk NEAREST BUS STATION: Harris St near Quarry St ~ 5 min walks NEAREST TRAIN STATION: CENTRAL ST ~ 18 min walk (13 minutes by train to Bondi junction, 8 minutes by train to Airport) HIGHLIGHTS: - UNLIMITED FREE WI-FI - FRIENDLY FLATMATES - DATE AVAILABLE: Available NOW - SECURITY- you will receive a LEGAL contract with well-established share house accommodation agency - CLEANEST UNITS IN SYDNEY - WITH GREAT FACILITIES ACCESS: Swimming Pool, Spa, Gym and Sauna PLEASE NOTE: We prefer Minimum 4-month Agreement. *Shorter stay negotiable for a higher price and subject to the building by-laws * *4 weeks rent as a bond is required and 2 weeks rent in advance. And one off $55 booking fee applies*
Free to Message
Updated | $250 inc
Furnished room in a flatshare
WANTED: FOR 2 FRIENDS/COUPLE-$250 PER PERSON (Maximum two persons in each Twin Shared Room) DESCRIPTION: 3 bedrooms, 2 bathrooms, living room, fully equipped kitchen, dining area, laundry room. UNIT IS FULLY FURNISHED AND EQUIPPED: Modern Massive 50 inches TV, Fridges, Pots/Pans, Cutlery, Microwave, Toaster, Kettle, FRONT LOADER washing machine, unlimited FREE WI-FI ROOM: Two single beds with bed linen, two bedside tables with lamps, built in wardrobes LOCATION: MARY ANN STREET ULTIMO 11 minutes' walk to Darling Harbour 4 minutes to Power House Museum 7 minutes to Ian Thorpe Swimming Pool and GYM 7 minute walk to UTS and 19-minute by bus to USYD (Camperdown Campus) NEAREST BUS STATION: Harris St at Mary Ann St 1 minute walk Nearest Train Stations: CENTRAL TRAIN STATION ~ 11 min walks (12 minutes to Bondi Junction, 18 minutes to Airport) HIGHLIGHTS: - UNLIMITED FREE WI-FI - FRIENDLY FLATMATES - DATE AVAILABLE: Available NOW - SECURITY- you will receive a LEGAL contract with well-established share house accommodation agency - CLEANEST UNITS IN SYDNEY - WITH GREAT FACILITIES ACCESS: Swimming Pool, Spa, Gym and Sauna PLEASE NOTE: We prefer Minimum 6-month Agreement. *4 weeks rent as a bond is required and 2 weeks rent in advance. And one off $55 booking fee applies *
Free to Message
Updated | $220 inc
Furnished room in a flatshare
WANTED: ONE MALE in BUNK BED ROOM SHARE (Share room WITH only ONE other friendly male) DESCRIPTION: 3 bedrooms, 2 bathrooms, fully equipped kitchen, living room, dining area, laundry room UNIT IS FULLY FURNISHED AND EQUIPPED: Modern Massive 50TV, Fridges, Pots/Pans, Cutlery, Microwave, Toaster, Kettle, FRONT LOADER washing machine, unlimited FREE WI-FI ROOM: ONE BUNK BED with linen and side table with lamp, wardrobes. LOCATION: JONES STREET ULTIMO 3 minutes to Ian Thorpe Swimming Pool and GYM 6 minutes to Power House Museum 9-minute walk to UTS and 18 -minute walk to USYD (Camperdown Campus) 12-minute walk to Darling Harbour Walking Distance to Most International Colleges and Language Schools NEAREST SUPERMARKET: Woolworths 10 MINUTES walk NEAREST BUS STATION: Harris St near Quarry St ~ 5 min walks NEAREST TRAIN STATION: CENTRAL ST ~ 18 min walk (13 minutes by train to Bondi junction, 8 minutes by train to Airport) HIGHLIGHTS: - UNLIMITED FREE WI-FI - FRIENDLY FLATMATES - DATE AVAILABLE: Available NOW - SECURITY- you will receive a LEGAL contract with well-established share house accommodation agency - CLEANEST UNITS IN SYDNEY - WITH GREAT FACILITIES ACCESS: Swimming Pool, Spa, Gym and Sauna PLEASE NOTE: We prefer Minimum 4-month Agreement. *Shorter stay negotiable for a higher price and subject to the building by-laws *4 weeks rent as a bond is required and 2 weeks rent in advance. And one off $55 booking fee applies *
Free to Message
Updated | $240 inc
Furnished room in a flatshare
WANTED: ONE MALE in twin shared room (Share room WITH only ONE other friendly male) DESCRIPTION: 2 bedrooms, 1 bathroom, living room, fully equipped kitchen, dining area, laundry room. UNIT IS FULLY FURNISHED AND EQUIPPED: Modern Massive 50 inches TV, Fridges, Pots/Pans, Cutlery, Microwave, Toaster, Kettle, FRONT LOADER washing machine, unlimited FREE WI-FI ROOM: Two single beds with bed linen, two bedside tables with lamps, two wardrobes LOCATION: JONE STREET ULTIMO 4 minutes to Ian Thorpe Swimming Pool and GYM 5 minutes to Power House Museum 8 minute walk to UTS and 18-minute walk to USYD (Camperdown Campus) 11 minute walk to Darling Harbour Walking Distance to Most International Colleges and Language Schools NEAREST BUS STATION: Harris St after Fig St~ 3 min walks Bus Number: 501, (20 minutes) to USYD and (9 minutes) to UTS NEAREST TRAIN STATION: Town Hall Train Station ~ 18 min walks (23 mins to City, 10 minutes to Bondi junction, 30 minutes to Airport) HIGHLIGHTS: - UNLIMITED FREE WI-FI - FRIENDLY FLATMATES - DATE AVAILABLE: Available NOW - SECURITY- you will receive a LEGAL contract with well-established share house accommodation agency - CLEANEST UNITS IN SYDNEY PLEASE NOTE: We prefer Minimum 4-month Agreement. *Shorter stay negotiable for a higher price and subject to the building by-laws * *4 weeks rent as a bond is required and 2 weeks rent in advance. And one off $55 booking fee applies *
Free to Message
Updated | $240 inc
Furnished room in a flatshare
WANTED: ONE FEMALE in twin shared room (Share room WITH only ONE other friendly female) DESCRIPTION: 2 bedrooms, 1 bathroom, living room, fully equipped kitchen, dining area, laundry room. UNIT IS FULLY FURNISHED AND EQUIPPED: Modern Massive 50 inches TV, Fridges, Pots/Pans, Cutlery, Microwave, Toaster, Kettle, FRONT LOADER washing machine, unlimited FREE WI-FI ROOM: Two single beds with bed linen, two bedside tables with lamps, wardrobes LOCATION: JONES STREET ULTIMO 4 minutes to Ian Thorpe Swimming Pool and GYM 5 minutes to Power House Museum 8 minute walk to UTS and 18-minute walk to USYD (Camperdown Campus) 10 minute walk to CBD 11 minute walk to Darling Harbour Walking Distance to Most International Colleges and Language Schools NEAREST BUS STATION: Harris St after Fig St~ 3 min walks Bus Number: 501, (20 minutes) to USYD and (9 minutes) to UTS NEAREST TRAIN STATION: Town Hall Train Station ~ 18 min walks (10 minutes to Bondi junction, 30 minutes to Airport) HIGHLIGHTS: - UNLIMITED FREE WI-FI - FRIENDLY FLATMATES - DATE AVAILABLE: Available NOW - SECURITY- you will receive a LEGAL contract with well-established share house accommodation agency - CLEANEST UNITS IN SYDNEY PLEASE NOTE: We prefer Minimum 4-month Agreement. *Shorter stay negotiable for a higher price and subject to the building by-laws * *4 weeks rent as a bond is required and 2 weeks rent in advance. And one off $55 booking fee applies *
Free to Message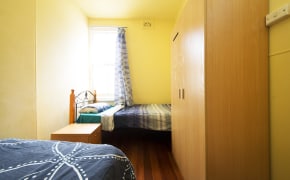 Updated | $180 inc
Furnished room in a share house
WANTED: ONE MALE in twin shared room (Share room WITH only ONE other friendly male) DESCRIPTION: 4 bedrooms, 1 bathroom, living room, fully equipped kitchen, dining area, laundry room. UNIT IS FULLY FURNISHED AND EQUIPPED: Modern Massive 50 inches TV, Fridges, Pots/Pans, Cutlery, Microwave, Toaster, Kettle, FRONT LOADER washing machine, unlimited FREE WI-FI ROOM: Two single beds with bed linen, two bedside tables with lamps, 2 wardrobes. LOCATION: WILLIAM HENRY STREET ULTIMO 2 minutes to Ian Thorpe Swimming Pool and GYM 6 minutes to Power House Museum 10-minute walk to Darling Harbour 10-minute walk to UTS and 18-minute walk to USYD (Camperdown Campus) Walking Distance to Most International Colleges and Language Schools NEAREST SHOPPING CENTER: Broadway Shopping Centre 11 minutes walking distance NEAREST BUS STATION: Harris St Near William Henry St 2 minutes away NEAREST TRAIN STATION: Town Hall 8 min walk and Central Train Station 6 min walk ( 12 minutes to Bondi junction, 23 minutes to Airport) HIGHLIGHTS: - UNLIMITED FREE WI-FI - FRIENDLY FLATMATES - DATE AVAILABLE: Available NOW - SECURITY- you will receive a LEGAL contract with well-established share house accommodation agency - CLEANEST UNITS IN SYDNEY PLEASE NOTE: We prefer Minimum 4-month Agreement. *Shorter stay negotiable for a higher price and subject to the building by-laws * *4 weeks rent as a bond is required and 2 weeks rent in advance. And one off $55 booking fee applies *
Free to Message