Want a fab home but ain't got funds? We list 5 ways you can deck out your house on a budget and make it a home.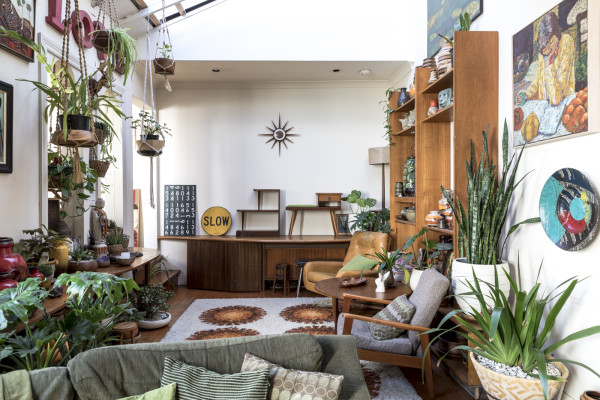 Image: Pablo Veiga

You've just moved into your new share house and you're broke. You've spent most of last month's pay on double rent, moving costs and cleaning the house (those walls are a killer). Now you've finally arrived in your new property, the boxes are unpacked and you want it to feel like home. You just need to add that bit of pizazz.
Hot Tip: Save your hard earned pennies money and shop sustainably by sorting through op shops and online communities.
Check out our 5 tips below to make your home a designer's dream, minus the designer's budget!
Online Second Hand
You know that Ikea piece you've been craving but you're a) poor and b) too scared to assemble the flat pack? Never fear! On Marketplace you can search for that exact Ikea/Eames/vintage piece you're after, but you'll find it's got a friendly price tag attached and is already assembled.
Cons: You might have to travel far to collect the piece and second hand items are often first in best dressed.
Discount Stores
All hail the day Kmart changed the game in home décor and took over our whole lives. Feeling sad? Go to Kmart. Need a new plant stand? Go to Kmart. Hiding from your boss? Go to Kmart. Big game players are Aldi that have fire sales for garden, home and décor and Target which is slightly better quality than Kmart or Big W (RIP).
Cons: Discount home stores often sell low quality goods. You definitely get what you pay for in the world of fast fashion/decor. Aldi is known to sell out fast and have lines out the door for their fire sales.
Good Karma Networks/Online Communities
In an effort to reduce waste and spread the good karma around, Good Karma Networks are taking over social media. Check out your local area's Good Karma Network (note: Facebook search your suburb name followed by "Good Karma Network"). The idea is for people to pass on the belongings they no longer need for free and in doing so the good karma is passed around.
Cons: Gotta be quick to get these treasures and your social notifications need to be ON always.
Hard Rubbish Days
The Finder's Keeper's game is one of luck (and skill). Timing is everything in order to pick up that perfect bit of hard rubbish. Take a flatmate and a ute and hit up the nicest suburbs in town, where the real gems are found.
Cons: It only happens twice a year and your timing needs to be perfect. There is also a lot of junk to sort through.
Op Shops
The good old-fashioned Opportunity Shop is still our winner when it comes to decking out your home on the cheap. Funky artwork? Tick. Vintage Made-In-England mugs? Tick. Donna Summer Vinyl? Tick tick tick.
Cons: Non-existent! Everyone's a winner when you buy from an op shop.
If you want a home like the one pictured, make like John and Ricky in Shared Living* who have taken on the personas of Hunters and Gatherers to kit out their home. John is a "Professional eBayer" and often travels across the state to pick up the perfect piece.
*Shared Living is the hottest book by Emily Hutchinson on share house style and amazing share houses around the world. Get your hands on a copy to make your share house the lush stylish space you've always dreamed of.