How many people live in your share house? Whether the answer is two or twelve, we can guarantee that a few handy apps can help things run much more smoothly.
Looking for the Flatmates App? Find us in the iOS App Store and Android Play Store.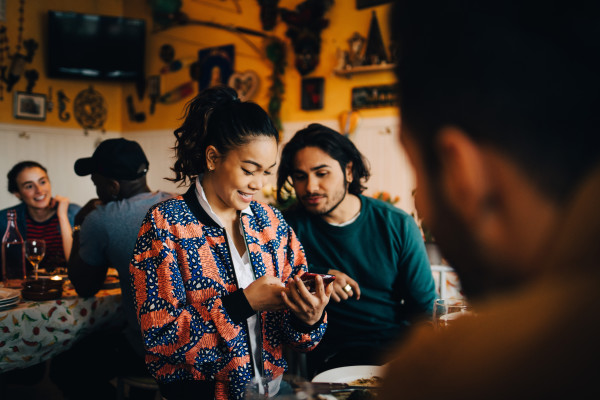 Maskot
Want to save time on the weekly washing? There's an app for that. Share chores more evenly? There's an app for that. Eat cheaper? Save more power? Split bills easily? There's an app for all of that.
Nip disputes over costs and cleaning in the bud and make the time you spend with your flatmates much more fun with this selection of apps we've hand-picked for you.
Split the bills
This handy app brings the fire to flatmate finances! Want to split the grocery bill? Done. Want to BPay your share of the Telstra bill? Done! Want to remind your roomie to stump up for their share of the drinks you bought last Friday? Already done!
Beem It is easy to use and integrates with your bank accounts, BPay and EFTPOS, for instant payments to both friendly flatmates and multinational megacorps. It also integrates GIFs, which can certainly lift the mood when you're chasing up that $50 you're owed.
Where you at?
Will your roommate be home before the pizza arrives? Where did your flatmates go for drinks tonight? Find My Friends lets you answer these questions without hassling your mates, or trying to decipher directions over background pub chatter.
Get your whole household onto Find My Friends and you'll always know where they're at. It's great for staying safe if your flatmate decides to go home with the hottie from the bar and they'll easily be able to join back in at the location for kick-ons if the one-night-stand doesn't work out.
Eat out for less
You can save a stack on eating out with restaurant discount apps like Eat Club and The Happiest Hour. These apps dig up cheap food and drink deals near you, every day of the week, so they're great for nights out on a budget.
Eat Club lets you redeem exclusive specials right in the app, with discounts of up to 70% off regular menu prices. The Happiest Hour will notify you when your favourite places change or add specials to their menu. Sounds delicious!
What's the wash?
No washing machine? No worries. If you have a laundry nearby, check if it's on the Speed Queen app. This little winner can save you time both at the laundry, and scrounging behind the couch cushions for change.
Without leaving home, Speed Queen tells you if there's a machine free in the local laundry and lets you pay for your loads. It also tells you how long the cycle has left, so you can time your trip to pick up your stuff. Discounts are available in some locations, too.
Takeaway treats
Let your next takeaway cost a fraction of the last one. YWaste helps you find fresh food for a lot less. Here's the deal: restaurants and fresh food retailers in your area list the goods they want to offload, so they don't go to waste; you head over and snap up a deal.
From full meals to snacks and desserts, YWaste really gets going in the hours before restaurants close. It's a great way to save money on takeaways, but you can also expect to unearth new restaurants you've never tried before. Happy bargain hunting!
Stop the shock
The days of shocking power bills are over at last. If you buy energy through Powershop, download the app. It tracks your household power usage by the hour and lets you compare usage over time. It also lets you pinpoint power usage at times when certain people were home, weren't home, had visitors over for band practice with five amps … you get the idea.
The Powershop app definitely heralds the end of share house electricity disputes. But it also helps you save energy as an individual and a household. And the more energy you save, the more money you save. If you're into doing your bit for the environment, Powershop Australia is owned by a 100% renewable energy company and every customers' energy use is 100% carbon offset.
Keep it clean
End the weekly nag session and make sure everyone does their bit to keep the place neat with Chores App. Just create a household to-do list, then grab (and assign!) tasks with a tap. It's that simple.
Chores App includes a chat function (handy if you're away for the weekend and want to have your roomie take your tasks) and awards points for each task you complete. Now you can see exactly who's pulling their weight … and who needs to pull up their socks!
Flatmates App
If you're in the need for a new share house or flatmate, did you know Flatmates has both an Android and iOS app? Get downloading today to start your search. Find us in the iOS App Store and Android Play Store.