Living with flatmates can be a whole lot of fun. It can open up new horizons and possibilities and flatmates can even lead to life-long friendships. Nawww so cute. But sometimes, things don't go the way we planned.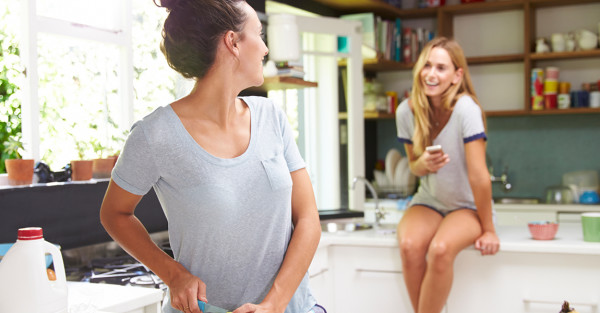 The casual nature of shared living in Australia, however, can mean that important details for a happy outcome are sometimes overlooked or forgotten. Usually that happens when we're really in love with the place or a little too trusting of the people who are offering the room. Disputes over bond and rent payments, misunderstandings about rental terms and people being asked to leave the house at the drop of a hat are all examples of what can go wrong.
To help you avoid all this — and find the right place with the right flatmates — we've put together a list of the most common mistakes people make when they're looking for a place to share.
Mistake No. 1. Prioritise what you want over what you need
Outcome: It takes you weeks to find a place or you don't find one at all.
Solution: Relax your criteria a little by separating your needs and wants. Be realistic with you budget and location.
When you think about the next place you'd like to share and start looking at what's available on Flatmates, it can be easy to get carried away. Drooling over photos of gorgeous homes or over an inner city loft way out of your budget can pull our focus from the things that are really important
Make a list of the things you need in your next share house: include your "Must Haves" - close to work, public transport, no more than 4 flatmates etc versus your "Nice to Haves" - ensuite, built-in robe, separate toilet to shower etc.
Have these lists handy as you do your search, so you can avoid getting sidetracked by the things you'd want, but aren't strictly necessary.
If you're having trouble finding a property in your dream suburb and for your dream price, try our Cheaper Suburb Finder.
Mistake 2: You put all your eggs in one basket
Outcome: The only property you had your heart set on goes to someone else and now you're back to square one.
Solution: Don't stop searching until you've secured a room.
Competition for buying and renting real estate in Australia is fierce and shared accommodation is no different. To ensure your search doesn't get derailed by a single failed application, keep your options open. You should keep searching and requesting inspections for places until you've secured a home. 


What defines 'securing a home' can differ, but is usually placing a holding deposit (or paying bond) and signing an agreement. For others, this can mean when they actually move in. Regardless of how you define it, don't take down your "room-wanted listing" or stop searching until you're comfortable that you've secured a place.
Mistake 3: You don't inspect the property in person.
Outcome: You find deal breakers after you've moved in.
Solution: Always insist on a property inspection.
Whatever you do, don't commit to sharing a place you haven't even laid eyes on. Inspecting the property is extremely important to ensure the place you're moving into is what was advertised and the home is a place you'll feel comfortable in.
A photo of a cute apartment won't communicate that the owner, who lives upstairs, is a death-metal drummer. A video can't convey that unpleasant odour that emanates from who knows where, but certainly overwhelms the bedroom you'll be taking.
Someone refusing an inspection prior to agreement or payment can be consistent with fraudulent or scammer activity, you should always report these listings directly to the website admin. On Flatmates.com.au the report link is at the bottom of every listing or at the top of messages.
Inspection isn't optional! Always inspect before you commit.
Mistake 4. You don't meet all of the flatmates.
Outcome: You hate your flatmates.
Solution: Spend most of your inspection speaking with the flatmates. Ask questions that matter to or might affect you.
Searchers can sometimes get caught up in the place, location or price and forget that they'll be sharing the home with others. They rush inspections and leave after seeing what they want, only to find later that they've moved into a home with people they don't click or have conflicting schedules with.
These people will be a big part of your life, so you need to feel good about every last one of them. You'll need to be able to trust them and they'll need to feel the same about you. This is an essential starting point for harmonious house-sharing, but it's also critical if you actually hope to have a warm home where your flatmates are also your friends.
During your inspection, pose questions to the flatmates about home life or habits. Simple questions such as what time they get ready for work can be important in homes with one bathroom.
Mistake 5. You didn't confirm the details.
Outcome: You find out details of the lease or rent after moving in.
Solution: Double check everything on the listing and ask questions if you're unsure.
While you're at that interview, ask questions about everything — rent payment dates and amounts, what bills are included and any other conditions or restrictions on the rental. If you feel hesitant to repeat something that was said in the listing for the share house, just say you want to confirm absolutely everything, so you all know where you stand.
This is also a good time to confirm when the household will make a decision about applicants and what the person who gets the room will need to do to secure it.
Mistake 6. You didn't get the details in writing.
Outcome: Details are easily forgotten which can lead to conflict.
Solution: Use a written agreement.
It's easy for people to forget what was said or offered at the start, which is why a written agreement is a great way to avoid future conflicts and keep everyone on the same page. Every detail of your agreement with the landlord should be put in writing for future reference. It doesn't matter how big or small it is: if you're offered parking and a private bathroom or if the Netflix is included in the rent—get it in writing. We've got a solid Flatmates Agreement template you can use, so there's no excuse not to do this.
Mistake 7. You didn't get receipts for rent, bonds or deposits paid.
Outcome: You don't get all of your bond, deposit or advanced rent back.
Solution: No confusion or second guessing at the end of your tenancy of how much is owed.
When it comes to share housing, you need to take responsibility for keeping track of whatever money you pay: don't expect the landlord or your other flatmates to do it.
Ideally, make all payments electronically, so you have an easily searchable record of every payment you've made in case there's ever a dispute. If you have to pay something in cash, get a receipt from the landlord on the spot. If you pay part of the bond, get a copy of the lodgement for your own records.
On top of this, it can be useful to keep your own payment ledger — a list of everything you've paid and when. When the rental ends and you're moving out, this can help you work out how much rent you owe, or are owed, which can minimise confusion between you and your flatmates.
Never pay money to someone you have not met or for a property you haven't seen.
---
This advice should help you avoid common share-house hunting problems. If you'd like an even clearer picture of your rights and responsibilities, take a look at our legal guides for specific information on sharing in each state.