Sharing a home with others can be a rewarding experience which can leave you with lifelong friends and memories.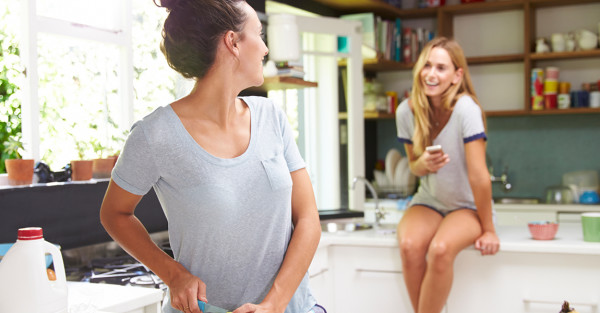 The casual nature of shared living in Australia, however, can mean that important details for a happy outcome are sometimes overlooked or forgotten— which can turn people off the experience altogether.
Many of the situations we come across could have been easily prevented, but then again, hindsight is a wonderful thing.
So with that in mind, we've compiled a list of common mistakes people make to help make your next search a successful one.
1. They over stack their criteria with wants, rather than needs.
Outcome: It takes them weeks to find a place or they don't find one at all.
Solution: Relax your criteria a little by separating your needs and wants. Be realistic with you budget and location.
Having strict criteria and not being flexible with your search can leave you searching for weeks, sometimes months. Shared homes are by and large established—with the exception of people filling new leases—so it is important to remember that you may not get everything you want.
The most common mistake people make is not being realistic about what they need and the budget they have. Expecting a private room with ensuite in an inner-city area for a few hundred dollars is going to leave a searcher disappointed, and potentially homeless.
Before starting your search, check what's currently on offer in the market. If you're unsure how much you'll need for a specific suburb or area, try our Cheaper Suburb Finder.
2. They put all their eggs in one basket—which falls apart.
Outcome: The only property they had their heart set on goes to someone else leaving them back to square one.
Solution: Keep those options until you've secured a room.
Competition for buying and renting real estate in Australia is fierce and shared accommodation is no different. To ensure your search doesn't get derailed by a single failed application, keep your options open. You should keep searching and requesting inspections for places until you've secured a home. 


What defines 'securing a home' can differ, but is usually placing a holding deposit (or paying bond) and signing an agreement. For others, this can mean when they actually move in. Regardless of how you define it, don't take down your room-wanted listing or stop searching until you're comfortable that you've secured a place.
3. They don't inspect the property.
Outcome: They find deal breakers after they've moved in.
Solution: Always insist on a property inspection.
While this may seem like common sense, survey data from Flatmates.com.au showed that 1 in 10 people didn't view their property prior to moving in. Inspecting the property is extremely important to ensure the place you're moving into is what was advertised and the home is a place you'll feel comfortable in.
Someone refusing an inspection prior to agreement or payment can be consistent with fraudulent or scammer activity, you should always report these listings directly to the website admin. On Flatmates.com.au the report link is at the bottom of every listing or at the top of messages.
4. They don't spend time with or meet all of the flatmates.
Outcome: They have few commonalities with their flatmates.
Solution: Spend most of your inspection speaking with the flatmates. Ask questions that matter to or might affect you.
'Who you live with is just as important as where', is something I regularly press on those looking for a home.
Searchers can sometimes get caught up in the place, location or price, and forget that they'll be sharing the home with others. They rush inspections and leave after seeing what they want, only to find later that they've moved into a home with people they don't click or have conflicting schedules with.
Sure, you won't get to know someone intimately until you've lived with them, but you can definitely get a good idea by spending some time with them and asking the right questions.
During your inspection, pose questions to the flatmates about home life or habits. Simple questions such as what time they get ready for work can be important in homes with one bathroom.
5. They didn't confirm the details.
Outcome: They find out details of the lease or rent after moving in.
Solution: Double check everything on the listing and ask questions if you're unsure.
It may seem crazy, but there have been situations of some sharers assuming bills are included in their rent only find three months into their new pad that they are actually extra. This can be a simple case of mishearing or misreading what is included and forgetting to confirm.
If the listings states 'bills are included' be sure to double check which ones are. Some homes may have services such as Foxtel, Netflix or even a cleaner that they share the cost of on top of ordinary bills.
If the listing states exclusive use of areas, such as parking is available or you get a bathroom, be sure to double check this is correct and it will be put in writing on your agreement— which leads to the next point.
6. They didn't get the details in writing.
Outcome: Details are easily forgotten which can lead to conflict.
Solution: Use a written agreement.
It's easy for people to forget what was said or offered at the start, which is why a written agreement is a great way to avoid future conflicts and keep everyone on the same page. Every detail of your agreement with the landlord should be put in writing for future reference. It doesn't matter how big or small it is: if you're offered parking and a private bathroom or if the Netflix is included in the rent—get it in writing.
Flatmates.com.au have a free flatmate agreement available, so there are no excuses.
7. They didn't get receipts for rent, bonds or deposits paid.
Outcome: You don't get all of your bond, deposit or advanced rent back.
Solution: No confusion or second guessing at the end of your tenancy of how much is owed.
Yes, your head tenant/landlord/agent should be keeping a ledger of what is paid, but you shouldn't rely on other people to get things right or be honest.
If possible, try to make all of your payments via electronic funds (EFT), which will give you a record of everything instantly. If the payee insists you pay cash or other means, insist they give you a receipt—which they are required to do. If a bond is lodged—which it should be in most cases— get a copy of the lodgement.
If it helps, keep a separate ledger yourself of everything paid so know how far ahead you are in rent and what you should get back at the end. This will also save you having to remember or do the painful sums at the end of your term.
Never pay money to someone you have not met or for a property you haven't seen.
---
To ensure you know your rights, check out our handy legal guides for specific information on sharing in each state.