Surf's up and summer is here! Grab your swimsuit, towel and sunscreen and … wait. If you're a real beach lover and you share-house, why not consider moving to the coast instead of day-tripping?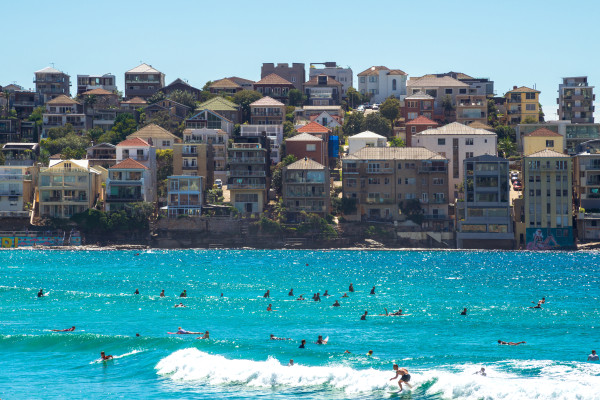 Getty Images
If you think the beach is out of reach, think again. As our list of the best beach suburbs in Australia shows, there are plenty of share house rentals in our fave seaside spots, from iconic Bondi and Surfers, to much-loved Glenelg and Nightcliff. The best bit? The prices might just surprise you.
Take a look, dream big and before you know it, you might find yourself in a brand new share house, with a long, hot summer of sun, sand and surf stretching ahead.
Bondi Beach NSW
Average rent for a room in share house: $360pw
If living large at Bondi Beach isn't on your bucket list, maybe it should be. For most of us, living in one of Sydney's busiest, most famous, and perhaps most pretentious suburbs isn't a long-term proposition. But three or six months of Bondi fun and frivolity — and sunrise sea swims — might be.
Sure, a spot in Bondi Beach can cost you a pretty penny, but it doesn't have to: there's plenty of variability in rents and locations, although of course you'll always pay more if you want a view of that beach.
If you're commuting to the city, transport might be a challenge since Bondi Beach is served only by buses that connect with trains at Bondi Junction. And if you have a car, be warned that parking won't (ever) be a breeze. But really, what wouldn't you sacrifice for the chance to live at Australia's most iconic beach for a bit?
Manly NSW
Average rent for a room in share house: $360pw
The flip-side of Bondi is Manly: Sydney's second-favourite beach, or most favourite for those who prefer a laid-back beach vibe where tracksuit pants are as welcome as formal dress. Facing east, it has outstanding views across the blue Pacific, and it's pretty quiet on weekdays unless the weather is good.
Locals claim that Manly has everything and between shops, bars, cafes, restaurants and practicalities like schools and supermarkets, they might be right. While Manly still attracts a lot of sightseers and tourists, it just feels that bit more liveable than Bondi and the rents are similar too.
The city is a ferry ride away and there are plenty of buses, so no one really worries that there's no trains. But perhaps that's just the result of the chilled Manly atmosphere…
Burleigh Heads QLD
Average rent for a room in share house: $226pw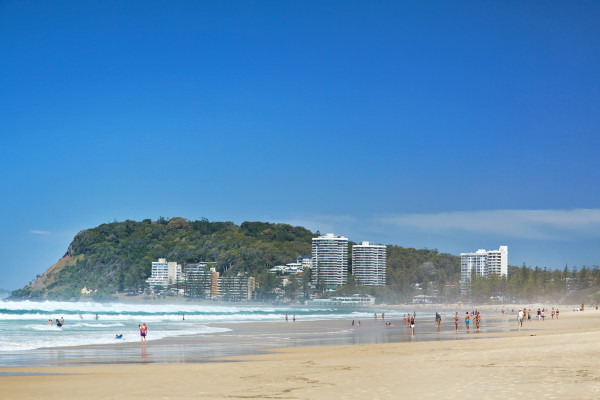 Getty Images
Spread around the Gold Coast's glorious waterways and replete with gorgeous parks, Burleigh Heads has an outdoorsy, community feel to it. Yet it's just 10km from Surfers Paradise, with its legendary entertainment and nightlife, so you can pick and choose how you spend your hours here.
There are plenty of rentals with stunning sea or nature views, and there's also lots to do if you ever get sick of surfing and swimming: think walking and biking or shopping and cafe-hopping. Rent is higher than surrounding suburbs because, well, they're not on the beach and they're not Burleigh Heads!
Parking can be tough on weekends (and when the whales are splashing about in season) as people flock to the sand. It's also close to Gold Coast Airport, yet Burleigh Heads retains its laid-back attitude and feels blissfully serene, Summer or Winter.
Surfers Paradise QLD
Average rent for a room in share house: $238pw
An iconic suburb on a long, straight, world-famous stretch of one of Australia's most beautiful beaches, Surfers Paradise is perfect for those who love the hustle and bustle of a cosmopolitan tourist spot.
Rents are probably not as expensive as you'd expect and there's a mix of places, so whether you want a sea view, a river view, or a big backyard, you can probably find it in Surfers. Locals talk up the public transport more than the hectic driving and parking, as there are good tram services and buses too. Sometimes the centre itself can get noisy, but quieter suburbs abound once you leave the CBD.
With its world-class waterfront, fantastic facilities and fun vibe, Surfers is definitely the place to get serious about #beachlyfe.
Noosa Heads QLD
Average rent for a room in share house: $237pw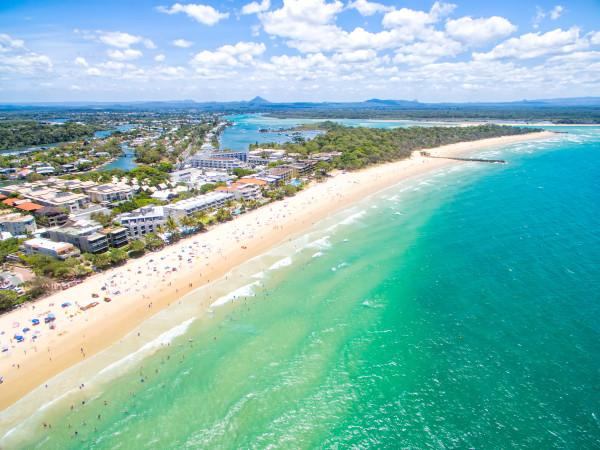 Getty Images
Let's face it: a holiday town like Noosa is exactly the kind of place flatmates and renters can make the most of. With property prices off the scale, renting is most people's only way to enjoy Noosa's morning boardwalk jogs or an afternoon surf against a glorious rainforest backdrop.
Yes, the rents are high. Yes, you'll have to put up with pretentious locals and equally pretentious tourists and yes, you'll have trouble parking in the town centre.
But you'll also have excellent dining options, an incredibly laid-back weekday lifestyle, endless places to enjoy nature right on your doorstep and of course one of Australia's favourite beaches. Noosa and its neighbouring suburbs have all the shopping and amenities you need for real, non-vacay life too.
Cottesloe WA
Average rent for a room in share house: $237pw
Life's a beach at Cottesloe, the glamorous, cashed-up big sister of quirky Fremantle. The beach itself is graced with a beautiful, historic ex-tea house and the aqua waters are impossible to resist. No wonder it's such a pull for locals and those from further afield.
The rentals here vary from apartments to rooms in larger, older places on big blocks, so you're certain to find something that suits the lifestyle to which you'd like to become acquainted! If you ever tire of the beautiful waterfront with its walks and swimming, there's plenty of other entertainments, from bars and pubs to excellent restaurants and cafes and some great independent shops too.
Of course Cottesloe has solid public transport so commuting is easy but you should be able to find a share house with parking (and you'll want to, since the weekend traffic is insane).
Fremantle WA
Average rent for a room in share house: $212pw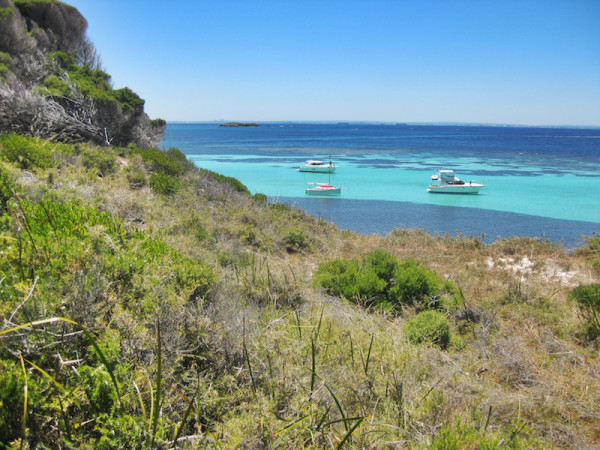 Getty Images
Fremantle mightn't have the glossy, upmarket pull of some other places on this list, but its quirky, chill vibe offers a real alternative for those who want beach rather than glamour.
The quality of listings for share houses in Fremantle is good and they're spread across the suburb. Whether you're looking for a place in the heart of the city or something on a leafy side-street out of the weekend throng, you should be able to find something that suits.
Between the supermarkets and local markets you'll be fine for shopping and trains into Perth abound. FYI: parking in Fremantle's CBD can be a challenge so it's best to rent a little back from the beach if you have a car.
Glenelg SA
Average rent for a room in share house: $191pw
While some of the beaches on this list are small and easily overrun with visitors on a sunny day, there's room for everyone — and their mates — at apparently endless Glenelg Beach.
Sure, rents aren't cheap here, but you're just 20 minutes from the Adelaide CBD, you have constant access to one of the nation's greatest beaches and you're surrounded by friendly neighbours who love their community. New home, old home, apartment — whatever your preference, Glenelg has it.
You certainly won't get bored here, with the picturesque jetty and excellent waterfront restaurant scene attracting people from across the city (and the world) every day of the week. If you're home for New Year, you'll automatically be party to one of the country's biggest celebrations! What more could you ask for?
St Kilda VIC
Average rent for a room in share house: $253pw
St Kilda is Melbourne's fave beach hangout. Twenty minutes from the CBD by any of the frequent trams or buses, it's got a young, hip, eclectic, neighbourly vibe that's as vibrant as ever. Gentrification has seen many redevelopments and renos here and there are plenty of rentals among the boulevards and leafy backstreets — some with sea views!
There's always something going on in St Kilda, from the quirky, lovable St Kilda Festival to kite surfing at the beach, to hours of screamy fun at Luna Park and of course the nightlife is not to be missed! Nearby Acland Street will see to all your European cake needs but St Kilda has serious supermarkets and good weekly beachside markets too.
If you love diversity, great parks, outstanding food and coffee, and the beach at your fingertips, you'll love life here.
Brighton VIC
Average rent for a room in share house: $254pw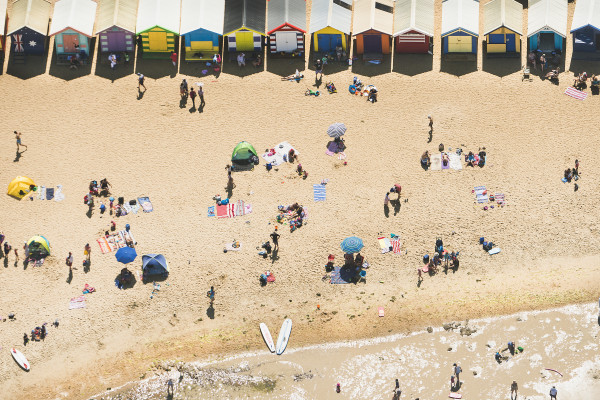 Getty Images
Brighton Beach is known for its colourful bathing boxes and marina crammed with luxurious yachts. One of Melbourne's most salubrious suburbs, the locals here are solely focused on living the good life, dahling!
While rents typically meet (expensive!) expectations, there are some older places that rent for less here, so look around and see if you can't spot a bargain. There are some real gems tucked away in this leafy suburb, but you're likely to pay for what really is a privilege.
Brighton is well served by buses and trains and it's not the kind of place where you'll never get a park. There's a serviceable local shopping centre and worthy restaurants and cafes too.
Sandy Bay TAS
Average rent for a room in share house: $198pw
Possibly Tasmania's wealthiest suburb, replete with two picturesque, compact beaches, Sandy Bay really is a dream location. It has a good mix of older and newer houses and the rents vary depending on the type of place you're looking at — so it pays to shop around.
Despite the glorious, leafy surrounds, Sandy Bay ticks all the boxes: it's a 20-minute walk to the Hobart CBD, has good shopping, restaurants and night markets, boasts reliable public transport links and also takes in the University of Tasmania campus.
During peak hour and sunny weekends the traffic can get a bit manic, but the rest of the time you'll be living the dream in this green, beachside hideaway.
Nightcliff NT
Average rent for a room in share house: $220
Nightcliff might just be Darwin's favourite beach suburb. Rental pickings can be slim here, and it's no wonder why: this leafy, laid-back neighbourhood is exactly the kind of place we all want to come home to.
There's the insect-free Sunset Park, where Darwin comes to picnic and watch the sun go down on warm evenings. There's fishing from the jetty and safe swimming in the waterfront pool and there's a Woolworths and local markets for those nights when the fish aren't biting.
Search at the right time and you might just find a share house with a backyard pool in Nightcliff, but it's fair to say wherever you live in this area will be relaxed, green, and neighbourly. Enjoy!
So what are you waiting for? Go forth and live your best Aussie Beach Bum life!