Okay, we know: insurance is a total yawn-fest at the best of times. It adds to your monthly costs, and when will you ever make a claim? We get it, but hear us out: life happens. The unexpected crops up. You don't want to be left high and dry when it does.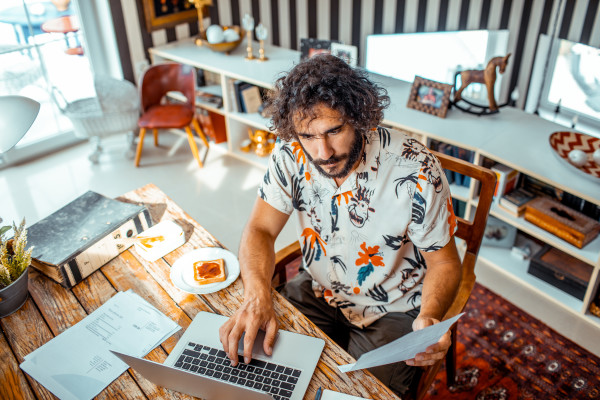 Here are a few share-house scenarios we've heard of that insurance would've really helped:


A thief broke in and stole a flatmate's laptop, which she hadn't insured, and she couldn't afford to replace it. That meant she could no longer do the freelancing gigs she'd been making a serious portion of her income from.


A flatmate backed through the fence of his share house by mistake. The landlord, who was his mate, didn't have landlord's insurance, so the damage wasn't covered. They had to sort it out between themselves, but the extra financial pressure didn't exactly help the friendship blossom.


A flatmate got injured in a bike accident one weekend and couldn't work for a couple of months. Since he had no income protection insurance, and no financial buffer, he couldn't pay rent or bills any more and had to move back in with his parents. But if they hadn't had room for him, he'd have had nowhere to go.


These are everyday scenarios and all of them are — or have the potential to be — life-changing. But they're also avoidable with a little insurance.
Let's get the rundown of four key types of insurance that flatmates should consider: home, contents, health, and income protection. Then, we'll cover a few hints for finding a good policy.
Home insurance
If you own the home, or you're paying a mortgage on it and you decide to rent out your spare room, be aware that your home or home and contents insurance likely won't cover you for damage done by a tenant you're sub-letting space to — or their guests.
For that, you'll need landlord's insurance, and your first stop for looking into that is likely your current home insurance provider. But do shop around and make sure you're getting a deal you're happy with. Most landlord's insurance covers things like glass breakage, fire and impact damage, but there will be optional extras that you might want to consider, including malicious damage, rent default, or theft by a tenant.
Obviously the combination of options you choose and the value of your excess will affect what you pay, but there's relief in knowing that if something happens, you are covered. And hey, if you're playing by the rules and claiming the rental income on your tax, the insurance will at least be a deduction at tax time.
Contents insurance — for landlords and renters
Whether or not you own the share house you're living in, you should consider contents insurance, which covers your furniture, electrical appliances, computers and phones, valuables like collectibles, musical instruments and jewellery and even clothes and shoes.
It's tempting to tell yourself your stuff isn't worth much and perhaps it's not. In that case, contents insurance might be a cost you can avoid. But remember that if, say, your belongings were ruined by water damage or a fire, you'd probably have to replace them. If the thought of paying for that makes you shudder, it's worth looking at contents insurance.
If you own the home, you can check with your home insurer about contents insurance as a first step. But if you don't — you're a tenant — take a look at renter's insurance. At its most basic, this insurance covers your stuff. At the low-cost end of the spectrum, you can choose to cover that stuff only for certain events, like fire and theft. But standard renter's insurance covers a range of events.
Then there are optional extras, which can include legal liability insurance, which covers you for accidental loss or damage you cause to someone else or their property; emergency accommodation if your share house suddenly becomes unlivable; and emergency contents storage if you need somewhere to stash your stuff while your place is being repaired.
These kinds of extras will seem unnecessary for some of us, but if you live in an area where accommodation is really hard to find, or the district is fire- or flood-prone, or you don't have somewhere you could stay in an emergency, they might be of interest.
Health insurance
There are tax benefits for those who have health insurance and earn above a certain amount (check with your accountant for the current year's info), but friend, there are other benefits to having even the most basic health insurance.
Firstly, life happens. Teeth get holes in them. Knees need physio. Eyes get tired. But as Murphy's law dictates, these things usually happen when your bank account's at its lowest, and the expense of professional attention is hard to justify.
That's why health insurance is handy. Unlike car, home, or contents insurance, your premiums don't usually go up as you make normal, everyday health insurance claims. That means there are no excuses for not looking after your health. As a result, your health can actually improve if you have — and use — health insurance. Even basic optical and dental can save you in the long run.
Of course, if you're healthy and have enough of a financial buffer to cover these kinds of unexpected expenses, you might find it more cost-effective to put the money you'd pay on insurance aside and just use it to pay for health expenses when they arise.
Income protection insurance
Income protection is one that most of us overlook, so let's first unpack what it actually covers.
Income protection insurance gives you a regular payment (usually up to 70 or 80% of your income) if you're ill or injured and can't work as a result. "Illness", in many policies, includes debilitating mental health issues — it's not alway restricted to physical illness.
You can see how this insurance can be a life-saver. If you're ill or injured and can't work, it's not like losing your job — you can't just go and find replacement work, because you're literally unable to work. You'll still have all your regular bills to pay, as well as rent, but you may also have additional expenses due to your health issues. Being unwell isn't cheap, yet it can make it impossible for you to earn an income.
Income protection is even more worthwhile if you use your income to support others financially (e.g. your kids), or you work for yourself or have your own business, since in that case you may not get any paid sick leave at all.
If you're thinking, well this all sounds very nice, but how much is it going to set me back, here's some good news: many superannuation funds offer income protection insurance to members, with premiums paid out of your super. That's right: you might be able to get IP insurance without paying a cent out of your after-tax income! Check with your super fund for more details.
Finding good insurance
Okay, so you're curious about insurance. Where should you go to find a good policy?
First, you can ask friends and family who they're with, and if they've ever made a claim, how it went. Their experiences will hopefully point you in a good direction.
You can also use comparison sites like iselect but always remember they don't cover the whole market, and often only give you options from certain companies.
The best place to start online is research website Canstar. Yes, these guys also do comparisons, but independently via deep research, and they make recommendations based on that research, which can be very helpful in a sea of insurance options! Check out their insurance pages and see what you think.