It's no surprise that living in a confined space with people you met off the internet is bound to impact share house relationships. Add a global pandemic to the mix and you've got yourself a breeding ground for cabin fever and broken ties.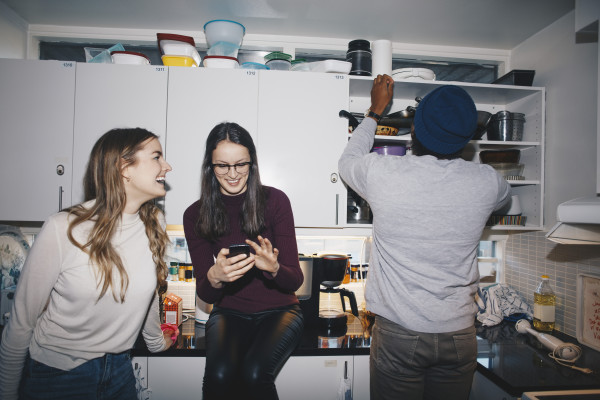 We recently completed our 2021 Flatmates National Share Accommodation Survey, where we asked over 9000 sharers about their experiences living in a share house during the pandemic. We already know that the pandemic really stuffed up our finances and left many members in the dark when it came to knowing where their next pay check was coming from.
After finance, the next big hit to sharers was their friendships with their flatmates. So how did the pandemic affect share house relationships?
Did lockdown cause breakups?
Couples were often the smug lot during the pandemic. They would always chat about how lucky they were to have each other, instagram stories were full of appreciation posts on how their S.O "got them through the hard times" or would brag that they have another 5km radius to get to know (theirs and their partner's).
In fact, 16% of couples on Flatmates were feeling the love so deep during the pandemic, that they decided to shack up together. But Aunty Rona works in mysterious ways, and due to pressures from lockdowns and Covid19, more than half of these couples have since broken up.
House relationships down the drain?
Working, working out, relaxing, netflixing and looking after one's mental health all from home in a shared space with strangers you met on the internet, caused many members to reassess their living situation.
Seven percent of you no longer wish to live with your current flatmates anymore and another 11% now want to live alone. We had a whopping one third of our community move out of their share house into a different kind of home during the pandemic. Of these, half moved into a different share house and 15% into a property by themselves. And their reasons or moving? You guessed it, the close quarters that come with shared living in a pandemic sent many members packing.
1 in 4 said they moved because they were sick of their flatmates, 1 in 5 said they moved because they needed their own space and 1 in 9 said their share house was too crowded.
Whilst many members didn't have a problem with the people they lived with, it was often where they lived that caused them some grief. 16% of you want to move to a home with more outdoor space, 12% want to move to a bigger home and a further 10% wish to move regionally.
More than half of you are thinking of moving to a different suburb, so that you can be closer to your friends or closer to the beach.
| Reasons for moving | Percentage of responses |
| --- | --- |
| Sick of their flatmates | 25% |
| Needed their own space | 20% |
| Share house was too crowded | 11% |
Flatmates = the best mates
It wasn't all doom and gloom for all share house relationships! Almost half of you say your relationship with your flatmates is the same a further 10% of you say you and your flatties are closer than before. 1 in 5 of you say the best thing about living in a share house is the friendships you make (naawwwww). But money will always come up trumps, with 1 in 3 of you saying the cheap rent is the best thing about living in a share house.
The pandemic really played around with our emotions, finances, and mental health. But for many renters who endured the pandemic in a share house, you got to see just how rewarding life can be when it's shared.
Half of you say that strangers make the best flatmates, so if you're looking to end the year with a bang, head to flatmates.com.au to find your next flatmate.