No matter your creed (AFL or NRL) this weekend is going to be big. Depending on which state you live in, your celebrations will vary, so here's how to party it up in your state this coming footy finals weekend. If you don't like sports (weirdo) you can stay in your room like a sad sack of potatoes or follow our guide below.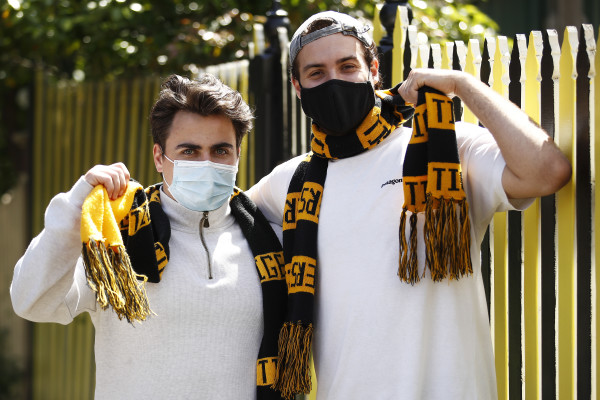 Getty Images
Of course, when we finally have an AFL grand final with two Victorian teams, the final is held in a different state, a state which doesn't even care about AFL.
Feelings of exasperation aside, it's the clash of the big kitties (rewor!)
Over in NRL land, we have another Vic Team (do Victorians care really about NRL anyway?) versus the Riff Panthers for the men and the big bad Broncos versus the Roosters for the women.
The deets:
AFL: Geelong Cats vs Richmond Tigers October 24th 6:30 pm. (Watch on Seven)
NRLW: Sydney Roosters vs Brisbane Broncos October 25th 4.05pm (Watch on Nine or Gem)
NRL: Penrith Panthers v Melbourne Storm October 25th 7.30pm (Watch on Nine or Gem)

So what can you get up to?
VIC: We'll start with the losers of the bunch, the poor Victorians. Stay at home with your flatmates to watch the games and use our party guide below. Or head to the park with one other household with up to 10 people and bring the wireless to keep tabs on the score.
QLD/WA/TAS/SA/NT/NSW/ACT: Party at home with our guide below or head to the pub. Bookings essential.
Fine food for your feast
Step 1 to a great grand final binge sesh is great food and there's nothing better than watching elite athletes run around while you tuck into some delish greasy comfort food. Keep it real Aussie and stick to the good old fashioned BBQ (honestly you can't go wrong). If you're looking for a change from the traditional, you and your flatmates could do a potluck, homemade pizzas or just sink beers. Whatever your fancy.
Make sure you have enough food for those in-game snack attacks!
Get that set up good
Second step to a great grand final is a great set up; make sure you have the right equipment y'all! You're going to need a TV with good reception if you're at home, or your phone/computer/speaker sitch set up if you're hitting the park. Make sure you test the sound well before the game, you don't want to miss the first bounce. You're also going to need comfortable seating arrangements, so if you're scared someone is going to steal your fave armchair, make sure you shotgun that before the game begins.
Pick a team
If your team didn't make the granny, you can, for one day, put your loyalties aside and pick a different team to barrack for. You'll enjoy the game more if you get behind a team and you'll make for some friendly competition with your viewing buddies. If you're not a sports fan and you've been forced to watch, still pick a side, otherwise you're just that mopey person in the corner that NO ONE enjoys.
Conduct a little bet with your flatmates: losing team has to do the dishes for a week.
Half time kick-to-kick
It wouldn't be a grand final celebration without a halftime kick. Now's the time to let off some steam after a "hopefully" nail biting first half and to also show off your mad hot Taylor Harris impression. As with the TV set up, make sure the footy is found and pumped up well before the game begins, you don't want to waste any of your precious halftime break looking for a ball and pump.
Sore losers suck
So your team, or your team for the day, lost. Suck it up pork chop! Turn that frown upside down and get to those dishes baby! Don't be a sore loser and ruin the rest of the evening for everyone. Head back outside with a bev and have another kick of the footy, you'll love it.
Whether you love AFL, NRL, NRLW or all three, you've got a massive weekend of sport coming up. If you're not a sport fan, there's still fun times with your flatmates to be had. Go Tiges!