Plant Parenting 101
by Claudia
Are you really a share houser if you haven't been through the circle of life with a house plant? Nothing makes a millennial feel more accomplished than keeping a house plant alive.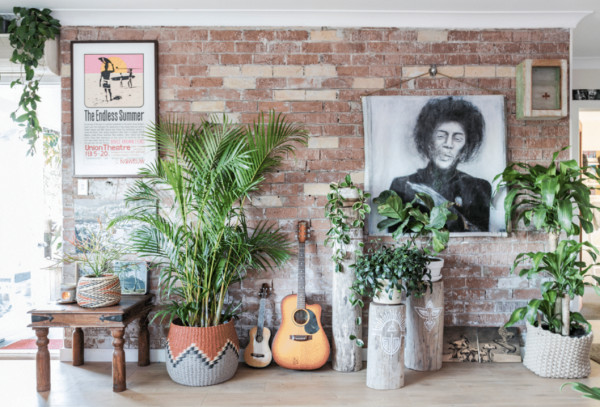 Image: Pablo Veiga
Right now, we're obsessed with plants. They bring nature into the home, they make us calm and that little bit of greenery really makes the scenery. But where did this plant obsession begin? From all other sources, plants are dangerous. Harry Potter nearly died from Devil's Snare, Batman's Poison Ivy was HOT but deadly and the giant plant in Jumanji nearly killed a whole town. Murphy's Law would have it that now we're the killers and keeping our house plants alive is a big deal.
Luckily for you faltering plant mammas, Flatmates.com.au and our friends at Shared Living have got your (and your plants') back. We are giving you our Top Plant Parenting Tips so that your lil succies, Monsteras and Rubber Trees will survive the winter (and your neglect).
CHOOSE YOUR PLANTS WISELY
I know you really want that Instagram-worthy Boston Fern to hang in your loungeroom but if you don't have the right amount of humidity and balance of sun/shade, it will die. Pick the right plants for the right locations based on what they need in terms of light, air quality and watering. Do your research and most importantly, start small. If ghosting is your thing, a succulent is the best choice for you as succulents don't require commitment.
MAKE A FOREST BUT SAVE ON THE $$$
FYI plant babies can be EXPENSIVE. A 1.2m Fiddly Fig that looks divine on Pinterest can set you back a mean $200. Learn how to make cuttings from existing plants and you'll save big bucks. Every plant is different, but generally speaking if you make your cutting at the end of a stem, just after a node or aerial root, you'll give your plant the best chance at a new life. Place this cutting in a glass jar, swapping the water every 4 days. Wait until the roots start to germinate and BAM PLANT THAT BABY PLANT BABY.
HOLIDAY HACKS
If your flatmates can't even feed themselves, you probably don't want to leave your plant babies in their care while you're on vacay. Unlike your flatmates, most plants don't like Mi Goreng. Instead, a great idea is to use ice blocks to water your plants as the water is absorbed at a slower rate. You can also place plants in a semi filled bathtub or in buckets out on the front porch. Just be sure to not drown your plants. If you're going away for a week, two centimetres of water should do it. Remember, drinking in excess can cause severe health problems – for you and your plants.
LOVE THY NEIGHBOUR
You know your Greek neighbour with the amazing lemon tree? Chances are they know a thing or two about plants and gardening. Ask them for some tips and if you can borrow their home fertiliser recipe. Use online resources – Facebook groups, Instagram and Pinterest are all home to avid plant mum communities. If you see a friend with a healthy-looking Chain of Hearts, be bold and ask for cutting. After all, the more plants around, the better.
Author of Shared Living, Emily Hutchinson is a big advocate for plants filling up the sadder-looking areas our homes, suggesting that even the "most barren of outdoor spaces can come alive with potted plants, which look great against backdrops of exposed brick and concrete."
If you're after more handy plant parenting tips, get your green thumbs on a copy of Shared Living, Australia's hottest new book on interior design for share houses and flatmates.
Flatmates has partnered with Shared Living to bring you the next series of blogs. Author Emily Hutchinson has complied photos and stories from flatmates from around the world. Enter our competition to win your very own copy of her beautiful book, Shared Living.