It's freezin' season! If you're in the country's south, you're probably feeling the chill already, but friend, we're about to embark on the coldest part of the year. So if you just can't seem to get warm this winter, it's about to get worse! Read on.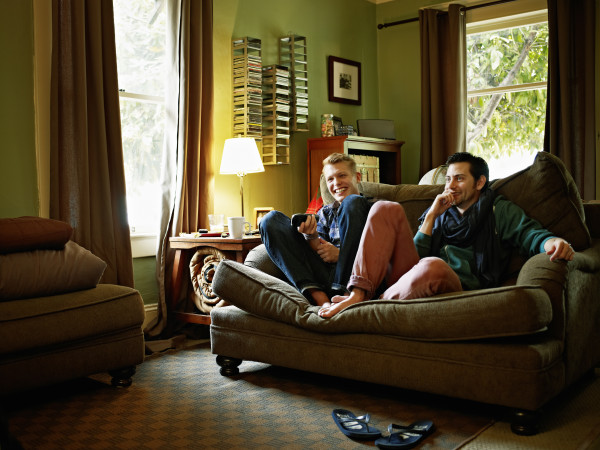 Getty Images
The way you handle cold weather might be different than your flatmates' philosophy — and that can end up costing you all a packet. If anyone at your place is working from home, differing views on heating can become a real problem. On top of all this, since you're renting, you won't be able to, say, insulate the ceiling or install your dream fireplace, so it can take a little more creativity to keep the chills at bay.
The good news is that, with a little preparation, you definitely can stay cosy all winter long. In fact, get it right and you might even enjoy the cooler months! Here are our top tips for staying warm (and we mean warm) in your share house this winter.
Heat right
What do you do when you feel a chill? Put on another jumper, or turn the heating up another 10 degrees? If your answer differs from your flatmates', it may be time for a cup of hot cocoa and a chat.
Managing heating ultimately lowers your bills — see this article on heater running costs for the full breakdown. So agreeing on a cost-effective approach to using the heating in your share house is essential. Together, consider these questions:
What kinds of heating will you use, and where? Does each person have a small heater in their room, or do you heat one area (say a living space) and that's it?
What times of day is it okay to use the heating? When will you keep it turned off?
Should everyone have a jumper on before the heater gets turned on?
If someone in the house says they need to use heating outside the guidelines you've agreed to, will they have to foot the bill?
Remember that shutting off and heating one area of the home (say, the living room) is going to be more energy-efficient — and cost-effective — than heating the whole place. If you or your flatmates are looking for space heaters for other rooms, check the running costs on each model and go for the most efficient heater you can find for that space. Finally, remember that heat rises, so a well-directed fan (or ceiling fan switched to its winter setting) can go a long way to cutting heating costs.
Dress for the season
We just mentioned jumpers and blankets, so let's spend a moment on other ways to keep yourself warm.
If you're the kind of person who really feels the cold, snap up some thermals or long johns. It might sound excessive, but if you're in a really cold place, they'll keep you warm no matter what! Thermals can be especially helpful if you're working from home, not moving around much and don't want to run the heater 24/7. On top of them, layer a couple of jumpers, and don't forget warm socks. If you have toasty slippers or house-shoes, so much the better.
Don't forget to dress your home, either. Think: throw rugs on the couch and floor rugs to warm up floor boards, tiles or concrete. Look for something plush or fluffy on Gumtree or at places like Ikea or Bunnings — they have huge selections at affordable prices. Make sure your bed is cosy with enough doonas and blankets and don't forget electric blankets or even the good old hot water bottle. Ours is still great for taking the chill off!
Seal it
If you've never weather-proofed your place, you won't believe what a difference a few door snakes and window seals will make. Trust us! Often, you won't feel a draught sneaking under the door or around a window ledge unless it's blowing a gale. But gaps let in a constant stream of cold air and that keeps you cold.
The good news is that sealing those gaps is cheap and very, very easy. It takes moments, but it can make a huge difference. And since all these measures are temporary, you don't need the landlord's approval to use them.
While you're adding a seal to that leaky window, consider the curtains as well. If you already have curtain rods or tracks, talk to your flatmates about investing in thermal curtains (or "blockout" curtains) for the season. These reduce the transmission of cold through the window glass into your living spaces, and you can easily pick up a set or two on Gumtree, your local Facebook Marketplace, or even the op shop around the corner. They might not be your dream window furnishings, but they will make a huge difference to a currently uncovered window — and your heating bill.
Power smart
Check whether your energy retailer offers power discounts in winter. For example, Powershop offers its customers "powerpacks" that let them pay less for energy they've already used — or are set to, say, over a freezing weekend.
Even if your energy retailer doesn't offer these kinds of deals, you should be able to use their usage trackers to work out when your household uses the most energy. That can help you allocate bill percentages between flatmates, identify overuse or power problems (like a power leak), and compare your plan with other retailers to see if you'd be better off with another supplier.
Eat to heat
Let's face it: none of us wants to get home in the dark after a long day (or night) at work and have to find the motivation and ingredients to make a tasty meal. The temptation to dial Ubereats is high, but it will only make your winter more expensive.
The better plan is to pre-prepare soups, stews and snacks, then freeze them ready to heat and eat on those icy mid-week evenings. It'll cut your food bill, of course, but if you spend your lazy Sunday afternoon roasting, boiling and baking, we guarantee the kitchen will heat up in the process too. And what's cosier than spending a grey day in a cheery kitchen whipping up a week of delicious feasts? Beyond this, consider eating more warm foods. That might include more dishes with chilli and spices, but it could just mean more hot meals. There's a reason why icy Scotland is the home of porridge; follow their lead, and warm up your mornings with a hot breakfast. Consider switching your daily 2 litres of tap water for heart-warming herbal tea. Then swap your lunchtime salad for a piping-hot toastie or soup, and you'll keep warm all day long.
Don't forget your friends
Help those friends who can't help themselves: your pets and houseplants. They feel the cold just as much as you do, and in a poorly insulated house, or very cold weather, they'll need a little TLC.
Furry friends first! Unless your lap or bed is the only place your pet will sleep, make sure they have a cosy bed that's out of draughts, and doesn't sit on a hard surface like tiles. It's a good idea to add a blanket or two to their bed in winter, and track down (or make!) a dog jacket if your pooch is a short-hair.
Spare a minute to think about your houseplants, too. A room that's perfect for your fiddle-leaf fig in the warmer months might be an icebox — or far too dark — in the winter. But spaces you heat in the winter can be even harder on indoor plants, since the ambient temperature can yoyo over any 24-hour period.
So, take another look at the growing requirements for each plant and reassess their locations. Find a spot for each one that will ensure they get enough light and a fairly constant temperature. If that means they go outside for a month or two, so be it. If you're keeping them inside, remember that heating will dry the soil very quickly, so make sure they're getting enough water, too.
Since many plants slow their growth in winter, this might also be a good time to repot or prune your leafy lovelies. Check their feeding requirements too, and make sure you're using the right fertiliser for each one. Do your research, and you can be sure your plants won't just survive the winter: they'll thrive!
Beat a retreat
If you find sometimes that the winter is just all too much, go where the heart is!
Whether it's your parents' place or the cosy home of a relative or friend, winter is a great time for shared meals with your loved ones. More is definitely merrier in winter, so organising a few drop-ins to to mates' places is sure to raise your spirits as well as your body temperature.