Moving to a new place can mean a fresh start, new flatmates, and a change in your lifestyle. Great! The only hurdle is the move. Ugh.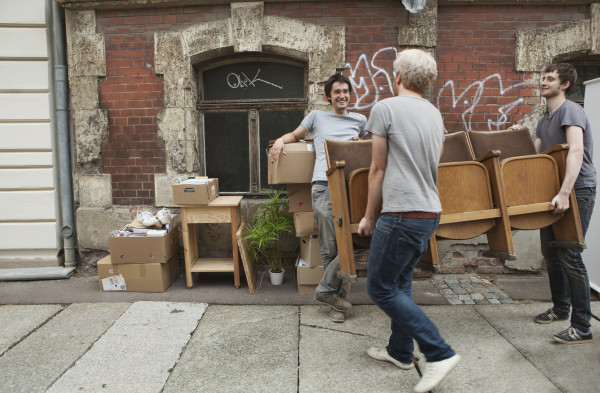 We've never met anyone who actually enjoys moving house. That said, it doesn't need to be a drama. In fact, if you're sharing or renting, it's wise to get good at packing your stuff. After all, the objective is to get everything from one house to the next not just in one piece, but without any damage at all. Pack right and it's not a problem. Keep reading to find out how.
First, we'll look at general packing tips that can help you organise and speed the process of packing your stuff — and unpacking at the other end.
Then, we'll look at specific items that can be tricky to pack, to make sure they all arrive at the new place safe and sound.
Tips for packing to move house
Your approach to packing can make the move a breeze — or a nightmare. Follow these tips to pack your stuff carefully and well, and make unpacking faster at the other end.
Get your packing supplies ready.
That includes boxes (your local Facebook community is a good source of used packing boxes, as is your nearest supermarket), decent tape and markers. You'll also need some padding, whether it's bubble wrap, old newspapers (ask at your local newsagent or cafes), or even old sheets and blankets you have at the back of a cupboard.
Go room by room.
Try to pack items from the same room into a box. Then, write the room name on the box so that when you reach the new place, you can take each box straight to the right room and unpack faster.
Pack similar items together.
Putting your nanna's crystal vase in a box with a cast iron cooking pot is a no-no. Packing the same kinds of things together cuts the risk of spoilage and breakage when you're in transit and makes it easier to find what you want when you're unpacking.
Put heavier stuff at the bottom, and lighter stuff on top.
This sounds elementary but believe us, when you've had enough of packing at 3am, this kind of logic tends to go out the window. If you have gaps between the heavy things at the bottom of a box, fill them with whatever padding you have handy, so that your stuff isn't rattling around in there.
Make sure you can lift it.
Even if you have removalists or strong mates, too-heavy boxes make the move more tiring and risky for your stuff: even if the bottoms don't fall out of the boxes, you're still more likely to drop a box that's too heavy to handle easily.
Mark each box.
When you've finished packing a box, write on it what's in it, or which room it's from, at the very least. It can also be a good idea to write "top" or "up," "Fragile" or "Do not stack" on each box.
Keep the essentials separate.
Moving day can be exhausting and things always seem to take more time than you expected. So keep a box or bag separate that has your essentials in it: snacks, toiletries, a towel, phone, charger, wallet, a few basic cleaning supplies, and maybe some band aids and paracetamol (as well as any other medication you take). That way, you'll have whatever you need on hand and you won't need to scrounge through mountains of boxes to find an energy-giving snack!
Tips for packing tricky items: Now that we've looked at the basics of packing your stuff, let's get into the finer details.
How to move a fridge
You'll need to turn off your fridge and defrost it at least 12 hrs before you move. Ice will make the fridge much heavier and if it's melting as you move, it can leak on your other things and damage them, creating a slipping hazard too. Leave its doors open a little and keep whatever essentials you need on ice in an esky.
Once the fridge is ice-free, clean and dry, tape the doors shut with strong tape and cover it with a blanket or sheet, if you're worried about it getting scratched. Now you're ready to shift it. The key here is never to lie a fridge down on its side. Your fridge wants to be upright at all times. So, get a dolly (the two-wheeled trolleys that you can hire with moving vans) and a friend and let's move.
Make sure the fridge's cooling coils, the motor or the doors aren't pressing against the dolly. Tilt the fridge toward yourself, so two of its feet are off the ground and have your friend slide the dolly under those feet. Now, gently lower the fridge so it's resting on the dolly. Don't forget to tie the fridge to the dolly! Pop your foot on the bottom rung of the dolly and holding tight, push the dolly forward and up slightly, tilting the fridge toward yourself. Now you're rolling! Get the fridge to the truck!
How to pack glasses
The best way to pack glasses is to pack them tight and with max protection.
First, screw up some newspaper and put it in a layer around the bottom and sides of your box. Then, take a glass and fill it with balled-up newspaper. Then, wrap it thoroughly in another sheet of paper. Make sure there are no gaps in the padding beneath it and that it fits snugly without bending the boxes' sides. Finish it off the box with another layer of padding on the top.
Flatmates tip: Sometimes it can be hard to find enough padding material for packing, especially when it comes to really fragile items. So, unorthodox as it may seem, consider using clean clothing made from soft fabrics to help in your padding of clean, fragile items. Balled-up clean socks make good internal padding for glasses; rolled clean t-shirts, or fleecy tops and pants can make great padding for boxes carrying those items. When you get to the other end, you'll be unpacking two things at once!
How to pack plates
Line the floor and sides of your packing box with padding (we like to use tea towels, bath towels, sheets or throw rugs for this purpose), then wrap a plate in padding material and place it flat on the padding in the box, and against a padded box wall. Continue wrapping and layering, adding extra padding in between the plates as you feel it's needed, until you're done.
Snug packing is key here to protect your plates. You might be able to pack other boxed appliances around your packed plates, or unbreakable kitchen items like baking trays, cook books, or mixing bowls. If there are any gaps, fill them with padding so there's no room for anything to move. And don't forget to check the weight of the box regularly to make sure you can lift it easily.
How to move plants
Moving house can be quite stressful for plants, especially, with all the pre-move packing action, we may neglect them a little in the weeks leading up to moving day. Small indoor plants are most easily moved in a car, but large ones may need to be moved in a truck. Take the plants out of decorative, breakable pots if you can, so that you can pack those separately and safely. When you get to the new place, get the plants out of the car or van as a priority, since leaving them in a hot space will be bad news.
Flatmates tip: We find the footwells of car passenger seats a good place to pack plants during a move. The pots can be fitted in there snugly together and this means you don't get soil or water on your car seats.
How to pack clothes when moving
Real talk: as we've already mentioned, we tend to use old, shabby clothes we wouldn't dream of wearing out of the house as packing material for fragile items in a move. But if you don't, these and other ordinary clothes can just be packed into backpacks, suitcases, or even heavy-duty plastic bags for moving day.
Items you really care about will need more careful treatment, though: definitely put these into a sturdy travel bag, suitcase or box. This is especially important for items that have structure: jackets with shoulder pads, dresses with boning or sewed-on detail and so on. Formal clothes like suits and gowns are best packed individually into garment bags and hung in the moving van or car.
If you're worried about a fabric pulling or pilling, put the item into a large, resealable plastic bag on its own first. Then squash (or use a straw to suck) all the air out before you seal it, so that it takes up as little room as possible in your suitcase. This way, it won't rub against other items, or zips or buttons, while it's in transit.
How to pack books
The bottom line with books is this: you want them to stay square in transit. That means: no damage to spines, cover corners, or pages. The other challenge with books is that they're heavy; a box full of books is going to be the last thing you want to move on the day.
Now, book shelves give us a great insight into how books are best kept: standing up, with their spines vertical. But as soon as you add another layer of books on top of this, you risk damaging the ones below.
The secret to book packing kills these two birds with a single stone: pack a single layer of books into each box, then top them with light, unbreakable items. This way, your book boxes will never break any fingers, and your books will come out in the same condition in which they went in!
Happy moving crew!