It's the age old gripe of wanting to renovate but living in a rental. Contrary to popular belief, it is possible to be a Reno Queen and to keep your landlord happy. Follow these steps and you'll even get your bond back.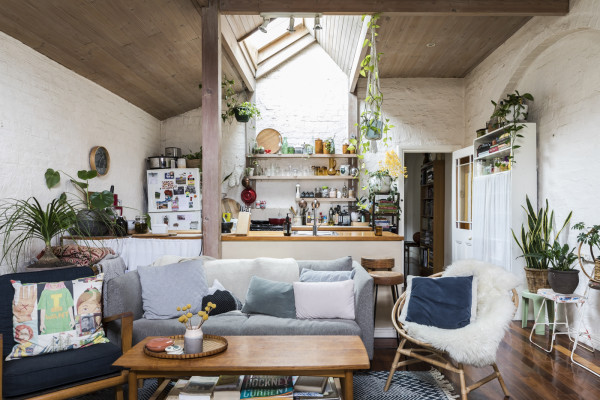 Image: Pablo Veiga
There's no denying that 2020 has been depressing af. Your share house has probably seen some decent wear and tear this year, whilst fulfilling its role of home, workplace, gym, craft space, restaurant and chill zone (or not so chill zone). Your space is probably in need of a serious splash of TLC. Lucky for you, we've compiled some hot tips on how you can successfully renovate your share house, give it the love that it needs and still get your bond back.
The below is an excerpt from Shared Living, a new book by author Emily Hutchinson on interior design for share houses and flatmates.
"Many people sharing a house feel stumped when it comes to decorating their digs. For some, it's their first chance to unleash their inner stylist and it's hard to know where to start. Even for those with a natural talent for decorating, piecing together decor can be tricky. It involves merging styles, knowing the rules of rentals and artfully filling those frustrating blank spaces.
That doesn't mean you can't put in the effort to decorate your rental and make it feel like home. In fact, most landlords encourage it. From a landlord's point of view, they want a tenant who's going to look after their asset, someone who'll treat it as their home and not just a transient space. By working with your landlord, you not only foster a good relationship, but also improve their property and your lifestyle – it's a win-win situation.
But this doesn't mean you can do whatever you want. You may come and go from a rental, but the landlord is the one stuck with your design decisions when you leave. It can differ in every country and state, but there are some general rules of thumb for knowing what you can and cannot do when decorating a rented property.
Changing fixtures
Take down ugly blinds or outdated light fittings and replace them with curtains and pendant lights of your choice. It'll make a world of difference to your home's style while you live there, and you can take them with you when you leave. Make sure not to throw the old fixtures away. Instead, keep them in a safe place and reinstall them when you move out.
Caring for the garden
If you have a garden, count yourself lucky and not only look after it, but improve it. Many landlords make maintaining the garden part of the signed lease agreement, but planting flowers or growing produce for your dinner will not only look impressive, but will make your rental feel more homely.
Drilling holes
Don't make holes in the wall without checking with the landlord, especially since it can easily go wrong. Regardless of the type of wall – brick, plaster or wood – drilling a hole into it isn't always the best design decision. If your landlord isn't happy about you drilling through the walls, there are alternatives, such as adhesive hooks and picture-hanging systems (using the cornice between the ceiling and the wall). You'll often find picture railings in older homes.
Painting walls
Sometimes a paint job can add value to the property, so always run this decorating option past your landlord. They'll want to know about your plans, especially if it's a colour other than white. An alternative to painting could be wallpaper or temporary wall decals. It's possible to have a lot of fun with these."
Author Emily Hutchinson has complied photos and stories from flatmates from all around the world. Like what you see? Drool through Shared Living's lush insta feed and get your hands on a copy to make your rental reno dreams come true.