Most affordable Sydney suburbs to rent a room within 10km
on 17 May 2017 by Aaron
Newly released data from SGS Economics and Planning (Rental Affordability Index), has confirmed Sydney's rental market is well and truly cooked with affordability in the harbour city at a record low.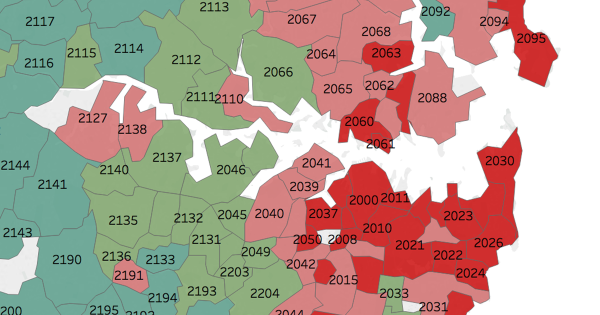 Average private room rents in Sydney, 2017
In case you missed it, the report showed that rents in suburbs within 10km of the Sydney CBD were Severely Unaffordable for the median renter, which meant that 38-60% of the household income was being spent on housing in 2016.
The data also showed the average household in Greater Sydney was on the cusp of rental stress—something which kicks in when 30% or more of the household income goes towards housing.
And sharers aren't immune to this bad news as rises in property rentals have a direct correlation with private room prices—but then again you probably didn't need fancy data to tell you something your bank balance screams weekly.
Data from Flatmates.com.au showed average private room rentals across Sydney were fast approaching $400 per week in many suburbs, with the likes of Tamarama, Elizabeth Bay, Darling Point already well above that mark.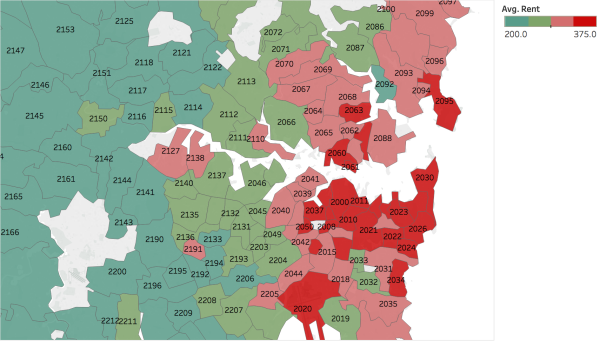 Average room rents by postcode based on listings created in 2017
So to help your diminishing bank account and soaring stress levels, Flatmates.com.au have crunched the numbers to show you can still find a somewhat affordable rental in Sydney, albeit a private room— which could almost be considered luxury in the harbour city, tbh.
Within 10km of the city centre only 14 suburbs had private room rents under $275 per week, however, that number could doubled for those able to bump their weekly budget to $300.
| Suburb | Postcode | Average Weekly Room Rent |
| --- | --- | --- |
| Hurlstone Park | 2193 | $219 |
| Seaforth | 2092 | $235 |
| Summer Hill | 2130 | $245 |
| Croydon | 2132 | $247 |
| Hillsdale | 2036 | $256 |
| Dulwich Hil | l 2203 | $257 |
| Five Dock | 2046 | $261 |
| Petersham | 2049 | $265 |
| Lane Cove | 2066 | $269 |
| Russell Lea | 2046 | $270 |
| Haberfield | 2045 | $271 |
| Tempe | 2044 | $272 |
| Marrickville | 2204 | $273 |
| Ashfield | 2131 | $273 |
| Sydenham | 2044 | $277 |
| Botany | 2019 | $283 |
| Gladesville | 2111 | $284 |
| Kingsford | 2032 | $284 |
| Kensington | 2033 | $285 |
| Lane Cove North | 2066 | $286 |
| Drummoyne | 2047 | $286 |
| Balmain East | 2041 | $287 |
| Chiswick | 2046 | $288 |
| Artarmon | 2064 | $291 |
| Leichhardt | 2040 | $293 |
| Lilyfield | 2040 | $296 |
| Greenwich | 2065 | $297 |
| Lewisham | 2049 | $299 |
Average private room rent data based on all listings created in 2017, where that suburb had at least 10 listings