What will it cost to rent a room close to my university?
by Flatmates Team
It's a question that hundreds of thousands of Australian students ask themselves every year as they weigh up their accommodation options before the 12 months of study ahead.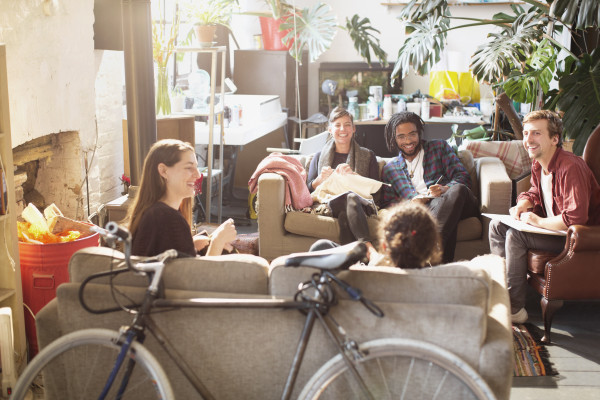 Living within close proximity of your campus is the holy grail for many students. A short walk or bike ride to your classes allows more time for study (or afternoons at the pub) and easy access to the rest of the university's facilities and lifestyle.
But just how much are you prepared to pay for the privilege? Data provided by Flatmates.com.au shows what renters can expect to pay for a private room in a share house within 3km of Australia's major universities in our main cities.
Sydney
| | |
| --- | --- |
| Most expensive: | University of Newcastle, Sydney ($364) |
| Least expensive: | Western Sydney University, Bankstown ($232) |
A campus in the CBD makes the University of Newcastle's Sydney Campus the most expensive in the country to rent near. For a private room in a share house you'll pay an average of $364 per week, with upmarket suburbs like Darlinghurst and Woolloomoolo attracting premium rental prices.
The nearby University of Technology in Ultimo isn't far behind, costing an average of $359 per week for a room, while living close to the University of Sydney will set you back an average of $348 each week.
At the other end of the spectrum, the $232 per week you'll pay to live near Western Sydney University makes it the cheapest major university for private rentals in Sydney.
Melbourne
| | |
| --- | --- |
| Most expensive: | University of Melbourne – Victorian College of the Arts, Southbank ($314) |
| Least expensive: | La Trobe University/RMIT, Bundoora ($179) |
The musically and artistically inclined need deep pockets if they want to live near the Victorian College of the Arts in Southbank, which is a part of the University of Melbourne. Living so close to Melbourne's CBD and the Arts Precinct means even apartments are pricey, with the average room within 3km of the campus costing $314 per week.
Fitzroy's Australian Catholic University Campus also flows over the $300 mark at an average of $305 per week, while living near Swinburne's Hawthorn Campus currently costs students $254 a week.
Trekking out to Bundoora, in the city's north-east, to attend La Trobe Uni or RMIT's campus makes for a much cheaper living experience, costing less than $180 a week.
Brisbane/Gold Coast
| | |
| --- | --- |
| Most expensive: | Central Queensland University, Brisbane ($231) |
| Least expensive: | Griffith University, Nathan ($172) |
As they start their house hunt, Queensland students can take confidence from the fact that they'll be paying pretty much the same weekly rent no matter which major university they choose to attend or reside near in Brisbane or the Gold Coast. Only $7 separates the average weekly rent within 3km of Brisbane City's Central Queensland University or the Gold Coast's Bond University ($224).
If you're in need of a little inner-city escape, renting within 3km of Griffith's Mount Gravatt and Nathan Campuses will have you not only paying cheaper rent ($176-$172), but you'll be within close access to the walking trails and bush lands of Toohey Forest.
Adelaide
| | |
| --- | --- |
| Most expensive: | University of Adelaide, North Terrace ($205) |
| Least expensive: | Flinders University, Bedford Park ($168) |
A prime CBD position alongside the Botanic Gardens makes the suburbs surrounding the University of Adelaide among the city's most sought after, with rooms in share houses priced accordingly. Students can expect to pay an average of $205 a week for a private room nearby, but there's a sharp drop-off in accommodation prices for other institutions, with the University of South Australia's Mawson Lakes Campus in the top three most expensive at just $169 per week.
Living close to Flinders Uni at Bedford Park comes in at an affordable $168 a week.
Perth
| | |
| --- | --- |
| Most expensive: | University of Western Australia, Crawley ($219) |
| Least expensive: | Murdoch University, Murdoch ($154) |
With affluent suburbs like Nedlands and Dalkeith close by, the University of Western Australia has the state's most expensive rooms for rent near a university. $219 is the average you'll pay for your own room in a share house, just ahead of the living costs of $215 to be close to Fremantle's University of Notre Dame.
If you can't quite afford the prime beach front prices, renting within 3km of Murdoch University will set you back $154 a week. You're a double winner here – cheaper rent and still only a 10 minute drive to the beach at Fremantle.
Canberra
| | |
| --- | --- |
| Most expensive: | Charles Sturt University, Barton ($292) |
| Least expensive: | University of Canberra ($219) |
Canberra's rental market is renowned for being among the most expensive in Australia, and the same rings true for share houses close to its major universities.
Positioned right at the heart of the city, Charles Sturt University Barton Campus has rooms averaging $292 per week, while even the cheapest – the suburbs surrounding the University of Canberra at Bruce – average $219 per week.
Living close to the Australian Defence Force Academy near Campbell is the second-most expensive area for rooms close to universities, costing around $266 per week.
Hobart
Options are limited for universities in Australia's most southern state, with the University of Tasmania the only major institution. A location in the state's second most expensive suburb, Sandy Bay, means rent will never be cheap, but at an average of $209 for a private room, it's still far more affordable than what you'll find in other capital cities.
Darwin
Like Tasmania, the Northern Territory has only one real option when it comes to university study: Charles Darwin University. Located on the coast, the Casuarina campus is close to in-demand suburbs like Nightcliff, pushing the average room price within a 3km radius to $203 per week.
O-Week kicks off this week. How close to uni do you live?