10 Melbourne suburbs you should live in if pizza is everything
on 20 December 2016 by Aaron
Versatile, cheap, and above all else, delicious— pizza is without question the most perfect food.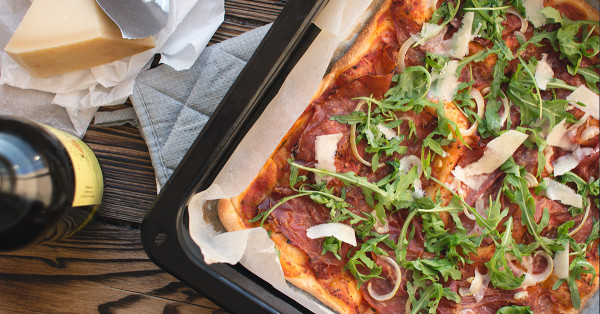 Photo: Jakub Kapusnak
It's also great to share with your flatmates over drinks, a movie, or while recovering from a big weekend. No other food brings people together like pizza does.
If you live in a suburb with few decent pizza delivery choices, however, it's likely there's a sizeable (perhaps large pizza sized) void in your life. Because let's face it, leaving the house to get good food in 2016 is so 2015.
So to help ensure you're living at the centre of cheesy delights we've asked our mates at MenuLog identify the suburbs with the most highly rated pizza places available for delivery.
1. Preston
| | |
| --- | --- |
| Choice slice: | Rama's Place |
| Average room rent per week: | $188 |
| Distance from the CBD: | 9km |
2. St Kilda
| | |
| --- | --- |
| Choice slice: | Barzar Lounge |
| Average room rent per week: | $256 |
| Distance from the CBD: | 6km |
3. Reservoir
| | |
| --- | --- |
| Choice slice: | Manara Pizza House |
| Average room rent per week: | $169 |
| Distance from the CBD: | 12km |
4. Moonee Ponds
| | |
| --- | --- |
| Choice slice: | San Lorenzo |
| Average room rent per week: | $195 |
| Distance from the CBD: | 7km |
5. Richmond
| | |
| --- | --- |
| Choice slice: | 45 Degrees |
| Average room rent per week: | $256 |
| Distance from the CBD: | 3km |
6. Melbourne CBD
| | |
| --- | --- |
| Choice slice: | Eat Pizza |
| Average room rent per week: | $280 |
| Distance from the CBD: | 0km |
7. Newport
| | |
| --- | --- |
| Choice slice: | Dough! |
| Average room rent per week: | $ 187 |
| Distance from the CBD: | 7km |
8. Camberwell
| | |
| --- | --- |
| Choice slice: | Mimi's Pizza |
| Average room rent per week: | $199 |
| Distance from the CBD: | 10km |
9. Coburg North
10. Yarraville
| | |
| --- | --- |
| Choice slice: | The Mad Moose |
| Average room rent per week: | $196 |
| Distance from the CBD: | 8km |