With the end of lockdowns in sight for many across the country and summer on the horizon, more than a few of us are considering a return to socialising — and dining out! — in the coming months. We've pulled together a list of the top foodie suburbs in each capital. Hopefully these gourmet haunts will help you work out where to head for your next move.
SolStock
Sydney
Newtown
Eclectic Newtown brings together the perfect mix of cafes, bars, restaurants and food stores to keep your tastebuds thoroughly entertained! There's a surfeit of dependable dining spots, from Lentil as Anything to Thai Pothong, plus plenty of Australian cuisine at the likes of wildly popular Bloodwood, and cosy Brewtown. Finish the meal with something sweet from Hakiki Turkish Ice Cream and Baklava, and you'll be very glad you made Newtown home.
Average Room Price: $283
Check out listings in Newtown
Chippendale
The vibrant community in Chippendale sports some really great fine dining, for example, at the much-loved Kensington Street Social and Automata, whose degustation menu is renowned. You'll want to try the Italian feasts at Kindred, and the delicious meats at East Side Bar and Grill, and on those sunny Saturdays when you just want to take it down a notch, you can always grab some picnic things and head to the Chippendale Green.
Average Room price: $276
Check out our listings in Chippendale
Melbourne
Prahran and Windsor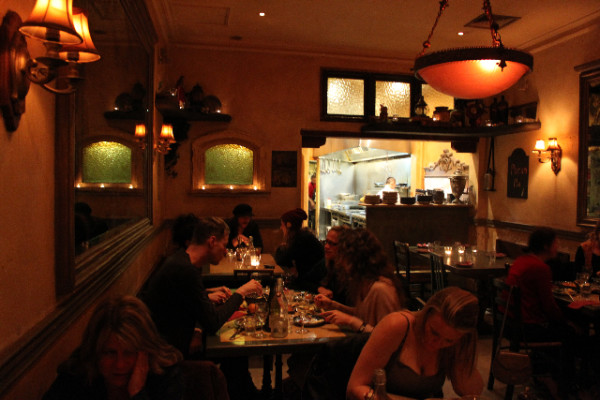 Borsch, Vodka and Tears - Julia Atkinson The concentration of restaurants, cafés and bars within a one-kilometre square radius of the slightly grungier end of Chapel Street is mind-boggling. Here a Saturday morning is not complete without ordering smashed avocado on toast at any of the countless cafés that line the main and side streets. For dinner, there's David's for a Shanghai banquet; Borsch, Vodka and Tears for a delicious Polish feast; or Boston Sub for an American-style sandwich. Alternatively, pick up the ingredients for an at-home feast from the Prahran Market.
Average Room Price: $260 (Prahran), $256 (Windsor)
Check our listings in Prahran and Windsor
Brunswick
Just north of the city, boho Brunswick is an established enclave of great dining and chic cafes. From coffee-culture staples like Code Black and The Green Refectory, to old skool pubs (check out the super-trendy Cornish Arms), to multicultural hits like Ghurkas and the Brunswick Mess Hall, there's no end to the deliciousness in this area.
Average Room Price:$229
Check out listings in Brunswick
Adelaide
Brompton
Brompton is a quiet spot with a lot of great kitchens turning out delicacies 7 days a week. For coffee and brekkie, you can't go past the super-cool Seven Grounds, but there are plenty of comfort-food options on offer at the likes of Couch Potato and Nordburger. Or, extend your palate at New Local Eatery and Jarmer's Kitchen. The best part? Brompton's close to other foodie hotspots like the Prospect Road strip, so you'll never go hungry living here.
Average Room Price: $196
Check out listings in Brompton
North Adelaide
Okay, it's right next door to Brompton, but North Adelaide has an up-and-coming dining scene which, along with its proximity to the city and other facilities, makes this a great place for a foodie to put down roots. Locals love The Flying Fig for a late Sunday breakfast with the suburb's best coffee, but from that point on, everything's on the table, from North African fare at Marrakech to Indian tapas at the Drunken Monkey. If you're looking to thrill the tastebuds, North Adelaide has you covered.
Average Room Price: $195
Check out listings in North Adelaide
Brisbane
Fortitude Valley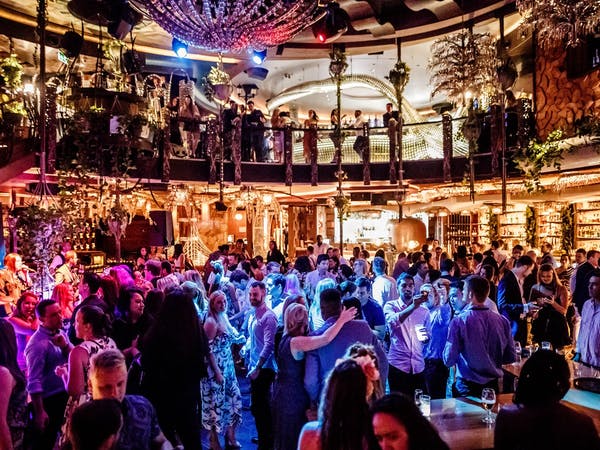 Soul'Sa - Queensland.com
The home to Brisbane's Chinatown has to be a top tick for any foodie worth their, er, salt. With a plethora of hip bars (we recommend a trip to the retro Netherworld), and restaurants ranging from the homely Happy Boy to the lavish Cloudland, there's somewhere to tempt your tastebuds on almost every block in the suburb. You'll need to watch your waistline in Fortitude Valley!
Average Room Price: $245
Check out listings in Fortitude Valley
West End
Brisbane's hottest cafe scene is thriving in artsy West End, part of a robust foodie culture that takes in both irresistible restaurants — from the comfy You Came Again to the elegant Mr Hong — and the freshest of fresh food markets that run every weekend. (For week-night cooking at home, try the bustling Harris Farms Markets.) If you're the kind of gourmet who likes to eat out, and then replicate high-end meals at home, West End is definitely the place to be.
Average Room Price: $219 Check out listings in West End
Darwin
Parap
Multicultural Parap is definitely a haven for those adventurous souls who love nothing more than to sample foods from other places. Think: Korean, Japanese, Indian, Mexican… you'll have a different cuisine every night of the week if you wish! Complementing this smorgasbord of dining options are some of the city's best coffee houses, along with the Para Village Markets, making Parap a smart choice for those who truly love good food.
Average Room Price: $254 Check out listings in Parap
Nightcliffe
Nightcliffe boasts some amazing views from beachside dining spots like The Foreshore Restaurant and Bar and Needle in a Haystack, but there are some other great options dotted around the suburb — and in next-door Rapid Creek too. Nightcliffe also offers amazing Sunday markets where you'll be able to pick up all manner of gourmet treats, so if you're after a chilled vibe with a lot of great dining nearby, this is the place.
Average Room Price: $233
Check out listings in Nightcliffe
Perth
East Victoria Park
The Albany Road shopping strip offers so many great places to chow down that we can guarantee you won't know where to start. Name your poison: Thai, Lebanese, Texan, Italian… You name it, it's all here, along with the nearby Swansea Street Market and the all-day Sunday Farmer's Market for the gourmet home chef's fresh food fix. Hip cafes like Brown Spoon and the Imp round out a fabulous local menu. Bon Appetit!
Average Room Price: $177 Check out listings in East Victoria Park
Nedlands
Riverside Nedlands has a growing dining scene already served by both upscale eateries (try Marumo Japanese for your next fancy night out) and cute cafes alike (hat-tip to the delicious Nedlands Cafe! We see you!). The countless places to grab a bite are, thankfully, scattered across the suburb, so there's bound to be something tasty right near your new digs. Sweet!
Average Room Price:$200 Check out listings in Nedlands
Hobart
North Hobart

Pancho Villa Known for its nightlife, North Hobart offers a swag of great places to grab a meal, a sumptuous snack, or an early-morning coffee — including a cat cafe! If you lived here, you could work your way down Elizabeth Street, restaurant after restaurant, and struggle to eat the same thing twice. Global cuisine is the go, and there are plenty of delightful bars to whet the appetite, too (we can recommend the wine list at Lizzie and Lefroy, or a few cocktails from Pancho Villa).
Average Room Price:$210 Check out listings in North Hobart
Battery Point
At Battery Point you get the best of both worlds: intimate dining with style in the neighbourhood, and the city's full range of eateries right next door, perfect for the times when you're willing to stroll that bit further. Locals love the variety — and quality — or Battery Point dining spots, and then of course there's the weekly Salamanca Markets to keep your fridge stocked, and your tummy just as full. Delish!
Average Room Price: $226 Check out listings in Battery Point
Canberra
Kingston
Kingston doesn't mess around with its restaurant scene. Get dressed up, friends, because the options in this 'hood are here to impress. Locals swear by the delicious offerings of Otis, and Saffron's a firm fave for bringing a little Mediterranean sun into the mix. There are a handful of places to try along the waterfront, but the rest are clustered around the corner of Kennedy and Giles. Convenient, huh?
Average Room Price: $256 Check out listings in Kingston
Dickson
This listing could equally be for Lyneham or Downer, but most of the restaurants in this area are technically inside Dickson's boundaries. Japanese, Chinese, Vegetarian, and Soul food are just some of the options here, and the cafe scene is equally strong — the coffee and cosy family-style brekky at Sfoglia is the stuff of legend. The Canberra Wine House also calls Dickson home, profferring cocktails alongside local wines, so there really is something for every taste here.
Average Room Price: $233 Check out listings in Dickson