Holidays are here, and with time comes cosy nights at home chilling with your flatmates. What better way to spend a quiet evening than by popping some corn, clearing off the couch and snuggling in for a cheesy (or charming!) Christmas movie together?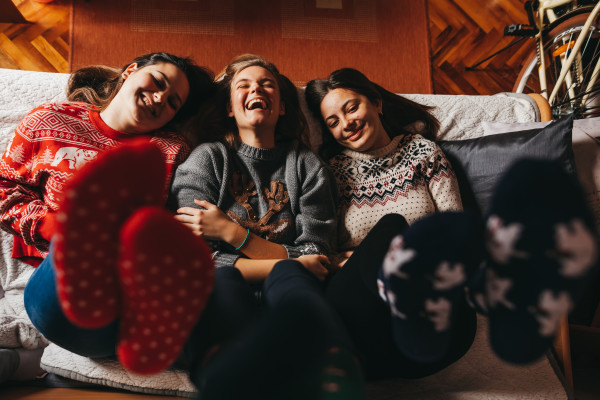 Getty Images
To help you decide what to watch, we've compiled the ultimate list: here are 10 Christmas classics we all know and love, and 10 newer films you won't want to miss. Happy viewing!
The Classics
Die Hard (1988)
Yipee-ky-yay, mother… well, you recall the line. This classic action flick needs no introduction, just like its star, Bruce Willis, and his soon-to-be arch nemesis, Hans Gruber (played by Alan Rickman). For a thrill a minute — and plenty of giggles — you can't go past Die Hard.
Stream it on: Disney+
Rent it from: Apple TV, Prime Video, Google Play, Telstra Box Office
National Lampoon's Christmas Vacation (1989)
Ah, the hapless Griswolds are at it again, this time on a festive vacation that, as with all their adventures, goes horribly, and humorously, wrong. It's cheesy, it's chuckle-worthy, and it's Christmasy: what more could you want?
Rent it from: Apple TV, Prime Video, Telstra Box Office
How the Grinch Stole Christmas (2000)
Jim Carrey's Grinch is determined to steal Christmas from the township that excluded him — until a brave Taylor Momsen tries to reignite his Christmas cheer. This popular family film is definitely a popcorn-worthy watch!

Stream it on: Netflix, Stan
The Nightmare Before Christmas (1993)
This Tim Burton animated classic stars Danny Elfman in a ghoulish, psychedelic musical filled with hope, humour, and romance. Now a much-loved favourite, this is a great film to gather round the TV to watch on Christmas eve!
Stream it on: Disney+
Rent it from: Apple TV, Prime Video, Google Play, Telstra Box Office
Home Alone (1990)
Continuing the 90's era Christmas specials is the hilarious tale of 8-year-old Kevin, who is left behind when his massive family go away for the holidays. Follow it up with Home Alone 2: Lost in New York for a Macaulay Culkin marathon!

Stream it on: Disney+
Rent it from: Apple TV, Prime Video, Telstra Box Office
Elf (2003)
Will Farrell plays a human raised by Santa's elves who travels to New York to meet his biological father at Christmas, with highly entertaining results!
While this is said to be one of Farrell's best performances, the film remains a family favourite for countless reasons, including a very solid plot (not always common in festive seasons films).
Steam it on: Netflix, Stan, Paramount+
Rent it on: Prime Video, Telstra Box Office
The Snowman (1982)
In just half an hour, this beautifully created animated TV short will make you cry and warm your heart! With an intro by the inimitable David Bowie, this film will make a nice preamble to a main attraction on your Christmas Movies watchlist.
Stream it on: Youtube
The Santa Claus (1994)
Tim Allen causes Santa to fall off his roof on Christmas eve, and finds himself in the big red shoes delivering presents himself. This predictably heartwarming and hilarious comedy spawned two sequels, so there's another marathon in the making here!
Stream it on: Disney+
Rent it from: Apple TV, Prime Video, Google Play, Telstra Box Office
The Muppet Christmas Carol (1992)
Dickens's Scrooge comes to life in a whole new way thanks to the Muppets and none other than Sir Michael Caine.
Expect the unexpected — it's the Muppets, after all — and you're sure to love this rollicking retelling of a generations-old tale.
Stream it on: Disney+
Rent it from: Prime Video, Google Play
The Polar Express (2004)
This animated musical-adventure-comedy stars Tom Hanks, and tells the story of a young boy who joins other kids on a magical train to the North Pole to visit Santa on Christmas eve. It's a story of courage, friendship and the true spirit of Christmas!
Stream it on: Foxtel, Binge, Netflix
Rent it from: Apple TV, Prime Video, Telstra Box Office
Newer releases
Mariah Carey's Magical Christmas Special (2020)
ICYMI last year, the queen of Christmas released a G-rated daily special for TV, and you should watch it.
Featuring the likes of Ariana Grande, Jennifer Hudson, Snoop Dogg and Tiffany Haddish, the plot sees Carey save Christmas — and warm your heart!
Rent it from: Apple TV
The Christmas Chronicles (2018)
When two children sneak into Santa's sleigh on Christmas eve, they're in for the ride of their lives! The sleigh crashes and the kids get to help Santa (Kurt Russell) deliver all the presents. The 2020 sequel co-stars Russell's wife Goldie Hawn for even more laughs.
Stream it on: Netflix
The War with Grandpa (2020)
When Robert De Niro, as grandpa, comes to live with Peter, forcing him to move his room to the attic, the boy wages all-out war. With Uma Thurman, Rob Riggle, and others along for the ride, this slapstick comedy is sure to have your household in stitches.
Stream it on: Prime Video, Binge
The Man Who Invented Christmas (2017)
This film tells the story of Charles Dickens who, in 1843, broke and needing a new best-seller, writes the timeless classic A Christmas Carol. With Christopher Plummer as Scrooge and Dan Stevens as Dickens, this is a truly captivating comedy-drama.
Rent it on: iTunes, Amazon
The Princess Switch (2018)
In this romantic comedy, an unattached baker swaps lives with a prince's fiancee for two days during a baking competition, in which time each woman falls in love with the other's partner and/or business partner.
If you're hungry for more royal humour, follow up with The Princess Switch: Switched Again, and The Princess Switch 3.
Stream it on: Netflix
Jingle Jangle: A Christmas Journey (2020)
In this John-Legend-produced musical, an eccentric toymaker needs a miracle, and his adventurous granddaughter is only too happy to help! This is a great feelgood flick with a heart of gold, so get cosy on the couch and press Play.

Stream it on: Netflix
Klaus (2019)
When failing postman-in-training Jesper is sent to a faraway village to practice letter-sending, he stumbles upon the home of woodsman and toymaker Klaus. They bring the town together, and deliver a Christmas miracle to all the villagers. Is your heart melting yet?
Stream it on: Netflix
Dolly Parton's Christmas on the Square (2020)
The American National Treasure stars in this musical gala which is the partner to her Holly Dolly Christmas album of the same year.
Expect fanfare, amazing hair, and that inimitable Dolly charm, as well as songs galore.
Stream it on: Netflix
Father Christmas is Back (2021)
Elizabeth Hurley, Kelsey Grammer and John Cleese star in this laugh-a-minute comedy in which four feuding sisters are brought together by the arrival of their long-lost father at the family manor. If you're used to festive seasons set to a soundtrack of bickering family members, you'll relate!
Stream it on: Netflix
8-Bit (2021)
Neil Patrick Harris leads a charismatic cast as he tells the story of his 1987 Christmas quest to get the newest video game available: a Nintendo! Nintendo-fever had gripped the nation, and young John Doyle and his friends make the game their Christmas mission, amid 80's clothes, retro music, and a highly entertaining script.
Stream it on: HBO Max