 $200
Shannon
7.18 km from Koo Wee Rup
I'm quiet. I keep to myself. I love cleaning. I just need somewhere safe to stay that I can call home. I will always pay on time and I will never disrespect anyone's home
$200
Kahlee
7.18 km from Koo Wee Rup
I'm 22, I have my own car and drivers licence, I work permanent part-time as a CSR at BP. I am a very clean and organised person, I wish to live with people I can socialise with on the couch over dinner and a wine or two, though aren't offended if I just want to relax in my room after a big day. Not fussed on male or female housemates. I have a 5 year old cat named Lilo I would have to bring with me, mostly an outdoor cat- only comes inside to eat or sleep. I am extremely easy going, optimistic, loves a laugh and open minded. If you would like more information feel free to send me a message or give me a call :')
$175
Dean
8.09 km from Koo Wee Rup
I'm clean and tidy. May have a little OCD haha. I like to help around the house and work as a team. I'm quiet, and respectful of others and there belongings. I like to have a laugh and get involved into activities if invited. I'm cruisy and just absolute ball, people love my company and my jokes. I am an ex Navy marine, so my manners and respect are highly appreciated. I always pay my rent, bills on time Everytime without fail, I'm an honest person and respect people's houses. I like to cook, and cook for everyone. I'm Dean and this is me :) Any questions just ask :)
$250
Clinton
8.09 km from Koo Wee Rup
single, no pets, very quiet and adjustable person, who is very clean, neat and tidy. respect people and friendly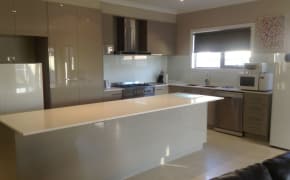 $140-225
13.3 km from Koo Wee Rup
Furnished room in a share house
Your own, private furnished room. All utility bills included! Queen-sized bed, desk, WiFi internet - great value! We are the owners so the house is quiet, safe and always clean! :) Happy to help out overseas tourists/travellers/students looking for a place to stay. This is not a party house. Strictly non-smoking, non-drugs, and basically for quiet, happy and peaceful people only. We also don't drink but if you drink in moderation that's fine. Also, sorry, no pets. We have 2 Rottweilers so you must like dogs. One more thing - we like to keep the place free of strong smells so if cooking curries, etc. you'll need to keep windows opened while cooking, and if using spray perfumes, etc. pls spray outside when going out.) The house itself is high quality - stone benchtops, 9ft ceilings, central heating and central air, alfresco, dishwasher, clothes dryer, top quality European washing machine and room has very large double mirrored wardrobe. I also have a small weight bench, pull-up bar, small punching bag, dip station and some weights in the garage if you want to have a workout. Park frontage and walking/biking path right out front door! Bus 1 block away takes you to either Cardinia Rd Station or to Pakenham Station. We are approx 50 minutes+ drive to South Melbourne depending on traffic, during non-peak hours. (Could be double during peak hours so plan accordingly!) Train to the city takes about an hour depending where you want to go. We enjoy learning about others and their cultures. We try our best to make everyone feel welcome, at home and enjoy your privacy. Also very happy to help out with your English if needed at no cost of course! :) About us - (since it's not just about the house - also the people in it!) :) My wife and I are both from overseas. (I am American and my wife is from the Philippines.) We are a professional couple, (I'm a school teacher and my wife and I also have a business.) Some of our interests are property investing, real estate, self-development and helping others out. If this sounds like what you are looking for then please contact us to stay in our happy home. Thanks :) Scott and Cheryl (*TIP for new flatmate users - please include either an email or phone number with your message so we can contact you back since new users are often unable to be contacted straightaway until you are registered.) DIRECTIONS/PUBLIC TRANSPORT INFO: NEAREST BUS STOP - Bus stop is right around the corner - (about a block away) & takes you to Cardinia Station/shops or alternatively to the Pakenham Station/shops. Buses come about once an hour and are meant to be in synch with train schedule but I've never tested so can't verify. :) NEAREST TRAIN STATION: Cardinia Rd Station is about 2k away, with the bus taking you there each hour. Or you can ride our bikes or even walk if you are keen. Or if we are not busy we would be happy to drop you off. Trains depart to the city approx about every 20 minutes or so during week days. (Tip - if intending to take the train and the bus is there, you might as well take the bus to the station since it is included free in your train fare. In other words, it will cost you exactly the same to the city whether you walk or ride the bike to the train station as it would to take the bus to the train station. The bus isn't free on its own but is basically included in the train fare with the MyKey system. Also, you can take any combination of multiple bus/train/tram rides within the same 2 hour period as much as you like - same fare.) MyKey CARD & COST TO/FROM CITY: Melbourne has this system called the MyKey card. You purchase a MyKey card and tap the card when boarding AND when debarking on any train, bus or tram. Melbourne has two zones - (Zone 1 & Zone 2. We are in Zone 2, Melbourne is Zone 1.) If you only want to travel only within Zone 2 on bus or train - i.e. if you want to go to Berwick, a one way trip from Zone 2 to Zone 2 is $2.48 for 2 hours. Entire day would be another $2.48. Weekends are the same price I believe. You can travel as many times on busses, trains and trams within that same 2 hours. If you want to go to the city from our house by train, it would cost $6.06 for a one way trip. After 2 hours you will be charged another $6.06. (The maximum you will ever be charged in any one day is $12.12 in Zone 1 & 2 so in theory you could ride on any train, bus or tram all day long as much as you want for $12.12 anywhere in Melbourne or outer suburbs.) Monthly passes work out to be cheaper if you travel every day. PUBLIC TRANSPORT FROM AIRPORT TO CITY: First you need to get from the airport to Melbourne. The cheapest way (without driving) to get from the airport to the city is the Skybus - this takes you to Southern Cross Railway Station. It costs around $18 one way and runs 24 hours/day. You might need to book - never tried it myself. DIRECTIONS FROM SOUTHERN CROSS STATION (Melbourne) TO CARDINIA RAILWAY STATION: At Southern Cross, hop on the 'Pakenham line' train and debark at Cardinia Rd Station. (Train ride from Melb Central Station to Cardinia Rd Station takes 1 hr 8 min.) DIRECTIONS FROM CARDINIA STATION TO HOUSE: After getting off train from city, walk under train line towards Woolworths and hop on Bus 928. Get off at Henry Rd. Walk to Edenbrook Circuit (about 2 blocks.) MONASH STUDENTS - did you know there is a free Monash shuttle that goes from Monash Berwick to Monash Clayton - and Monash Clayton to Monash Caulfield? It's free for Monash students & has WiFi on board. Just need to get to Berwick - (take bus 928 to Cardinia Rd Station then train to Berwick Station (3 stops.) One way cost would be $2.48. Alternatively, I drive by Berwick every day and can drop you off very near campus on my way to work & pick you up after if needed. GENERAL: It takes about 10-15 minutes to drive to Berwick/Fountain Gate. Driving to South Melbourne in non-peak takes about 50 min+ (though sometimes double or more in peak traffic/rush hour so plan accordingly!) Driving to Monash Caulfield takes about 40 min or more depending on traffic. DRIVING FROM CITY to PAKENHAM: Usually takes 50 min in non-peak traffic. (Double in peak sometimes!) M1 towards Warragul. Get off at Cardinia Rd. Turn Right at Henry Rd. After about 1 1/2k look for Edenbrook Circuit. Edenbrook Circuit has 2 entrances off Henry Rd. Take the SECOND Edenbrook Circuit. Call for house number. $300 inc
13.5 km from Koo Wee Rup
Unfurnished room in a share house
House is 10 minutes walk to train station, bus stop is just across the road and only 5 minutes walk to shops and gym. The house has air conditioning and outdoor entertaining area, rooms are good size, large living area. Close to primary and secondary schools. Veggie gardens and large backyard.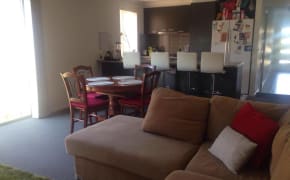 $87
13.5 km from Koo Wee Rup
Unfurnished room in a share house
This property is 5 minutes drive from Cardinia station and pakenham main street, so getting around is easy! And easy access too the free way, this house is great for people who study! The street its self is quiet, never had any issue with crime or neighbours being loud at all either
$200
Maynard
13.8 km from Koo Wee Rup
Hi, I work unloading shipping containers of wine in the Dandenong area an average of 25-30 hours a week. I'm a huge music fan so most of my spare time is spent listening to music and practicing guitar. I use headphones and computer software to so you won't have to hear me practice. I'm also into comedy whether it be cartoons like South Park, Rick and Morty, or stand ups like George Carlin, Russel Peters or Bill Burr. I'm respectful, clean/hygienic, and mature person. I don't party, smoke, or do drugs, besides the occasional drink. My limit is $200pw including bills and internet connection. I've been saving for a house for about 2 years now, so paying rent will not be an issue. I'm a Libertarian, so I hold personal responsibility over forcing others to pay for ones lack of responsibility, poor life choices or just outright laziness, therefore I will not be teaming up with people who rely on centrelink / tax payers money or child support. The only exception being disabled people and army veterans. Anyway please contact me if you want to team up, have a spare room, or have any questions.