$300
Ben
1.6 km from Glendalough
32 year old Male who works Fifo seeks a furnished room with one or possibly two others in these areas.. ( Close to Beach & CBD ) Feel free to text or buzz
$150
Tilly
1.6 km from Glendalough
Looking for a room in the inner city area while I wrap up the last year of my degree! Hoping for a home and not just a room, my last housemate and I became best friends but sadly she's moving for work, so hoping for the same in my new home! I'm a pretty low key person, work and study is most of my life but I do like to socialise on nights and weekends when I can, hobbies are Netflix binges, baking and keeping fit.
$200
Ollie
1.6 km from Glendalough
I like to live clean, easy to get along with, enjoy having a laugh all the time (especially at the end of the week with a few beers!) Looking to live with driven, motivational people who thinks along the same lines as I do
$300
Zoe
1.6 km from Glendalough
About me Things that make me great...... My pallet for food and wine My Jokes Rent is always paid on time I change the empty toilet roll Excellent taste in music I love broccoli I dont leave passive aggressive notes I hate glitter My lack of interest in the trivial and mundane Dog whisperer I cook I clean I stay quiet I don't sing I won't sing I only wear black Books I can teach you how to swim I know CPR Studying Biomedical Science and Law Have been know to rap Excellent observer of the human condition Calm I know how to garden and keep the garden alive I have no pets I don't party - not against you partying I am just soooooooo busy Andddddd I guess I am just great in general. My faults that I may consider irritating to some is I tend to isolate due to hectic lifestyle, sometimes I'd prefer not to talk, other times I love to talk. Also I laugh a lot in my sleep
$180
Kat
1.6 km from Glendalough
My name is Kat Cardwell. I'm an American working on my Ph.D in Sports Performance. A fellow Ph.D. student (German guy named Dan) and I are looking for a third person to team up with and find a place to share. A bit about me: I am 32 years old, somewhat introverted in that I don't go out to party on the weekend, but I enjoy dinners and drinks with good friends. I'm anticipating that my studies with have me doing a lot of reading and writing and I will be working during the weeknights with Softball WA in Mirrabooka. In my free time, I like to read, hike, bike, watch movies, cook and photography. Dan is 30 years old, also working on his Ph.D in Sports Performance. He'll be working with Softball WA with me, as well as doing some strength coaching for a couple of AFL teams in the area. He's into weight lifting, handball, heavy metal music (though at respectful levels when others are home) and enjoying good beers. We're looking for someone else who is low key, not big into parties, willing to chill in the evenings and watch a movie or just chat. If I'm sharing a place with someone, I want to have some sort of good rapport with the person, rather than just be separate individuals sharing a living space. I'm fine with all pets, so that's not going to be a hinderance. I'd also like to get a dog of my own sometime so it would be a plus if we could find a flat mate who is interested in having one around the house. If any of this sounds like you, shoot me a message and we can meet up for a coffee/drink and get to know each other a bit.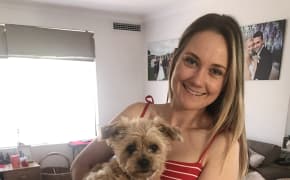 $200
Ashley
1.6 km from Glendalough
Hey :) I'm Ashley, Female, 27 years old. I'm looking for a clean and lively space. Full of natural light and no pets. Within 10 minutes from the city. I work full time as a manager in marketing and promotions. I'm an ex primary teacher from NZ and I have lived in Australia working in this position for 2years. I am clean, respectful and friendly and mainly keep to myself also but do enjoy others company. My interests include aromatherapy, exercise, yoga, nutritional food, nature and swimming. I'm generally out of the house for work from 8am-8pm and every 6 weeks I'm away for 1week for Work. $170
Laurie
1.8 km from Glendalough
Hi guys, I am a 25 year old french girl. I work as a hairdresser, usually full time so I am not often at Home. I live in Margaret River at the moment but wanting to move for better work oportunities. I really want to focus on my career, so Perth seems like a much better idea. I am great to live with because I am very easy going and I love a tidy house ! I like to spend my spare time after work with some fun and interesting roommates, but I also enjoy being in my room and just do my own things. I use to date a chef, so my cooking skills are pretty good and I tend to cook more than I should sometime, which can be very appreciated by the ones who doesn't love it so much. I also do free haircuts or as an exchange for another service. I like to mixe and share each others skills and knowledges. Of course, I'm French so yes I do like to party and have an awesome long night out, but I am not interested in having a crazy lifestyle everynight. I don't really have a hobby or a passion per se, I love trying new things all the time so I always changed sports and activities. But I'd say that mostly, I like being active, being outdoor and crafting thing with wood, leather or anything I feel like looks like a good idea. I think that's enough for you to get an idea of who I am, but if not I am happy to talk more and answer any questions to make sure that we all lok forward to meet.
$200
Cameron
1.8 km from Glendalough
If you're after a roomie that can cook, clean, iron and look after themselves...look no further. Can either keep to myself or get amongst what is going on. Not a party animal. Do spend weekends studying. Enjoy getting out for fitness. Looking for a room that is unfurnished. Only looking to live with one other person. No cats. $200
Lisa
1.8 km from Glendalough
My name is Lisa I'm from Taiwan
$300
Travis & Allison
1.8 km from Glendalough
We are a young, adventurous Canadian couple from Nova Scotia - moving to the Perth region for about 6 months! Travis will be studying full time at Edith Cowan University on exchange, while Allison will be working full time on a working holiday visa. Both of us live an active and healthy lifestyle (we are non-smokers as well!). We love pets and would be happy to share a flat with any animals. As well, we are very social people who love getting to know new people, and having occasional drinks! Since we're moving across the world, we're lacking furniture, and will need a furnished flat!
$300
Danielle
1.8 km from Glendalough
I'm an Australian out going, fun, tidy and responsible 18 year old. I'm looking for a flat mate but preferably a FIFO worker. I'm a bartender and waitress. I own a puppy, she's an American staffy. I don't mind the occasional drink on the weekend but also like my quite time. Please message me if you're interested!
$180
Andy
1.8 km from Glendalough
Hi There! My Name is Andy. I am a teacher who has just returned from the UK, and currently works part-time. My hobbies include running, writing and playing guitar. I also don't mind cooking a bit. According to people I have previously lived with I am a laid back, polite, and clean housemate (Happy to provide references from past housemates). Cheers!! Andy