$165
Tabytha
1.97 km from Wacol
NEEDING TO MOVE WITHIN THE MONTH. Please message me through here or if you text my mobile, please include your listing's webpage address. Otherwise, i'm sorry but i won't be interested as then you are verified and i know you're for real. Looking for quiet place that allows cats and is close to public transport/shops/etc. After a place for a minimum of 6 months, if works out well, would stay for 2-3 years or longer. Need to move asap. Am 44 and a non smoker who next to never drinks, on disability pension for some permanent health issues (migraines, fibromyalgia and back/mobility issues). Fairly tidy person, but neat freak with kitchen and bathroom. Due to health, althu keep things tidy, i can't always clean as would like to, but when able to, do tend to have cleaning episodes where as much as can be cleaned/tidied is done (usually everything). Am easy going, quirky, quiet, respectful, tidy and clean person, preferring to keep to myself and needing own private space. Am an introvert and something of nerdy geek girl who loves reading, writing, music, movies and frequently on computer and streaming movies/tv (when/where possible). Have tastes more to alternative than mainstream and am most definitely not a 'girly girl'. Am well used to sharing with guys and girls. Also well accustomed to being around 'freaks', nerds/geeks, and others of 'peculiar' hobbies (such as all forms of rpg's, gamers, etc). Don't mind being around children of school age, happy to occasionally babysit so parents can have some time out for themselves. Need my cat with me, he is my ESA (emotional support animal) in my living with my health issues. My cat is quiet, clean, desexed, indoor cat who is very skittish around other people until he knows them which takes first getting used to new place then to new people. Being a cat not used to people in general it can take some time with some people. My cat is fully an indoor cat so must have a place that's fully ok with that. As is an indoor cat, do take steps to minimise any smell (such odour reducers in litter tray, other odour control products and air fresheners, etc) and clean both food bowls and litter tray daily. Preferring to live on own in small self contained place that is quiet and not many people around as do need own space. Or ideally in a sharehouse situation i'd prefer to have a room with own bathroom/ensuite (as i'd prefer either to keep my cat in in room either when I'm not home or when I'm sleeping/resting) or as few as possible sharing as i get paranoid about him getting outside and getting hurt. Needing a place without steps, easy to maintain and close to a medical center. Do not have own car currently, hoping to get one in near future thu. Whilst prefer living on own, don't mind sharing with a few others who are also quietish people. Would also consider sharing with a single parent with a child. Have own furniture etc, so prefer non furnished place. But do need to have my own bed regardless as i have special needs of my own mattress. Mostly looking for a place close(ish) to Centenary area or Indooroopilly or within easy drive of them, and with easy, close parking for family who help me get around for shopping, doctor visits etc. But as need to move asap, willing to consider many other areas. Also as tend to do online shopping with home delivery, needs to be ok for that. As for rent / costs / bills can afford, i can go higher than $150pw rent if bills are included or i have more space for my own things so less costs in storing what i don't have space for. If you look at my fb, please know i have it set to fully private (as i'm a very private person) and show my liking for HP Lovecraft in the cover picture. Also, my first name on it is my nickname not my legal first name. $150
Jess
1.97 km from Wacol
I'm a happy chick. Loves to have a few drinks and chill out
$200
John
1.97 km from Wacol
I love a good chat about almost anything interesting but have my own life and not likely to cling too close unless you bake muffins, on the other hand I am not a total recluse, I would consider my self well balance and ready to complement any functional household. Sober (no substance issues), clean, cooperative open communicater. I am reliable with bills, willing to contribute to cleaning etc. Working on a good picture for the profile, have taken 100's but there seems to be something wrong with my camera, will update soon. For a actual picture see my Facebook link below.
$350
Deb Kindred
2.39 km from Wacol
You'll find me to be easy to get along with, thoughtful of others, quiet, considerate, clean, tidy, and I'm a nonsmoker and don't drink alcohol. I'm honest and trustworthy and enjoy a friendly chat. I'm a full-time school teacher. I don't own pets and hope to live in a place without indoor pets, due to allergies and I would like my own bathroom, please. I like cooking, eating out, movies and am actively involved with a local Christian Church. I've put $350 budget if the place was a self-contained flat with bills and internet included. Otherwise, if I was sharing and bills were additional my budget would be in the mid twohundreds. Thanks, look forward to meeting you.
New | $150
George
2.39 km from Wacol
I'm a physics grad and avid gym goer and enjoy outdoor activities when i'm not working. I'm in the process of writing up my PhD, so am frequently working from home, but when i'm not i'm usually spending time with my girlfriend. Not a late night person and I like to keep a regular schedule. I have some furniture and other miscellaneous homewares and a car. Send me a message if you're interested in teaming up! New | $150
Amy & Sam
2.39 km from Wacol
Working couple wanting a room with an ensuite. Very clean, reliable, wanting somewhere preferably with no students. We love to keep things clean, so hope to find somewhere suitable!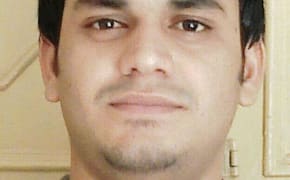 $120
Zohaib
2.39 km from Wacol
People should be nice and friendly.
$125
Risa
2.39 km from Wacol
I m Muslim from Indonesia sorry i m not agree with LGBT and i m not pet lover
$225
Gregory
2.39 km from Wacol
Hi I'm looking to fine one other to team up to share a house, I have furniture!, Lounges, Table, Washing Machine, kitchen, etc, I'm into natural health, EFT, Matrix Reprinting {tapping} I have completed Raiki 1, 2. Life Coaching, I exercise every morning, and enjoy riding my push bike on some weekends. I don't play sports anymore but enjoy watching most sports. Fishing, 4X4 beach and bush driving. Catch up with friends, and Family. I like a clean place but not OCD. I don't do drug, and always pay rent on time, I can move to any area, My move date is not fix can move now or anytime before the 5/5/18