$200
Peita
Hi, LOOKING FOR A HOME .... URGENTLY...I AM VERY EASY TO LIVE WITH AND HAVE A GOOD SENSE OF HUMOUR... I am looking for a nice relaxed place to live, I would like my own bathroom, and I am very flexible with the location I am more interested in having a home rather than just a room. I am a writer/director working on the third draft of an Aussie Comedy hoping to shoot the film early 2018, I am in the process of raising the budget. I am a clean tidy considerate person who has a great sense of humour, I like a laugh a meal and a glass of wine, but I also value my space and give you yours, I also pay my bills and rent on time. At the moment I will be writing from home so a study or my own lounge, or even granny flat or studio would be helpful but not a deal breaker as I am looking for an office this year. I am studying film editing on final cut pro. I do have a 11 year old WELL TRAINED AND LOVED DOG AND A LITTLE BLACK CAT so it's important that they have a little space and are safe. I am flexible with moving dates bathroom and budget. Cheers Peita:)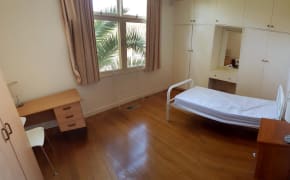 $189 inc
Student accommodation
I left the student village to another place to live with my brother. And my room is available for the same cost which is $189. I need to find a replacement because I am still liable to pay for the contract. And student village is not offering the my offer anymore. But if you are taking it using my details you can still take the same offer from the student village. Unless you can get it for $216 for this year (Either way they will remove me from the bond). You can find more details about student village from "Yarra House - Melbourne Polytechnic" website under the "Cottage" option. All you need to do is provide my name to get the offer for this semester. Room is really nice and clean. Cottage has a kitchen, study room, garden and a beautiful living room. My housemate built a BBQ grill in the garden. Also, there is an additional room in the cottage. But I am not sure they will give it you for the same price. You will get access to the bike shed with a student village card. If you are lucky when student village is cleaning the shed, you can get a free bicycle. Also, you can use that student card to access other places in student village building (Study rooms, Game room in ground floor; Pool, Foosball..etc.). And, you can participate for any event in student village. And another benefit you will get from living in the cottage than the other room options is you will get free access to the washing machine :D.
$250
Kate
My name is Kate - I'm 35, a writer and therapist, as well as homely creative and foodie type with a penchant for good whole food and organic cooking. Currently I work 35 hours a week including Saturdays, Sundays and one late night. I am financial, rent and bill reliable, spacially aware, friendly, v.open minded and socially and emotionally intelligent. I love music, art, dancing - dancing in the kitchen while cooking and listening to music! I am a seasoned housemate and great communicator and like to think that I'm a pretty ace all-rounder when it comes to making it work. I am looking for a grounded, earth and human friendly home with a bath and veg patch (or patio for pots?) I can share with other similarly minded and hearted human beings, ideally with others who are 28 + and who enjoy an active, creative and clean-living lifestyle. Because of the nature of my work, I enjoy my home as a sanctuary of nurture, rest, creativity and peace, rather than a super-social party house, and a space where the TV is not the central focus. I could live on my own and have done in the past, however I am choosing to share right now as I appreciate and welcome the social aspects of living with others - it expands my horizons and it can be wonderfully supportive in key ways if it is the right dynamic. I am looking for a large and light filled room in such a home. Please let me know if you are keen and I'd love to swing by at a mutually suitable time. If you'd like to chat more please do not hesitate to contact me. Warmly, Kate.
$300
Jocelyn
Hi there - I am a considerate, reliable and friendly housemate. I work full-time in HR at a Hospital and I'm originally from Brisbane but living in Melbourne. I like to unwind with friends and enjoy getting out and about exploring all Melbourne has to offer on the weekends. I like to keep fit and enjoy cooking. I'm hoping to find a place that feels like home, not just a house.
$230
Becca
​HEY YOU! Lovely human/s with a spare room/s in your house! Are you: - A houseproud person who loves to create a beautiful, clean, tranquil living space? - Someone who has their own life and likes their own space, but also likes a bit of a cosy family vibe at home, not just living in your bedroom but having occasional chats in th kitchen or over cups of tea or an occasional shared meal? - Someone who likes to have an occasional dinner party/backyard BBQ, but not a big partier/drinker? - Queer-friendly, left-leaning, and friendly? - Non-smoker? (or outside smoker only, but preferably totally non-smoking) Do you: - Love and/or make music and/or art? - Love houseplants maybe a little bit too much? - Not watch TV/not have a TV/watch some Netflix shows on occasion but mostly in your own room? I'm looking for a new home. I'm a little heartbroken right now as 3 months ago I moved into the perfect space, but then the landlord decided they wanted to make more money from it and kicked us out to get a family in :'( Moving into a pre-established home would be preferable, but I'm also open to starting a new house with cool peeps. The issue is that I want somewhere ASAP (Just have to give 2 weeks notice at my current place, but have to be out by Nov 23rd - preferably much sooner as the nearest train station is going to be closed from Oct 6th and that's gonna make life very difficult!!) as I am going to be very busy in late Sept/early Oct and I don't have a lot of time for househunting! At least one female/nb housemate preferred, but could be convinced for the right dude. I'd like to live with 2 people ideally, open to sharing with 1 or 3 but probably not more than that. ME: - 28yo female musician/artist/voice coach. Friendly, silly, queer, sings a lot and sometimes loud but mostly well, and only in reasonable hours/when you aren't home. - I like to be really clean & tidy and make a beautiful home full of art and plants and pretty colours. - Non-smoker. Not much of a drinker. Not vegetarian but not eating a lot of meat at home. - I am really busy and keep to myself a lot working on my music etc, but I lived in a house previously with dudes who just lived in their rooms and I hated it... I love living with people who are down for chats and cosiness and laughs together when our schedules line up. WHAT I'M LOOKING FOR IN A HOUSE: - Preferably an actual house, not an apartment. - Sunshine! - Close or otherwise convenient to grocery stores (I don't have a car, only bicycle/motorbike/PT) - OSP for my small motorbike (can just be front yard or small side path) - Either quite cheap rent (between $500-800/month) for just a bedroom, OR... - Open to paying $800-$1000/month for somewhere that has an extra sunroom/study/office space from which I could teach voice students (or a very large bedroom which I could split with a divider to make into a semi-professional space.) - I am also currently renting a studio in Brunswick which I teach from 2-3 days a week. If my new home is around $500 - 700, I could afford to just teach from the studio 4-5 days a week. If it's $700-800, I'd wnna teach from home a couple days a week (so I could get someone in to share the costs of the studio)... if it's $800+ I'd want to be teaching exclusively from home as I wouldn't be able to also afford the studio. If I sound like a good match for your home and vice versa, please get in touch!
$165
Daniel
Responsible, respectful, easy to talk, committed.
$210
Ashleigh
I am a very friendly and bubbly person! Always clean up after myself. I work in childcare and study social work at Uni ☺️ I dont want any other suburb than these ones ... look forward to hearing from you 😉
$300
Karen
I work full time in the health sector, very easy going, considerate, neat and tidy.im a total animal lover and have two small dogs who are very sweet and loving, the best part is they don't drop any hair due to their breed, their safety and comfort is my top priority.i am a very responsible pet owner and they know I'm the boss! they are house trained and well behaved. I enjoy spending time with my dogs, eating good food, sewing, reading, shopping and i'm crazy about travel! I like a glass of wine with dinner but i dont cook much...( it never ends well ) I'm looking for an all girl house/ team up only. My work day generally starts anywhere from 7am- 930am so I am out of the house early. Ready to move now.
$180
Unfurnished room in a flatshare
Are you looking to get value for money and jaded by inner North prices? Then move to Fairfield like I did 😏. A paradise nestled amongst the gum trees and quiet suburban streets awaits. Up for grabs is one medium sized bedroom that fits a queen sized bed with built in robes. oh AND your own office nook. The house comes fully furnished (apart from your room), with dishwasher, gas stovetop and microwave in kitchen. We have a built-in laundry and will share a bathroom. Currently has ADSL broadband with NBN order placed for November. For an extra $15 per month you can rent a carspace from my neighbour. But don't worry - ample street parking also. Fairfield station is a 15 minute walk or 5 minute bike ride. And it's an 18 minute express train ride to flinders street. So all up about 35 minutes door to door.
$360
Nathalie & Winona
I spent most of my 20's travelling solo around the world. Ive lived in communities and sharehouses for most of my adult life. Now I teach public speaking skills to kids in schools. Im also a Marriage Celebrant and Yoga Teacher. My daughter is with me 80% of the time. She is 7 years old (not 16 as the listing made me write). She is one of those well articulated awesome small humans who is a delight to live with. I like to keep communal areas tidy. I have a flair for interior design and I come with furniture. We are looking for a lively, family minded couple or a single parent with one (maybe 2) kids who want to 'do life' side by side. By that I mean, have our own space but also have the enthusiasm to create a thriving life.
$250
Ryan
Hey guys! Looking for a room around the Richmond/Hawthorn/Kew and surrounding areas. I'm a 26 year old kid from country NSW who's lived in the outer eastern suburbs since I moved here last May, so I'm looking to move closer to the city to try find me some pals and one of those social lives everyone talks about, I feel like I'm missing out on heaps living way out here. I work in sales in the sports nutrition industry at the moment (very heavily discounted supps if I like you), looking to perhaps continue my degree in business next year or study something else entirely. I've lived in share houses for around 2 years now so I'm familiar with the privacy and cleanliness side of things that comes with it. I'm a laid back kinda guy, enjoy a few beverages, massive Richmond supporter, love getting out and about but equally enjoy chilling out with a good book or tv series. Ideally after a sociable place to help me experience what Melbourne has to offer! Cheers! Ryan.
$225
Kerryanne
I love Nature and the Spiritual practices of First Nation peoples. I really enjoy traveling and meeting new places and food to try. I love snuggles with my cat Maggy. I like to laugh and have a good sense of humor most of the time. I love cycling, swimming, and yoga although I fall off the fitness wagon sometimes. Red wine, rose, sparkling make me happy at the end of the week. I love organics and living responsibly, therefore Terra Madra Organics is a place I spend way too much money. I am a teacher and an Art Therapist finishing my Masters this year. A real home that is tended to is important to me. I love my pot plants, but I don't hug them they are too small! I can be irreverent, I think it's important. I am a loving and caring human being with all the complexities and messiness as the rest of humanity in the state of growing and becoming what is next! I am pretty easy going and am good at communicating and keeping a nice vibe in a home. I like clean spaces but I am not uptight about it. I have bouts of Netflix watching that can last hours and I love to sing.