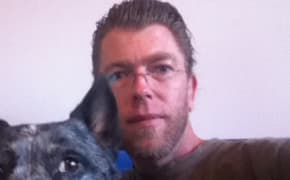 $170
Brendan
1.46 km from South Kingsville
Hi I'm Brendan I am looking for a long term household to share with nice responsible housemates with my dog just as long as its a harmonious household. I'm 43 & just re entered hospitality after a long hiatus formerly worked as a personal carer in Aged care for many years. I am quite & easy going have a love of music & european films & book reading yes maybe a bit of a geek. I am looking for a household where we treat each other with respect & can keep a tidy house ( I am not a clean freak but a housemates record of leaving the dishes on the sink for 5 weeks is not for me) & communicate be social or have our own space if needed. I am able to move now but I am currently on a fortnight to fortnight basis for giving notice. a 15 kilometre radius to the CBD is preferred but not essential ( love the area around Williamstown where I currently am.) I can afford up to 680 pcm I am trying to quit smoking but will only smoke outside. If you just want someone urgent just to pay rent its best not to contact me. Lucy is a 8 year old Blue Heeler she would probably like to be the sole dog but she has lived with dogs before she is very affectionate & fully house trained she sleeps in my room the yard would need tall fencing & be secure she is not able to live with cats. Thanks for taking the time to read my add if you have a room or know of someone who my please message me ; I don't have FB switched on my phone & no internet at home but will check daily so there might be a delay in my response.
Free to Message
$200
Kris
1.46 km from South Kingsville
I'm clean and tidy, I try and show as much respect for my fellow housemate(s) as possible, I'm no recluse so am happy for a bit of banter, but I also understand the personal space think (Previous housemates of mine haven't). I will occasionally cook up meals for the whole house and provide a few drinks to accompany such meals. I like sport, Music, video games, and like to think I am an open minded individual so I like to hear about others thoughts and ideas with hopes of learning something new!
Early bird
$250
Risa
1.46 km from South Kingsville
Very clean and tidy. Friendly but very respectful other's privacy space and time. Have a busy life schedule. Excellent house trained.
Free to Message
$160
Coen Brown
1.46 km from South Kingsville
I'm a proffesional musician (Impact events) and also work as a forklift driver (TOLL)! I'm really chilled and love getting home to have a drink and relax. My busy schedule means I won't be around all the time, which ensures privacy and means there's always something to talk about once we're together! I'm overly friendly, have a great track record with previous housemates and look forward to the next journey!
Early bird
$130
Olivia
1.46 km from South Kingsville
I'm 20, currently in my second year studying a bachelors of youth work at VU Footscray Park. I want to move a bit closer to the uni as I currently live in Geelong :). I love travel and being spontaneous. I love trying new things and meeting great people. :) I also work part time at Bunnings.
Free to Message
New | $165
Kirk
1.46 km from South Kingsville
**Please no messages from people who are renting rooms like cattle. Also don't waste our time with rooms that are way over my budget. $165 is an inclusive number. I might go a few bucks higher if i got everything i asked for. But $200+ i can get my own place.*** Hi there, I work at Crown Casino and am Permanent Part-Time for 6.5yrs. I do shift hours, so it's 2mnth of Days (12midday-8pm generally) then 2mnth of Nights (8pm - 4am generally). As I work these hours, I enjoy some gaming, and love watching movies and TV. I'm very easy to get along with, and I'm not too fussed about anyone's lifestyles. I am allergic to pets. I love animals, but things with fur make me sneezy. I cleanup after myself, but I can't do gardening due to allergies (I'm happy to help pay for cleaners or Gardeners..or some similar arrangement). I'm very sociable, and its a rare person whom I can't get along with. My hobbies include Music Production (I have the whole setup and would love to help someone). Acting (I spent many years pursuing the dream then got a little disheartened, but hoping to re-enter). Online Gaming (I only play Battlefield..not a pro). I love long chats, especially when a few drinks are involved, and I love a good Barbie. The reason for moving is the house I've been in for over 8yrs, is being taken off the rental market as the owner is having a divorce and needs to move back in. WHY YOU WANT ME: 1/ Pay on Time. 2/ Steady Employment. 3/ No Criminal record (can't have my job with one) 4/ You will have a lot of freedom to live your life without having to ask if I'm OK with it (IE: weekend drinks with friends...etc) 5/ Tidy and space efficient 6/ GREAT listener. 7/ Funny 8/ Reliable and friendly. 9/ Non-Passive Aggressive. I won't leave notes or bs that makes you feel uncomfortable. I'll just politely say something to you if something bothers me, and try and work out a solution, and I hope for the same. 10/ Damn...I'm struggling now, but i cant leave it at 9 can I hahaha...OH, I always put the Toilet seat DOWN (spent 8yrs with 2 women, and I'm well trained. YEAH pulled that one out at the last minute...hehehe) WHAT I WANT: 1/ No shared walls (as in non-brick)...If I have to play games or watch things in my room while you sleep, that's fine...but I need to use VOIP. 2/ Ideally a car park space. Also in my dream world, a lock-up Garage (in case I don't sell my Old Bedford Van that was being restored). 3/ Social people. The reason I'm not just getting my own place, is I don't really want to be alone (sounds needy, I'm not hahaha). I like people who want to go have a drink, a meal, or maybe play some Poker (I even have a couple of poker tables and chips). 4/ INTERNET!!! OK, so if it's included in bills but isn't awesome then I would want to upgrade to my current standard (I'm happy to cover excess if price posses an issue) OR a separate connection. I'm even OK with being the provider, but good internet is a must have for me... Mostly because when you're home awake at 4am, and everyone is asleep, the internet is your best friend hahaha. 5/ No spelling Nazi's ;) 6/ I'd love to live with creative people who may work in those fields. I'd love to have a go at stand-up, and as I said, I'd like to get back into acting. (obviously these are just wants..not T&C's lol) 7/ Room Big enough for a King size Mattress and a desk. Anyhow....I'm short of time, so don't really have any focus on TeamUps, but if you have found a place..and think I'm perfect, please contact me. 8/ I am open to anywhere from 3 months up to 1yr. I've paid for Full Membership because I am serious. I also check several times a day. Cheers. Kirk (P.S: Suburbs are open, but just surrounding. I want to be able to get to CROWN, leaving at 6pm on a Saturday night, by 7pm. (via my new Car :D ) (P.S.S: Outside Smoker ONLY. ) (P.S.S.S: I'm pretty sure I still have the Mexican hat, and I am even willing to give that to the winner of what is the game of "Help me not be homeless" game hahaha...
Free to Message
New | $200
Rob
1.46 km from South Kingsville
Hello potential housemates, I'm Rob study construction management at RMIT and work in construction company in docklands Monday to Friday. I'm mostly occupied on the weekends with my uncles restaurant as I help out. I try to stay fit and go to gym after work (but sometimes too tired to go. So if you're active that'll be extra motivation). I'm not a party animal. Just the occasional drink with work mates (and maybe potential house mates). And yeah. That's about it.
Free to Message
$250
Naomi & Cameron
1.46 km from South Kingsville
Looking for an easy going house to join or someone to team up with and find a place! You'll be sharing with a couple, Naomi and Cam. We have lived in the inner west before and loved it, so we would like to do so again, open to options. I'm Naomi, very social and always up for a chat but like my own space at times too, I work in hospitality and study childcare at Uni. Cameron is a very friendly guy, loves his sport and very into poker. He also loves to cook! We also have a very friendly dog called Oscar, his a schnoodle and hypo allergenic so allergies arnt a problem! He loves a good cuddle but listens well to rules. We have just got back from living overseas for the last year so don't come with whole lot of furniture but are more than happy to go shopping! We like to live with people who are happy to have a good yarn over a drink and good food but don't live in each others pockets :) Please feel free to message with any questions/suggestions!! cheers
Free to Message
$200
Gemma
1.46 km from South Kingsville
About Me: I'm neat, positive, kind and happy. I'm from Melbourne, I work as a gender and sexuality studies tutor at Melbourne University and I love binge watching Netflix. Happy to split all bills, pay first months rent and bond in advance I get groceries delivered each week and am happy to order for you/keep tabs on splitting the costs of communal items What I'm looking for: Share house with 1 other housemate Private bathroom Separate kitchen to any other room Outdoor space Someone who's happy for me to have my budgerigar in my room, the living room and occasionally outside to get some vitamin D Close to a train station Close to a large supermarket Neat/tidy/clean housemates Quiet house during the day Room big enough to fit a desk, chest of drawers, double bed, bird cage and free standing wardrobe (if there is no built in robe) Washer, dryer and oven (or at least room for these things) What I'm not looking for: Strict chore scheduling Excessive partying/drinking Drug taking Smoking
Free to Message New | $200
Adriana
1.46 km from South Kingsville
i'm a friendly and polite person, however in these 3 weeks I need time to work and study, so I will not be much available for social life.
Early bird
Updated | $180
Chloe
1.46 km from South Kingsville
I'm from Melbourne and am currently on a leave of absence from post grad studies while I replenish the bank balance...not sure when I'll return to the student life at this stage :-) I love discovering new music and listen to all sorts of genres - pop, rock, classical and just about everything in between. I also really enjoy reading, hanging out with friends and musing on life, the universe and everything. I am a total nerd for all things to do with science, history and politics. I'm an easy going housemate and really enjoy living in a relaxed environment with people who I can share the odd wine and plenty of laughs with. I want to find a place which I can call home!
Free to Message
$200
Rochelle
1.49 km from South Kingsville
I'm a full time Vet Med student whose looking for a sharehouse with chill vibes which I can retreat to at the end of the day. I'd love some friendly flatmates to share the occasional meal with or perhaps even a bottle of red once in a while. I'm smack bang in the middle of Uni which means most of my evenings are spent with my head in a book and Saturday nights mean watching 'If You Are The One' on SBS (a guilty pleasure) as opposed to heading out for a big one. I come with my best mate Charlie, a 10 year old Spoodle X hot water bottle who is a heckin' good doggo. He doesn't shed hair and is pushing into his old man days so is pretty snoozy too. He is currently on a diet, though we've been saying that for years. Hopefully you will love him.
Free to Message