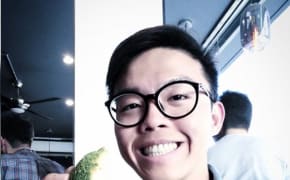 New | $200
Richard HONG
3.88 km from Templestowe
Hey future housemates, My name is Richard, working full time in the health and beauty industry. I am looking for a room to rent as my rental is ending next year January. I though it would be good to start looking for my next place where i can call it home as early as possible. Nothing set yet, but if you have a room for rent around that time, you are welcome to give me a text. I am clean and sociable. Prefer quiet night and home cook meals. I love to have a drink or two with my friends occasionally. Loves dogs, beaches and sun. If you need more information about me, please give me a text! Thanks. $200
Bess
3.88 km from Templestowe
I pride myself on being considerate and respectful of others rights, privacy, belongings and choices. "Live and let live" is one my favourite mottos. Feeling safe, comfortable and free to be myself in my own home and for others to feel the same (if sharing) is of utmost importance to me. I tend to get along with all sorts of people really easily. I'm reliable and responsible in terms of paying rent/bills on time and cleaning/caring for my home. I love my work!...... entertaining and educating young children about and through music and various childcare centres. It involves a bit of preparation at home so any extra space/cupboards for all my props/instruments etc would be great! Then I have several regular short gigs each week all during business hours so I do a fair bit of coming and going during the day and often have rehearsals in the evening too. It's all pretty high energy work so when at home, I usually enjoy taking it easy; making/eating a good meal, watching a good series or reading a good book in the bath. I love spending time with my friends and my family, especially my niece and nephew and hope they would be welcome to visit for a coffee/meal/catch up or just to hangout occasionally. Despite being pretty easy going, my only real request is to live in an alcohol/drug free home. For this reason my preference is to have my own private self sufficient space. However, I am also open to sharing accommodation if I can find the right fit. I've been lucky enough to have an amazing share house experience in the past so I know how great it can be when you get the right mix. It also means I have references! While I do enjoy some quiet time to myself, I'm happy to have a chat too. Whatever makes all those in the household comfortable!
$250
Helen
3.88 km from Templestowe
Im a support worker, love my job and life. Happy, friendly, honest , reliable, respectful, fun, always in front with my rent. Treat your property as if it my own , clean and tidy. Love gardening, dancing (bachata and Ballroom) reading, skating
$350
Jaiden
3.88 km from Templestowe
Hey I'm Jaiden and I just got a promotion to be a store manager. I'm moving from Tasmania to work in Doncaster Westfield. I have a cat named Frankie, she is an inside trained cat. I'm moving from my own furnished place, looking for a home or someone to share with for now.
$160
Ovieris
3.88 km from Templestowe
I am Ovieris, I am a woman, I am a student, I am 48 old. I need a bedroom Single or shared. $180
Minji
3.88 km from Templestowe
Im Lina im very quite person and i dont normally stay at home . $180
Simon
4.38 km from Templestowe
I'm nice, friendly, relatively quiet Updated | $250
Patrick
4.38 km from Templestowe
Im easy going, friendly. I clean up after myself and enjoy a chat $200
James
4.38 km from Templestowe
28 year old who just decided to go back to uni to do a masters in Finance and International Business. I've been doing farming/Ginning for the past 10 years off and on so finally made the decision to do something different. I am originally from Bourke but moved around heaps since then. Currently I'm living in Carrathool working at a cotton gin (RivCott). Been in the area off and on for a few years now. Been overseas for a lot during that time as well. So I will be studying fulltime at La Trobe (3 years) and will hopefully find a part-time job just to help with the cashflow. I'm hoping centrelink will help me out as well. Anyways very easygoing laid back guy. In the past few years, traveling has been a big part of my life so been doing that, seeing the world. I've done the proper backpacking thing with hostels to couch surfing to staying in one place and working. I don't mind a beer or two but definitely enjoy pubs over clubs. And enjoy a wine too. I enjoy just hanging out at home just as much too or doing something a bit different. Always up for a little adventure. Concerts, road trip, camping, sports ect. I'm a sociable friendly guy who can always be up for a chat or hanging out, but will be honest, I enjoy my own time just as much. Nothing against you, just like to recharge the battery if you know what I mean. So yeah my work schedule will be pretty busy throughout the week with studying and working. And again will be honest since I won't have the fulltime job like I do now, funds won't be flowing but am by no means a stingy prick. Just might opt to the cheaper option sometimes. But just looking for a place where I can come home to and can relax and feel like it's a homey down the earth relaxed environment. Of course would be good to find housemate(s) that I get along with and can become mates with and not just a shared house kind of thing.
$250
Ella
4.38 km from Templestowe
Hi guys, my name is Ella, I've been around the sun 29 times, and I like aeroplanes. I work full time at the airport (shift work) and I would love a new bungalow to call home, particularly if the bungalow is attached to a house filled with friendly smiling people . I'm looking around the Eltham / Greensborough area preferably. Would potentially consider reservoir/Preston/coburg too. I'd describe myself as independent, practical, and friendly with a dark sense of humor. I can bring many skills to the house, I can re-light the pilot light on hot water system, change a blown fuse, and I also sometimes bake surprise cookies and muffins for my house buddies to share. I like art (I dabble in pottery so it'd be a bonus if there was somewhere I could set up my pottery wheel) and I have an old pet greyhound who sleeps 16 hours a day and spends the other 8 trying to snuggle you. He doesn't get along with small fluffy animals so i was hoping to find housemates that are all of the the large and unfluffy variety. (Some large dogs might be okay, if they meet and get along okay). I was also hoping to find some people who are considerate, respectful, communicate openly, and put effort into contributing towards shared tasks and building a supportive and welcoming home environment. I'm pretty tolerant of most people, however I can pretty much guarantee we won't get along if you start too many sentences with 'I'm not racist,but...', or think that the bumper sticker 'fuck off - we're full' is funny. I also like housemates who communicate openly and don't live by the phrase 'It's easier to ask forgiveness than it is to get permission.' Here is a quick list of my stance on some of the current more debated political topics. You don't have to agree with all of them yourself in order for us to get along, I just thought that this might give you an idea of my values and what type of person I am. I am pro choice; in support of gay marriage; agree with providing financial support for the less advantaged; in support the safe injecting room; and believe in the separation of church and state. I am against the cashless welfare card; can't deal with talking about conspiracy theories for very long; think homeopathy is a scam; and the collection of meta data and the new health care database scares the crap out of me. If you think we'd get along and you have a bungalow available, or are looking to start a new house with a self contained unit attached please let me know as well as send a little information about yourself and maybe we could catch up for a coffee
$280
Donna
4.38 km from Templestowe
I am easy to get along with, love to laugh, love nature, LOVE animals, vegetarian, non smoker, professional full time worker. Like to socialise but also love quiet time. Bit of a neat freak lol! Love walking, running, writing, good veggie food, good company, the outdoors, anything that makes me laugh! Love to travel. Looking for down to earth people who love similar things. Honest open respectful. Looking for 6-12 months for work. Flexible with move in date.