$200
Sophie, Female, 23yrs
22.3 km from Chillingham
Hi :) I am Sophie! I am 23, I work part time in sales for a fitness company & do some PT work on the side. I love health & fitness, I am very independent, trustworthy, sociable and easy to get along with :) I am very positive, active & live every day as it comes and goes! I am looking for either a few room mates to find a nice place, a 2 bedroom shared unit or a room in a nice environment close too the beach.I am willing to pay anything under $200 per week bills all included. I have my own bed & bedside tables, no other furniture. Looking for a place to move into as soon as I can! Shoot me a message if you need to know anything else or would like too contact me :)
Free to Message
$350
Cass, Female, 34yrs
22.3 km from Chillingham
I am very easy going, very considerate, pay my bills on time, look after myself, am very easy to get along with, I don't take drugs, I don't smoke, I enjoy a quiet drink every now and then, very handy and capable, raised in the Country. I am also a musician and singer/songwriter, so would love to find a place where I can feel comfortable to play, sing and write. Other than music my hobbies include the Outdoors, Camping, fishing, 4x4ing, kayaking, running, swimming, walking/hiking, the beach, nature, DIY. I love to have adventures and make my own fun. I have a very well behaved 12 yr old staffy X who is my baby! He gets along perfectly with other dogs, cats and wildlife. So looking to find somewhere that will suit us both :) Looking for a peaceable and comfortable place to call home. :-)
Free to Message
New | $250
Alyse, Female, 29yrs
22.3 km from Chillingham
Hello. My name is Alyse. Im young vibrant and active. I am currently studying full time. I love reading, cooking, sunkissed days, cocktails, the beach, alternate souls, fine dining, raw foods and creativity ❤
Free to Message
$250
Michael, Male, 50yrs
22.4 km from Chillingham
Chief Exec, I work in Tweed Mon-Fri and go home on weekends. Extremely clean and tidy, non smoker family orientated. Very genuine and sincere.
Free to Message New | $200
Mark, Male, 48yrs
22.4 km from Chillingham
Easy going working 3 days a week in terranorra. I keep to myself and go with the flow. 3 months work in area then probably move on to next work location
Early bird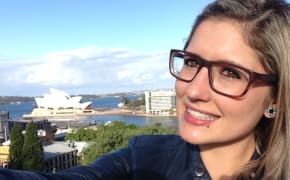 $200
Rebecca, Female, 26yrs
24.7 km from Chillingham
I am planning to move further up the Coast, ideally Palm Beach. Working and studying full time (scholarship student) in Casuarina. I am usually busy with work during the week and train most nights. I would like to move in with others of a similar age, who are focused during the week and keen to engage socially during the weekend. Pretty much I want to live in a home where everyone gets along and feels welcome! I love to dance, go to the beach, go for the occasional surf (I'm an absolute novice surfer!), drink coffee and have a cold drink with friends in the weekend :)
Free to Message
$250
Zeph, Male, 26yrs
24.7 km from Chillingham
Hello future housemate/s! Pleased to meet you! Come in, sit down and let me introduce you to both myself and Mr Domino. I have just sold my house on the Gold Coast and now we're going to chill out until I find the perfect new abode to purchase in either Brisbane or Gold Coast (this must be what it's like for women searching for the perfect pair of shoes - you now have my empathy). Facts about me: - 58% Introvert, 40% Extrovert and 2% Alien. - Fluent Sarcasm is my native tongue, being serious is being boring. - Thrive on daily barbaric and crude banter, if you're not laughing, you may as well be dead. - Often referred to as living like a gypsy in a hospital, few belongings and excessively clean. I all but own shares in Aldi surface wipes and IKEA lint-rollers. - Will avoid pubs, nightclubs, etc. like the plague, there's more to life than being inebriated. - Posess a large collection of colognes. Will not leave the bedroom without smelling like David Jones' cosmetics section. - Partial to flipping pages, not channels. Quite fond of documentaries and thought-provoking movies. - Afficianado of picking weights up and putting them back down on a daily basis - foregoing the ego. Zeph, what do you like to do for fun? - Quite spontaneous in my demeanour, I will find joy in an array of things. Whether it's falling out of a perfectly good plane or reading self-improvement books whilst I apricate on the beach - I'm happy. Facts about Domino: - 8Yrs old and is THE most awesome, placid and sweet natured dog there is - try not to steal him upon meeting him, I challenge you. - Will pull some impressive tricks, especially if the instructing human is offering an irresistible treat, or is an attractive female (my fault, he copied me). - Can play soccer better than any soccer team in the Southern Hemisphere (I can prove it). - Has an IQ that's higher than most humans I've encountered, never misses a trick. - Loves cuddles and lots of affection, I may be the softest Border Collie owner you'll ever meet. He has never been smacked/hit/abused in his life and it will remain that way. - Has barked a grand total of six times in his life, not sure why he even has a voice box. I secretly think he's a cat disguised as a dog. So, I am looking to rent a room, studio, part of a house, a tent, kitchen cupboard, a spare nook or cranny - so long as I can bring my toilet trained, heartthrob, handsome Domino with me. I am open to living anywhere south of Surfers Paradise - send me a message if you think we tick the boxes for you, I'm flexible. With any luck, you're still awake after reading all of that. If so, thank you for your time! Facestalk me, you know you want to - Zeph Gibson :)
Free to Message $200
Joan, Female, 70yrs
24.7 km from Chillingham
Am older lady, non-smoker, quiet, tidy and responsible, looking to share with thoughtful respectful person.
Free to Message
$350
Rhiannon, Couple, 22-23yrs
24.7 km from Chillingham
Hi there! My name is Rhiannon, I am 22, and my partner Luke is 23. We are looking for a home to rent with like-minded people from ages 20-30. We enjoy travelling, going to the gym, outdoor activities, motorbike riding, and photography. Luke plays the drums and I study Japanese. I work in hospitality, and Luke in automotive retail. We are clean and easy-going, friendly people who are respectful of people and their property. We like to have a few drinks and a chat with room mates, but also enjoy our privacy and own space.
Free to Message
$250
Brea, Female, 18yrs
24.7 km from Chillingham
I'm a clean, respectful young woman who enjoys the outdoors and adventures! I have made the move from WA and hoping to pursue a career in Real Estate in the Gold Coast. I also study full time online so will be kept quite busy! I am currently living in Burleigh Heads about 10 minutes drive from the beach, however I wouldn't mind being closer to the beach. The place I am staying at changed their mind about my chihuahua living there so I am now actively looking for somewhere to home myself and my beautiful dog. I would love to roomie with some nice girls who wouldn't mind movie and wine nights occasionally!
Early bird
$250
Nick, Male, 32yrs
24.7 km from Chillingham
Hey guys! I'm looking for a new place to live because the guys i live with quit their jobs and are going overseas for a few months, realllly wanted to go with them but i didn't want to lose my job :( i'm looking for a new place to live with really nice, down to earth, chilled out people who are fun, interesting and hopefully fairly intelligent. I'm extremely clean, i respect the people i live with, i'm trustworthy, very cruisy, have no baggage and basically drama free :) All round chilled out, happy guy who's stable, level headed with great family and friends, career and genuinely happy with life. I love anything to do with water, surfing, anything with a board, learning, reading, travelling, my motorbike (R1), and love anything that gets my heart racing. Love trying to play guitar and listening to awesome music. JJJ Top 100 anyone? :) I've got a great career, CIO of a public tech company. I'll have no problem paying rent, happy to pay a few weeks in advance if needed! Rather be out riding my moto, dropping in on some waves, going shopping or listening to live music somewhere rather than being on a computer! I love a few beers now and then with mates, either at their house, house party's, or hitting up a pub or festival. Definitely more of a pub person than a club person if i do head out! In saying that, usually i'd rather do dinners at amazing restaurants instead of getting on the piss! Either that or cooking up something awesome at home, i make a mean spag bol and nachos / tacos.. Hungry now.. I spend my time before work surfing or sleeping, and after work at the gym and hanging out with family and friends. Message me if i sound like someone you'd like to live with! Cheers! Nick.
Free to Message New | $200
Greg, Male, 46yrs
24.7 km from Chillingham
Very eager to find a roof. Easy going, honest and reliable. Great rental history. Freelance graphic artist though also labouring.
Early bird