$250
Akram
I am Dr. Akram (Pharmacists) from North India but study in south India (Annamalai University and in Karnataka) and earlier was working as professor in a medical university in Malaysia and now im going to join for my PhD in Diabetes Medicine at University of Sydney. I need Accommodation, please get in touch. No smoking/no alcohol Sex: Male (st) Age: 29 Nationality: Indian
$300
Jeff
42 High school teacher Quiet, respectful and collaborative flatmate. My job requires me to be gone 7am to 4pm. Can and willing to contribute to the household in any manner conducive to harmony and functionality. Varied interests and hobbies....including camping, hiking, roadtrips, sporting and social events, travelling, exercise, humor....and family. Moving to Sydney in Dec 17/ Jan 18.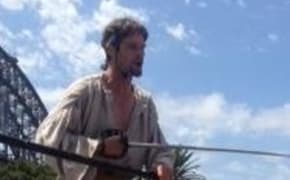 $180
Keegan
I cook! Though not a clean freak, I like a clean house, especially the kitchen (Chef trained). I am also happy to do garden chores (a vege' patch?). Currently I work as a Sydney Harbour Historical tour guide. I love the smell of Real coffee anytime ..... Sport interested and active. I sometimes do cosplay - medieval re-enacting mostly in the winter months. I have some of my own furniture, and some baggage too .... O well. Into education, currently studying eco/sustainability with Inner West Councils. The photo is of The Sydney Harbour Pirate show. Me offering a few encouraging words to the Captain. I have a camper van that I would like to use as an extra bedroom parking off street if possible. Though hot during the height of summer it is an excellent abode.
$300
Liv
Im a respectful clean social flatmate ,i work 5-6 days a week in hospitality. i love to cook and clean when i'm home so the house will always have a nice aroma of international sweets dishes and the occasional soy wood candles. now i have a two year old kitty called conor who is house trained only ever goes in his litter box or on the toilet like im currently training him to do, all vaccinations up to date desexed and chipped honestly is a beautiful friendly soul who gets on well with other animals including dogs. we would be more than happy to call you're home ours and create awesome memories wherever we are.
$270
Joss
Hi, my name is Joss. I'm 23 from Scotland. I am currently looking for a place to stay in Sydney between the 24th of October to the 6th or January for my holiday here. I once lived here for a year (2014-2015) and I'm back to this city where I consider home for one last time before I return to the UK to study HR. I'm clean, tidy and respectful, I'm a non drinker so you won't be catching me stumbling in at 3am! I'm a gym junkie and I love to explore. Please contact me with any questions and if you are interested in renting out to me. I would preferrably like to have my own room but I wouldn't mind sharing a bedroom with someone else, thank you :)
$470
Sara & Chris
I am a 24-year old female with a passion for music, food, photography, and travelling. Originally from Indonesia, I'm currently based in Sydney. Previously, I have lived in Melbourne whilst completing my undergraduate degree. My boyfriend (28-year old, Australian) and I are looking for a place to stay in Sydney. Both of us are postgraduates students at the University of Sydney and the Australian Catholic University, respectively. We are quite clean, considerate, independent, and responsible people with fairly chilled and easygoing personalities. Our hobbies include cooking, baking, listening to music, watching movies, reading, brunching, and chilling with a glass of wine or beer to enjoy quiet evenings. Neither of us smokes or have a pet. If you need any more information from us, please do not hesitate to contact me!
$260
Trupti
Hi, my name is Trupti. I work full time as a social worker. Apart from working, I enjoy hiking, being at the beach; brunching and markets on the weekends. I am a tidy person, I enjoy doing my own thing; but always up for a chat, watch a movie and just share a couple of laughs. I have lived in shared accommodation for over 5 years now, so I'm familiar of how things roll.
$350
Liam
Hi I'm Liam. I've lived in Sydney for two years now from Newcastle and am looking for somewhere new to call home. I am a Hydraulic technician working on mining and construction equipment based in Smithfield but I travel all across the city on a daily basis. I love the outdoors and travelling as well as a few quiet beers with mates on a Friday afternoon to unwind after a busy week.
$300
Phillip
I'm a mature quiet and tidy professional who travels for business, and relocated from Brisbane to Sydney due to work commitments 6 months ago. Except for dinner parties, I'm not into house parties. I'm looking for share accommodation for initially 6 months and longer if the place is suitable, with 1 or 2 mature professional people of either gender. I don't mind living with pets but prefer cats..Room can be either furnished or unfurnished. Maximum of $300 including or excluding any outgoings. I would like something in any of the surrounding areas of Abbortsford, Concord, Newington, but am flexible with this and would consider further out if the place was right. I would also prefer off street parking if possible. I'm quiet, tidy, easy going, non smoker, non TV addict, who enjoys good conversation, respectful of others, and will pull my weight with household chores, including sharing the cost of groceries and cooking. In addition to other activities, I enjoy going to the markets, eating out on weekends and the movies.